Q&A Future Contemporary
We chat to participating Future Contemporary galleries showing at the upcoming Sydney Contemporary 7-10 September 2017 at Carriageworks.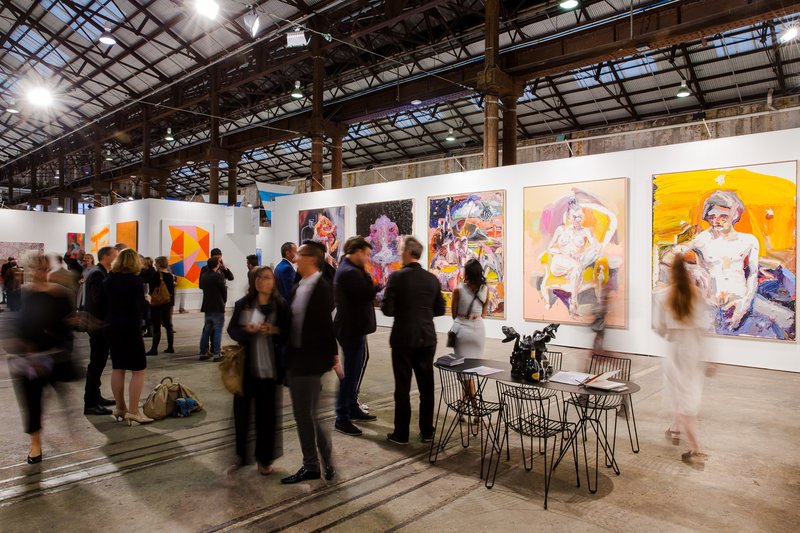 Is this your first year at Sydney Contemporary and what kind of work will you be presenting?
Nicholas Thompson, Nicholas Thompson Gallery, Melbourne: This is my second year at Sydney Contemporary. I am presenting a solo exhibition of new paintings by Alun Leach-Jones. The exhibition is significant as it coincides with the artist's eightieth year and the fiftieth anniversary of his first exhibition in Sydney. The exhibition catalogue includes a commissioned essay by Sasha Grishin AM.
Interlude Gallery, Sydney: Yes, this is the first year Interlude Gallery will be participating at the fair, specifically in the Future section, for galleries with less than 5 years running. The gallery will be rotating exhibitions daily, with two different artists per day. We tried to arrange a curatorial approach with a dialogue between our international and Australian artists, emerging and mid-career, so in this way we can start to alter and deconstruct the hierarchical and escalated idea around the artistic and economic practices.
Jan Minchin, Tolarno Galleries, Melbourne: This is our third year at Sydney Contemporary and we are presenting two solo exhibitions. In the Galleries section we will premiere Rosemary Laing's new series of photographs titled Buddens. In Futures we will present a solo show of drawings by Riley Payne.

Simon Bowerbank, Bowerbank Ninow, Auckland: As the gallery is only two years old, this will be the first time Bowerbank Ninow has participated in any art fair. We are showing Oscar Perry, an artist from Melbourne, who will be transforming our booth into an old English pub and hanging his paintings on the walls. We will also be taking folders of unframed works on paper that we can sit down and look through with collectors in the pub over a whiskey.
Lisa Fehily, Lisa Fehily Contemporary Art, Melbourne: This is my first year at Sydney Contemporary as Lisa Fehily Contemporary Art. I am presenting a solo exhibition by Abdul Abdullah, a young artist, who is a proud Muslim and a proud Australian. His work challenges and intrigues, and I will have his photographs, paintings and embroideries in my stand. It is an extraordinary body of work made specifically for the fair.
Art Collective WA, Perth: We are pleased to have participated, by invitation, in each instalment of Sydney Contemporary since it began. This year, three of our artist members will be represented. Chris Hopewell and Jurek Wybraniec will show recent work in our Booth C07 in Bay 20, the 'Future' section of the fair. And Alex Spremberg has been chosen by the curators to take part in 'Installation Contemporary'.
All three artists are established Western Australian artists whose work predominates on the 'everyday', both in materials and in their contemplations.
Jurek Wybraniec and Alex Spremberg exhibited significant work together at the Art Gallery of Western Australia in 2016 and maintain strong exhibiting practices from their Perth-base. Chris Hopewell developed his art career living in New York City during the 1980s and 1990s. He witnessed and filmed the tragic events of the 9/11 attacks on the World Trade Centre, with his footage broadcast worldwide. He is now based back in Fremantle, Western Australia, where he paints his process-orientated works.

Jess Cook, 107, Sydney: We are very lucky. This is our second year. The Gilded Age is a collection of works by contemporary Aboriginal artists reflecting on the underlying social and political nuances of today, gilded by a thin golden veneer. This multi-disciplinary exhibition is complemented by a program of inspiring artist talks. Participating artists include Adam Hill aka Blak Douglas, Jason Wing, Chico Monks, Nicole Monks, and Amala Groom.
David Hagger, Blackartprojects, Melbourne: This is our 3rd time at Sydney Contemporary. This time around we will present a series of new paintings by Ash Keating alongside painting and neon works by Reko Rennie. Over the past decade, both artists have been included in significant exhibitions and art prizes across the country and their works are held in all major national institutions.
Working across a conceptual, site-responsive and often collaborative art practice that incorporates painting, sculpture, installation, photography, video, performance and public interventions, Ash Keating has, over the past decade, raised a wide range of social and environmental issues within his many projects and artworks, such as systems of production and consumption, climate change, urban gentrification, waste and sustainability.

Reko Rennie is an interdisciplinary artist who explores his Aboriginal identity through contemporary media. Through his art, Rennie provokes discussion surrounding Indigenous culture in contemporary urban environments. Largely autobiographical, his commanding works combine the iconography of his Kamilaroi heritage, merging traditional diamond-shaped designs, hand-drawn symbols and repetitive patterning to subvert romantic ideologies of Aboriginal identity.
Why is it important for your gallery to be present at the fair and why do you think there needs to be a diverse range of galleries and artists shown?

George Adams, Galerie pompom: Being involved in Sydney Contemporary is a great opportunity to expose our gallery and some of our artists to a whole new audience, as many visitors to the fair have not been to a commercial art gallery before. By coming to an art fair they realise that it's not as daunting an experience as many think it might be. And by having so many diverse galleries and artists all under one roof gives people the opportunity to have a broader understanding of contemporary art and artists' practices.
Interlude Gallery: For us it is sort of a survey, to test the waters of the Australian art ecosystem and have a better understanding of the structures that constitute it. We believe that a wider range of artistic management can offer by consequence a wider approach for different public inclinations, art is a matter of taste in the end and everyone has a different one.

Lisa Fehily, Lisa Fehily Contemporary Art: It is important to be at the fair for several reasons. As a contemporary gallery, our artists need to be collected, recognised and curated on several levels through private collectors, institutions, independent curators and ARI's. Sydney Contemporary gathers all these stakeholders for your artists in one space, so that we can sell, present and discuss our artists with their national audience, as well as internationally. International galleries curators, and collectors also attend, often leading to broader opportunities from the fair. There needs to be a diverse range of galleries and artists to cater for the broad audience the fair hopes to attract. Art fairs help to broaden the audience for contemporary art generally, not only amongst industry supporters. There needs to be available artworks for young collectors, as well as established ones.

Art Collective WA: Several years ago many long-established commercial galleries in Perth closed. These galleries represented the best of contemporary artists in Western Australia at that time. With few galleries of this type remaining, it is highly important that artists with a significant depth and longevity of practice in WA are represented in not only local, but national and international forums, such as Sydney Contemporary. Perth is a five-hour flight away from Sydney, and is one of the most remote cities in the world. As such, it is not often easy for curators and collectors to visit us and access the work of our artists. If a relevant and realistic survey of Australian art practice is to be shown at Sydney Contemporary, then artist organisations and galleries such as Art Collective WA must be represented.
Art Collective WA is a unique model – a hybrid of commercial gallery, artist-run-initiative and not-for-profit arts organisation. Its inception and its evolution is a reflection of the changing landscape of how artists present themselves.
How did you decide on which artist/s to present at art fairs?

Nicholas Thompson, Nicholas Thompson Gallery: I really like to present solo exhibitions at art fairs. I think this maintains the integrity of the gallery exhibition format, you can curate a show that would otherwise be experienced in an art gallery context. I've found this also stays in people's memories in an otherwise overwhelming environment. It's easier to associate one artist with one gallery when you've been looking at art for hours on end!
The gallery represents a broad cross section of generations, which has had a positive critical response. I think there is a senior generation of artists who are often overlooked in contemporary discourse and it is a real privilege to be able to work with these significant practitioners who have made important contributions to the visual arts in Australia. In addition to Alun Leach-Jones I also represent Suzanne Archer, Gordon Shepherdson, John Firth-Smith, Wendy Stavrianos and Bruno Leti.
George Adams, Galerie pompom: We like to give all our artists the opportunity to partake in fairs, so we usually give one, two or three different artists a showing at the different fairs that we participate in. This year we have chosen Philjames, a painter and sculptor, and Rochelle Haley, a painter who is at the moment working with poured resin.
Interlude Gallery: We tried to include as many of the artists from our stable as possible, but in the end it all came down to the space we were working with and the artists who could better embody the curatorial approach of the gallery's discourse.
Lisa Fehily, Lisa Fehily Contemporary Art: As a responsible commercial gallery, the first consideration needs to be the potential commercial outcome. The artists shown at the fair needs to be those which are collectable on all levels - new and established collectors, institutions, and museums. It needs to have a commercial outcome for the artist, as well as being part of their professional development.

Jess Cook, 107: We looked at the strengths in our program in the last 6 months and wanted to offer further support to these artists. Sydney Contemporary is such a great platform. We wanted to work with contemporary artists who reflect the ethos of 107.
As a young gallery on the rise what are the opportunities presenting at art fairs offers?
Nicholas Thompson, Nicholas Thompson Gallery: Art fairs are a fantastic opportunity to engage with audiences and collectors that aren't always able to visit galleries. It's a great way to introduce the gallery to new people. I think art fairs are where the borders of the art world expand beyond traditional gallery visitors.
David Hagger, Blackartprojects, Melbourne: Blackartprojects is an itinerant platform that realises projects for contemporary artists independently from a standardised exhibition program. We've always been excited by working closely with artists to present projects in different formats and art fairs are one way for us to do so. By breaking the gallery standard of a 'bricks and mortar' approach, the fairs provide us with an opportunity to further strengthen our presence in that state, or indeed country. Sydney Contemporary will be one of a number of art fairs and international projects that we undertake in the coming 12 months.
Interlude Gallery: Exposure, and the establishment of long term collaborations and relationships with other organisations and individuals. And with the larger pool of international collectors, the increased possibility of creating capital to directly support the artists and organisation.
Jan Minchin, Tolarno Galleries: Futures provides the perfect opportunity for us to launch Tolarno Unplugged.Tolarno Unplugged is a new creative venture which opens up possibilities for artists away from the home base formality of the annual program.
Riley Payne will launch Tolarno Unplugged with seven small graphite drawings. Combining wicked combinations of text and image, they are humorous and subversive. Made in a tiny space in New York, we are pleased to bring them to Sydney Contemporary. Riley Payne's first solo exhibition, rub was at Tolarno Galleries in 2015. His work will be included in the upcoming NGV Triennial, 15 Dec - 15 April.
Simon Bowerbank, Bowerbank Ninow: Aside from the obvious answer about exposure to large numbers of people who may not know about the gallery, to be honest, we have been working so hard for the past two years that showing at Sydney Contemporary is the first chance that we have had to be able to leave the country and get some sort of break.
Lisa Fehily, Lisa Fehily Contemporary Art: It offers exposure to a broad range of collectors, as well as to the art industry including institutions and curators.
Art Collective WA: Art fairs are an opportunity to connect with and develop relationships, both in the industry and, importantly, with the general art-loving public. It's easy to have high expectations, but each time we attend we learn more about how best to present ourselves and also build on what we've done before. It's also great to embrace the unexpected!

Don't forget, we may be a young gallery but our artists are all mid to senior career artists, with careers spanning multiple decades! They are represented in institutional and private collections and regularly exhibit nationally and internationally. Art Collective WA will also take this opportunity to promote the artist monographs that we publish, with the 2017 book focusing on the art and career of Jeremy Kirwan-Ward.
Jess Cook, 107: Audience development is key and professional development. 107 does not represent artists we create opportunities. We really hope that the artists not only sell work but find opportunities to expand their practice.
What do you hope to achieve at this year's fair?

Nicholas Thompson, Nicholas Thompson Gallery: I hope to introduce my gallery and the exhibiting artist to a new audience. It is a great opportunity for me to communicate the identity of my gallery and the artists that I work with.

George Adams, Galerie pompom: We hope to introduce our gallery to new audiences, and to have a profitable outcome for our artists and our gallery.
David Hagger, Blackartprojects: As is that case with all art fairs, to broaden the reach of an artist's practice to new audiences by engaging directly with collectors, colleagues, curators and institutions.
Lisa Fehily, Lisa Fehily Contemporary Art: I am presenting Abdul Abdullah, an artist who has created a remarkable body of work for the fair. I hope to sell his work to a range of collectors and institutions, as well as securing some good opportunities within the industry for exhibitions and installations.
What other programs/events are you looking forward to at Sydney Contemporary?

George Adams, Galerie pompom: We have two further artists involved in the art fair - Todd Robinson has been selected for Installation Contemporary, and Elvis Richardson has been selected for Video Contemporary.
Interlude Gallery: We haven't had time to delve into the extensive public program yet to be honest, but we are looking forward to seeing what Performance Contemporary & Installation Contemporary have in store. We ourselves are excited to be hosting an 'Art After Hours' Cocktail Soirée on the Saturday 9 September at Interlude Gallery. It will be the inaugural celebration of an Interlude Artist group exhibition 'Intermural', and will feature one-night only performances, and a cocktail bar by our good friends at Poor Toms Gin!
Interlude Gallery is also taking over Kinokuniya with a pop up exhibition running throughout September featuring Bryden Williams, Chris Sutevski and Szymon Dorabialski, so that is another we look forward to sharing!
Lisa Fehily, Lisa Fehily Contemporary Art: The talks are always a highlight for me, although I struggle to get to many. My artist is on a panel for one of the talks, so I am a little biased!
Jess Cook, 107: The Talks and After Party. 107 is hosting an after party on the 7th of September featuring cocktails, turns and video works by artist Nick Hamilton.
NAVA is a media partner of Sydney Contemporary 2017. Above image courtesy Sydney Contemporary.