Q&A with Judy Watson
We chat with NAVA Member and renowned Brisbane-based artist Judy Watson.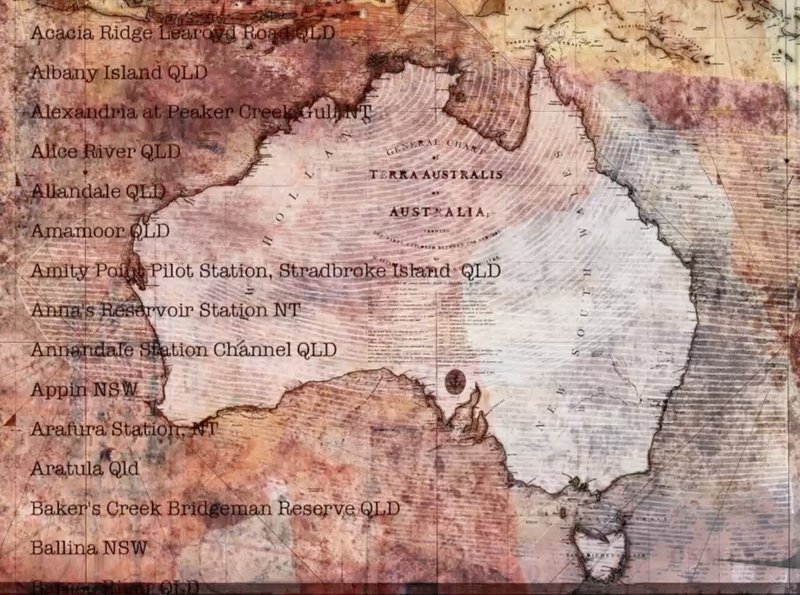 Research plays a major role in your practice. Can you talk about how your research process translates into making works both small scale and your large scale public art works.

I love being pulled into the research aspect of a project, learning about the history of the site where a public artwork is located. Or I'll have an idea for a body of work and want to learn everything about it and expand upon it. The writing and reading around this informs my practice and enriches my knowledge. The small scale works might stem from my initial drawings and playing with materials. The large scale works are stretched up and out from these small works according to budget and materials. The larger the scale and the more elaborate or unfamiliar the materials, the more I rely on the expertise of other people to carry out the fabrication of the works under my direction.


Your work draws heavily on your matrilineal Indigenous family history from North Queensland. Can you talk about the significance of your personal history to your work and the role of your practice in this expression?
My Aboriginal matrilineal heritage is extremely important to me and is the source and essence of how I think and feel and move in this world. It colours my perceptions and is the filter through which I view what is around me. My Aboriginal Grandmother, Grace Isaacson was a very special person, as is my mother, Joyce Watson. I am lucky to be a part of this wonderful family and to know our Country in N.W.Qld. Riversleigh Station where my Grandmother was born is important in the study of fossils or palaeontology. Lawn Hill Gorge is very beautiful with large bodies of blue- green subterranean water which bubbles up through fissures in the limestone to feed the Country. Lawn Hill is also where my Great Great Grandmother Rosie escaped a massacre by the police.

You have completed a number of residencies overseas. How have these residencies enriched and brought further meaning to your practice?

When I am overseas I carry my Culture and my Country with me. Being away from home, I am sometimes able to reflect on events and my artwork in a different way. Travel is very important for an artist, being exposed to the wider world and to other artists work has made me more aware of where I sit and the experiences that we all share or what makes us different. It enables me to have a conversation about international art and events from direct experience, not just reading about it or seeing it on the Internet. Major exhibitions and installations, places, buildings etc have to be experienced through the body, walked through, dreamt about.
Can you talk about the Indigenous artist camp you have been running for the past three years and the importance of mentoring the next generation of Indigenous artists?

I mentored emerging Indigenous artists at the 1st artists camp at South Stradbroke Island and have just returned from mentoring the latest group of artists this year. In between Fiona Foley and Brian Robinson were the artist / mentors at the camps.
In fact it was my suggestion to have the camps in the first place because I know from personal experience how beneficial they are to artists. Every place in Australia could run artists camps in their backyard ( by that I mean in the special environments close to them). They spread ideas like wildfire and are enjoyed by the whole community who might come along to see the work made by the artists and spend time talking and working with them.
I have had the privilege of being shown Aboriginal culture and Country, around Australia. Many artists, historians, writers, archivists, librarians, researchers and others have helped me along the way. It is important to extend and share our knowledge with each other and pass it along to the next generation of younger artists.

Why did you decide to become an artist and what has continued to drive your practice?

I was always drawing as a child, and loved reading. I feel that I have the best job in the world, being an artist. It makes me think very deeply, my eyes are always open to possibilities, almost anything can be looked at in another way, perception is everything.

You have completed a number of public commissions, what has been the most rewarding experience from these?
My work for 200 George Street Sydney, 'ngarunga nangama : calm water dream'

( looking at the history of the tank stream and this site ) was an immersive experience. It was a lot of work by everyone involved. I am very happy with the look of the work however I would like to have a more permanent educational reading of the work available to the general public. This opens up the work to become a tool to pull back the cloak of ignorance and reveal the indelible Aboriginal presence that is in all Country around Australia. When people learn more about their history and their place in the world they will have more respect for Aboriginal people and culture and knowledge about the importance of Land.
What role do you think artists play in contemporary society?

I think artists can make people see the world differently. When people fly over Australia they now see it through Aboriginal eyes.
Image: Judy Watson, the names of places 2016, still, single-channel HD video, 21 minutes 59 seconds. Courtesy the artist and Milani Gallery, Brisbane.