Regional Gallery: Gold Coast City Gallery - Queensland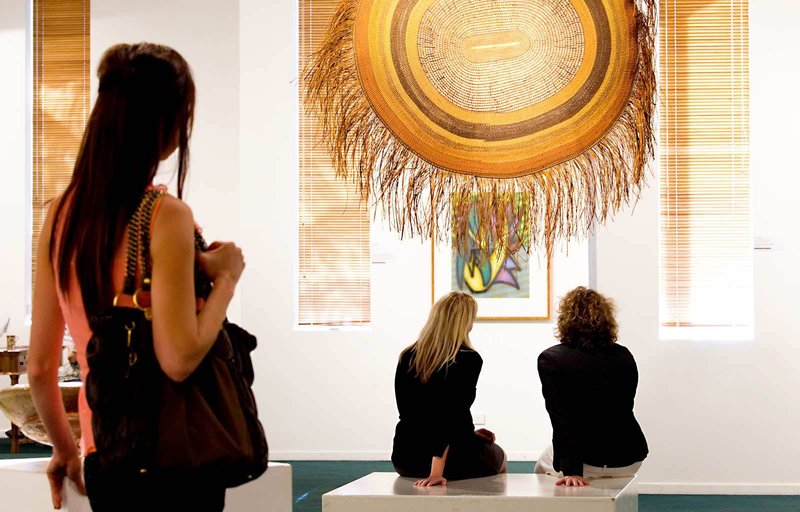 The Gold Coast is better known for beaches and theme parks than for arts, presenting challenges and opportunities for the Gold Coast City Gallery. Part of the Gold Coast Arts Centre, which includes a theatre, cinema and function facilities, the Gallery is part of a concerted effort by the Gold Coast City Council (GCCC) to change this perception and promote a more balanced view of the region. "Everyone says there's no culture here," says Sarah Lewis, Public Programs Coordinator at the Gallery, "but this isn't the case. There are lots of independent arts organisations here, particularly in the last few years. The thing is that the GoldCoast has a lot of little villages spread out through the city, without a central concentration or hub for them."
This is set to change in 2017-18 as the Gallery and Arts Centre move to a new cultural precinct site, bringing to fruition a long-held plan to develop a purpose-built gallery site. These changes have also been driven by new board members, new staff and a new Director who began her career at the gallery.
Unlike most regional galleries, the Arts Centre and Gallery are set up as a company with GCCC as the major shareholder. While the council funds the company and offers support in other ways, the gallery is not considered part of the facilities and institutions managed by council, giving the gallery considerable independence.
Historically visitation to the gallery has been consistent, between 40 and 50,000 visits per year. Lewis puts this down to their tendency to attract repeat visits from local people and visitors who are also going to cinema or theatre at the Arts Centre. However, this is changing with more capacity to do specific exhibitions such as the current show on the history of ABC's Play School, which has tripled normal attendance.
Competition is stiff for such discretionary visits. Not only do they compete against the Gold Coast's beaches and other attractions, but also with Brisbane's art venues such as the Gallery of Modern Art (GOMA). The Tweed Regional Gallery and Margaret Olley Art Centre are also nearby and offer high-quality exhibitions and shows. All these galleries have close professional relationships and work collaboratively on touring exhibitions, partnerships and supporting each other's exhibitions.
Although expanding its capacity to host larger exhibitions, the Gold Coast City Gallery maintains a strong interest in showing the world of Gold Coast artists both current and historic. It has a strong focus on mid twentieth century art from artists that relate to the Gold Coast such as Elizabeth Cummings and William Robinson. The Gallery is also proud of its role in the careers of current artists such as:
Victoria Reichelt – painter and photographer has been involved in their public programs and the gallery has purchased her work.
Michael Candy – visual artist whose first exhibition was at Gold Coast City Gallery has participated in the Gallery's programs and prises for young artists.
Abbey McCulloch – painter who had early exhibitions at the Gallery and has gone on to exhibit internationally be a finalist in the Archibald Prize.
The Gallery's prizes are acquisitional and for many of their winners this has been their earliest inclusion in a public art collection. Such acquisitions are an important part of young artists' efforts to build their reputations and profiles.
While the Gold Coast's beaches will likely remain the main drawcard, the visual arts community also looks set to consolidate in the region. With new premises and strong support from local government and other arts organisations, 2017 should be an exciting year for art in the Gold Coast.
Image courtesy Gold Coast City Gallery.