Art and Economics
Bek Conroy, Dating an Economist, 2015. Luminary Arts, St Louis Missouri, USA. Credit: Brea McAnally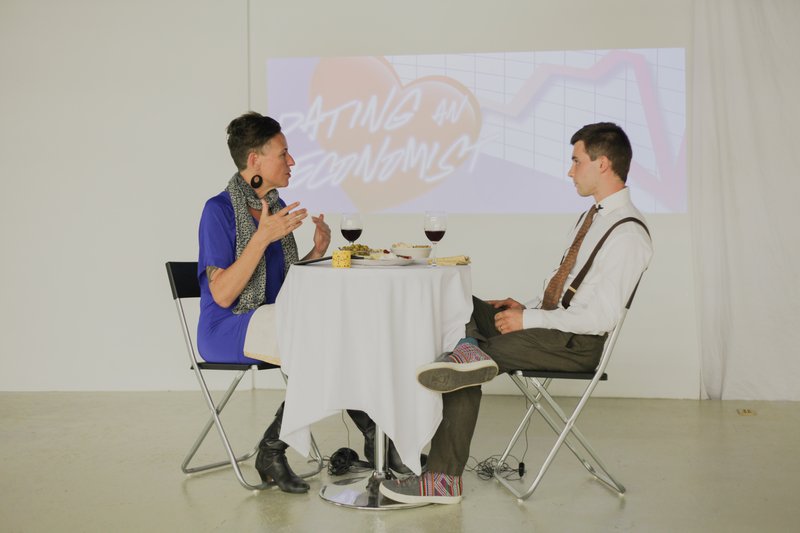 Budgets are often considered the least creative part of an artist's practice, but it can also have the biggest impact on whether you can maintain an artistic practice at all. This year, like many previous years, we will once again be using a magnifying glass to locate the attention paid to the arts. Once again, the federal budget is anticipated to be a somewhat sad offering for the arts. This can be so infuriating to the point of becoming immobilising. But we absolutely must not. Since 2015, I've therapeutically channelled my energy into a series of works that interrogate the apparent disparities between the arts and economy producing such works as Marrickville School of Economics, Iron Lady, and Dating an Economist, to focus a critical lens on the many ways that the economy is ACTUALLY A VERY CREATIVE PRACTICE. It's like speculative fiction—but with numbers!
Last year I was invited to be the inaugural artist in residence at the Monash Business School. I was given my own office and for 2 weeks I did my best to stand out (not hard) and provoke as many encounters with economist and accountants as possible in the lunch room and the corridors. I also conducted a series of one on one meetings with faculty staff, along with a presentation of my work in the board room. There was much delightful curiosity (perhaps also confusion!) as I courageously worked my way through explaining slippery concepts defining what art is, to what artists do and how we create value—a thing of interest to the business world. At the end of the residency I produced a video work with six accountants who graciously agreed to participate in the second iteration of a Dating Performance series I had previously initiated in 2015 with economists.
For this work, each of the consenting accountants agreed to participate in a staged date with me, live on camera, for 30 minutes, during which our dinner table conversation was framed by 3 of 12 menu items delivered as provocations on a card by a smartly dressed waiter. The conversation prompts traversed ground such as "How do you measure feelings?" and "How do you know when to take a risk?" I was interested to seek out the shared territory of artists and accountants—to bring into focus the contradictions and paradoxes of two seemingly disparate disciplines. I also attempted to convince them to join our side. (It's a work-in-progress!)
The truth is, during my time at the business school, I was buoyed by the easy connection with financiers, accountants, and business managers whose ideas for a functioning world, perhaps only differed in how we should get there. As artists we need to be having these conversations. And we need to be using our combined creative forces to draw attention to the necessity for the arts in our national life.
There is so much work we need to do to shift the kind of draconian thinking that currently dominates the halls of federal political power; a thinking which would happily see the most vulnerable left to be eaten by the market or abandoned by the narrow-minded pursuits of an impoverished visionless leadership.
The arts and creative thinking exercise significant influence over every aspect of human activity. Much of this goes unreported, unattributed and as budget time rolls around—unfunded. If we want this to change, we need to engage in the creative dark arts of accounting and business. The truth is, budgets should be everyone's business. And why not have some cheeky fun along the way?