NAVA supports artists affected by BOAA to release Statement of Expectation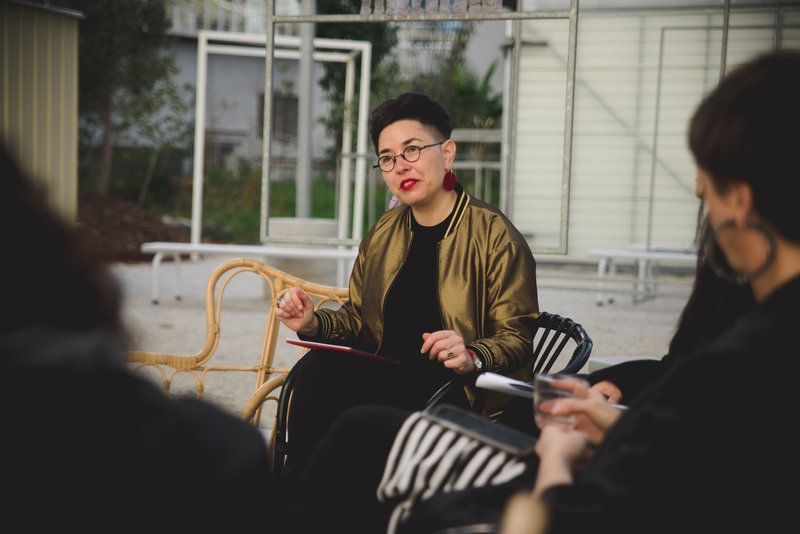 Esther Anatolitis, photo by Theresa Harrison 2019
On behalf of 32 of the artists affected by BOAA, today NAVA has released a statement to make artists' expectations clear on the steps required to honour their unpaid contracts. The statement is released following a meeting of affected artists held in Ballarat on Thursday morning 16 May and convened by NAVA Executive Director Esther Anatolitis.
Today's meeting follows extended artist consultation: since 2017 NAVA has been responding to the concerns of Members and artists about the 'Biennale of Australian Art' (BOAA), an entity now in administration that was established to present a series of events in Ballarat in 2018.
"Supporting NAVA Members and other artists affected by BOAA has been difficult and heartbreaking," said Esther.
"The success of any arts event is the success of the artists who've created its work. Celebrating those successes means putting artists first: respecting their rights, honouring their contracts and paying their fees. Artists should never be treated as an afterthought."
The 32 artists supported by NAVA ("the BOAA Artists") are owed a total of $117,950.50 by BOAA as documented in legally binding contracts. The total owed to all artists exceeds this figure, and artists recognise that BOAA's total debts exceed this amount significantly.
The National Association for the Visual Arts leads policy, advocacy and action for a contemporary arts sector that's ambitious and fair. We represent a Membership and sector community of over 50,000 professional practising artists, creative practitioners, galleries and other art organisations. Since our establishment in 1983, NAVA has been influential in bringing about policy and legislative change to grow and develop the sector and to increase professionalism within the industry. Though the Code of Practice for the Professional Australian Visual Arts, Craft and Design Sector, NAVA sets national best practice standards.
NAVA's actions to date:
Seek legal advice
Schedule a meeting with BOAA organisers (which they did not attend nor respond to rescheduling requests)
Assess the situation with all local and state government bodies involved as funders
Seek the advice of past associates of BOAA
Lodge a formal complaint with the Australian Non-Profits and Charities Commission, and support artists in lodging formal complaints
Respond to media requests
Continue to advise and support Members and artists.
The BOAA artists expect:
Recognition that the names and reputations of First Nations artists and non-Indigenous artists from all over Australia have been used by BOAA to secure grants, and yet these artists have not been paid their contracted fees, despite some having work sold by BOAA;
Public honesty from BOAA, an end to false and misleading public statements, and an end to disrespectful emails sent to some artists who were seeking what they're owed. BOAA Artists have remained considerate throughout, but this patience has come to an end;
A realistic plan for payment that involves genuine action on the part of BOAA including the sale of assets and claims on insurance including any board professional indemnity cover;
That BOAA's liquidators, Nathan Deppeler and Hayden Montgomerie of Worrells, recognise that several BOAA Artists are owed a year's worth of income, such that artists will be treated as priority creditors;
No further BOAA public statements or plans are made about any future event of any kind unless and until all artists have been paid and all professional relationships restored;
That the Ballarat community shares and affirms the value of arts events and festivals with excellent governance and management. We welcome the 6 May 2019 statement to the Courier by Justine Linley, CEO, City of Ballarat that: "We would not at all want people to see [BOAA folding] as a disincentive" and "If people have good ideas, and they can back them up, come and talk to us. Well-run events are really important to the city."
Quotes attributable to the BOAA artists
"That I couldn't have the sale of my work reimbursed makes me feel especially exploited, and feels like an act of theft."
– exhibiting artist (WA)

"Quite frankly, I am furious about this situation. All sales should be paid before BOAA goes into administration. At its most basic level, this is outright theft, and I'm sure all purchasers of the artworks would be horrified to learn that artists have not received payment (and they are effectively in the possession of stolen goods). I've tried to be really patient throughout the whole matter, but I'm fed up with [BOAA's] refusal to take responsibility… I feel really angry that [BOAA] can walk away, while many of us whose art practice is our primary income are wondering how we're going to pay our bills."
– exhibiting artist (VIC)

"It's particularly frustrating that there is no information from BOAA about the process to pay off their debts… It seems that someone other than BOAA should be overseeing this process to ensure it is fair & equitable."
– exhibiting artist (VIC)
"The financial situation must have been known to BOAA in at least late September [2018] – as this was when I submitted an invoice that wasn't paid. Even after the news that BOAA was having financial problems, there was no equitable process for paying artists… I am owed $21,000 (and devastated about it)."
– exhibiting artist (WA)

"I want my artist fee off [BOAA] because she used my name in her [grant] application and that is corrupt."
– exhibiting artist (VIC)

"Shortly after the opening, my sculpture was moved several blocks from where I had installed it. I only found out inadvertently! I was not consulted or involved in the moving. I was outraged as the sculpture was damaged in the process and not given access to electricity as at the first location. I hope something can be done! This is a great deal of money for me and I had entered the contract in good faith."
– exhibiting artist (NSW)

"I have found BOAA's communication about the non-payment unsatisfactory. There has been no personal contact about unpaid invoices at all, only group emails, and no response to direct email queries. In fact communication was poor throughout. The number of biennale activities seemed to have overwhelmed the capacity of the staff to deal with artists respectfully and little care was taken to imagine an artists' experience of BOAA. If your intention is to put the artists first, which was one of [BOAA's] claims, payment is not the only consideration."
– exhibiting artist (VIC)

"Uninstalled my sculptures without my permission. Welded my sculptures on to steel baseplates without my permission. Moved my sculptures without proper wrapping and padding and causing damage. Had wrong artist statement on artwork, making my work take on a completely different meaning. Took weeks of writing and me calling for them to change it. My name was spelt incorrectly in the catalogue. No proper communication, so many unanswered emails and texts. Have not been given any notice of when I will be paid, and I have not yet asked for compensation for the damage to my artworks."
– exhibiting artist (SA)

"To be honest I'm feeling super worried now. Two thirds of the amount owed ($14,000) is money that I paid from my own funds to participate in BOAA – all of the freight, materials, printing, travel costs etc. This is a huge amount for me to be out of pocket. I am desperate to receive the money soon."
– exhibiting artist (NSW)