New Countess Report: Independent sectors lead the visual arts in gender equality, while state institutions fall behind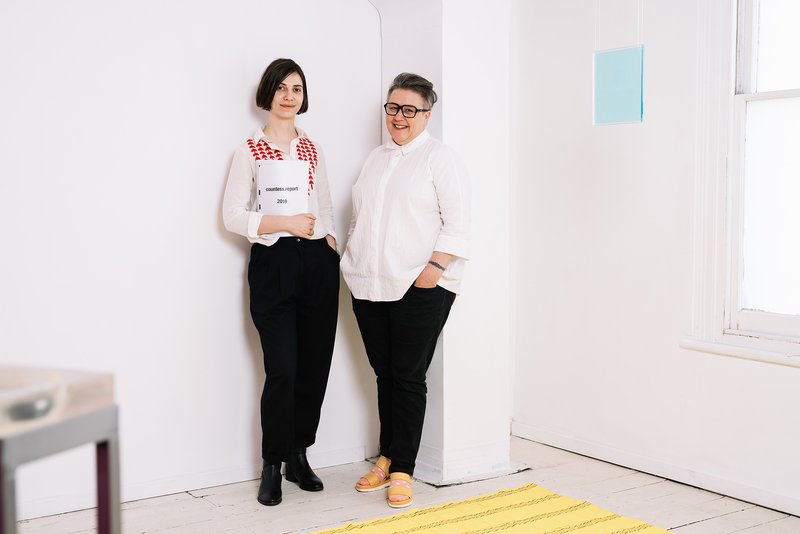 Image: Amy Prcevich and Elvis Richardson at Seventh Gallery, Melbourne. Artwork pictured by Ellen Yeong Gyeong Son, In the name of love : 사랑이란 이름으로. Photo by Phoebe Powell.
The latest Countess Report, Australia's premier reference point on gender representation in the contemporary visual arts, has been released today.
The Report reveals significant gender equity gains across public galleries, artist-run initiatives, major museums and university galleries, biennales, commercial galleries and contemporary art organisations, alongside declines at state galleries and museums.
A total of over 13,000 artists across 184 organisations were counted.
The Report's highlights include:
Women are equally represented (at 50% or higher) in the following categories: art prizes, contemporary art organisations, boards and executive staff, and artist-run spaces;
Artist-run spaces have exhibited 61.38% women (up from 49.37%), 34.78% men, and 2% non-binary artists;
Commercial galleries have exhibited 53% women (up from 39%), and 43% of represented artists are women (up from 39%);
State-owned galleries have exhibited 33.98% women (down from 36.90%) and 66.02% men (up from 56.80%), with no data available on non-binary artists;
Director or CEO-level roles are held by 61.36% women and 38.63% men overall, while among state-owned galleries, the figures are 12.50% women and 87.50% men.
"Since the release of the inaugural Countess Report in 2016, the Countess Collective has evolved as artists and activists" the Countess Report says. "Our aim in the release of these updated figures is to critically observe the changes in gender representation across the Australian art sector. We intend for these statistics to keep conversations around gender, power and value front of mind at art galleries, museums, art fairs and biennales across the nation."
Statistical data has been drawn from the nation's state and publicly funded museums and galleries, the commercial gallery sector, leading contemporary art spaces, public galleries, artist-run initiatives, art fairs, biennales and art prizes. Data counted includes: artists presented in exhibitions, art fairs and biennales; art school graduates; art prize winners; and board members, executive and curatorial staff.
The statistics can be understood within expanded Countess activities which include a new online platform that features essays and resources, as well as artworks. In this context, the data asks questions of labour, counting, intersectional feminism and issues of representation.
The Report has been complied by The Countess Report with data collected by a team of counters from across Australia. Counters worked with an emphasis on using primary sources, such as artists websites, to ensure direct evidence and authoritative information and could correctly record gender.
A considered approach has been taken to the counting of non-binary artists, and, like all aspects of the report, this approach is open to critique and improvement so as to prevent misuse of out-of-date or inaccurate information.
The Countess Report is funded by the Sheila Foundation Ltd (formerly Cruthers Art Foundation), and backed by the National Association for the Visual Arts (NAVA).
Sheila Foundation chair John Cruthers says: "Sheila Foundation is delighted with the improvement in gender representation in several key areas of Australian contemporary art since the first count in 2014. It shows the importance of The Countess Report as a driver of change and Sheila Foundation is proud to support the work of Countess.
"However, the research as revealed in the report focuses public attention on the pressing need for state-owned collections and institutions to match the progress made by the independent sector to redress the gender imbalance in collecting and promoting the work of women artists.
"Our state and national institutions are often where we begin learning as children about Australian art and, as these spaces engage closely with our schools and increasingly large audiences, it's crucial they tell the whole story.
"The latest results will allow Sheila to focus on areas still requiring work, and develop programs and campaigns for them. Gender parity across the sector is within sight and we call on everyone in contemporary art to work together to achieve it within the next four years."
"The hard work of the Countess has become indispensable to the gender conversation for the Australian visual arts sector," said Esther Anatolitis, Executive Director of NAVA. "Since the last count, the representation of women has significantly improved – and it's clear that the work of the Countess has made this possible.
"I've participated in a count workshop and seen first-hand the rigour with which the Countess Collective approach data collection and triangulate the verification of gender identity. This dedication by counters all over Australia yields much-needed benchmarking that allows all of us to be open about doing better.
"I applaud the forthcoming partnership between the Countess and the National Gallery of Australia as part of Know My Name, the NGA's nationwide campaign that celebrates the contributions of Australian women artists. Importantly, the NGA have provided their own data to The Countess Report as part of this partnership, and I look forward to seeing the further analysis and creative response to the NGA data that the Countess has planned for 2020.
"Congratulations to the ARIs, contemporary art organisations, commercial galleries, major museums and university galleries, public galleries and biennales who've made such significant gender equity gains."
---
Media enquiries: Jane Morey, P - 02 9436 2111 E - jane@moreymedia.com.au

About The Countess Report
First released in 2016 with data collected from national exhibitions in 2014, the 2016 Countess Report presented research that has become indispensable to the contemporary visual arts sector. The release of the 2019 report continues to situate Countess as the premier data reference point for understanding and redressing gender inequity in the Australian arts sector. Since 2017 countess.report has been a collaborative project of Amy Prcevich, Elvis Richardson and Miranda Samuels.
Sheila Foundation Ltd is a national public foundation that addresses the historical and continuing gender bias against women in Australian art. It assists and celebrates contemporary women artists, aims to paint Australian women artists back into our history, and supports the unique Cruthers Collection of Women's Art at the University of Western Australia. Comprising over 700 works, it is Australia's largest stand-alone collection of women's art and has been described as "a tremendous resource for the rethinking of Australian art". Sheila Foundation is named in honour of Lady Sheila Cruthers who spent much of her life supporting and advocating for women artists.
New Countess Report: Independent sectors lead the visual arts in gender equality, while state institutions fall behind