Tips to Making a Genuine Commitment to First Nations and People of Colour in the Arts
Illustration by Emily Johnson.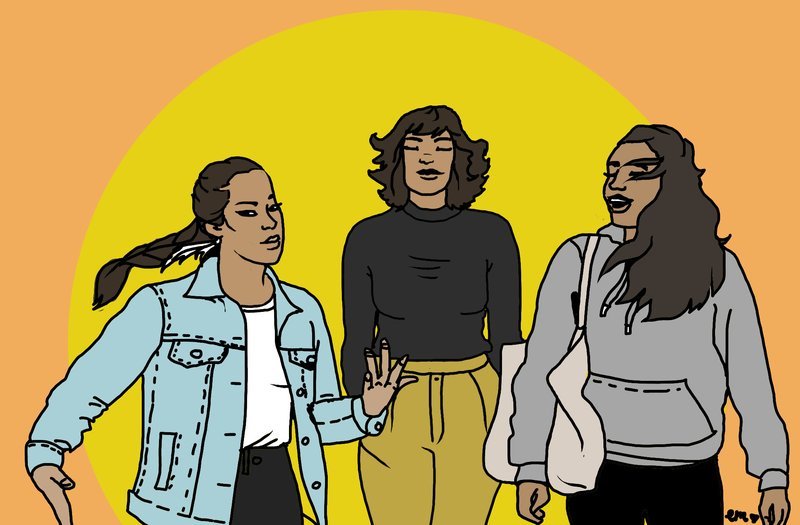 Diversity is a white word and the Australian arts sector is governed by a cultural perspective where excellence and success are synonymous with whiteness. Here are some simple points to consider when looking to achieve a genuine commitment to working with First Nations and People of Colour in the Australian arts sector.
CAN'T EVEN R.A.P
Put your money where your mouth is and make a genuine commitment to supporting First Nations and people of colour in the arts. Having a Reconciliation Action Plan is not an outcome. It is a 'To Do' list.
GET OVER IT
Get over your guilt and use your privilege for good (but steer away from the white saviour complex). Yes, you do important work, but when looking at 'diversifying' your practice, don't let moral superiority get in the way. Understand your role, be okay with making mistakes, and hand over your power to build strong and lasting relationships.
SPOT THE DIFFERENCE
Are you confusing diversity, equity and inclusion? Are you using these terms interchangeably?
Think about what this means for individuals from marginalised groups and this means for peers from privileged group. How might we view our participation in the exhibition/event/program/organisation and how is our participation viewed by others?
HOW VANILLA IS YOUR PANEL?
If you're looking to achieve real change, a good start is making sure that your selection panel and decision-making process reflects the people that you seek to engage with. Who are the people in the room, and what lived experiences can be factored into the decision making?
Bear in mind the differences between having an opinion about something versus a person's actual lived experience and give it the value it deserves.
MESSENGER IS NOT OUTREACH
Does your First Nations outreach consist of contacting your list of peers who identify via messenger or email to forward opportunities onto their networks? This is not outreach. You need to work harder to earn trust and build sustaining relationships. If your only engagement is during Reconciliation week, NAIDOC week, and Invasion Day programming, maybe rethink your approach to reflect a more ongoing and sustainable partnership.
DOES YOUR ORGANISATION HAVE REVOLVING POC DOORS?
Take a minute to think about how many First Nations and People of Colour have been in and out of your organisation or collective in the last 5 years? If it is a consistently inconsistent number, you may want to give this some attention. Having one First Nations or Person of Colour in the program does not create diversity or inclusivity without the right support.
STOP APPLYING FOR FIRST NATIONS AND POC FUNDING
Think again before applying for funding targeted at First Nations and People of Colour. This money is not for you, so why are you applying for it?
Using First Nations and PoC funding to 'partner' with a First Nations or PoC organisations/collectives/or artists for a project is still putting yourself the primary position of power. If you want to implement a genuine commitment, prioritise it in your annual budget.