The Artists' Benevolent Fund thanks you wholeheartedly
Image: Nadia Hernández, 2020.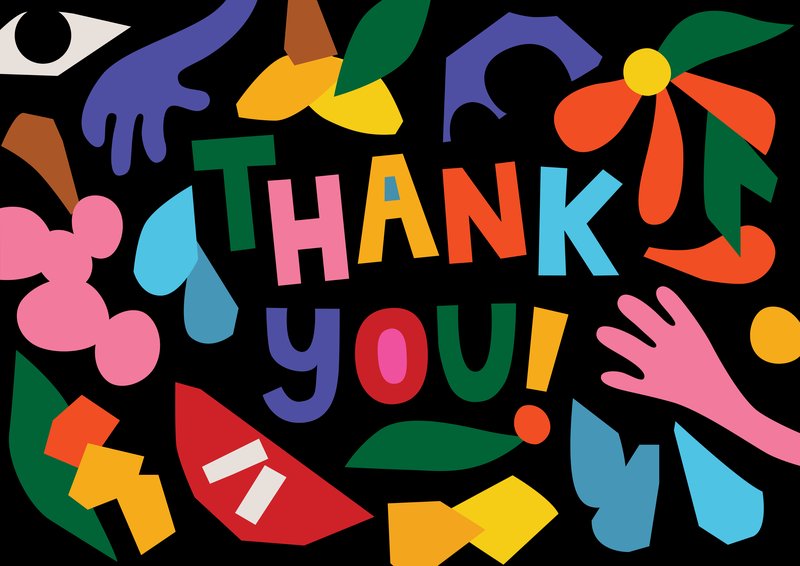 Image description: Words reading "THANK YOU" in various bold, block colours on a black background. Text is surrounded by different shapes in similar bold, block colours, including hands, an eye and other ambiguous shapes.
Earlier this year, the good people of Art Month Sydney and NAVA came together to re-establish the Artists' Benevolent Fund, which had been dormant for a number of years.

The response has been extraordinary. And we cannot thank you enough.
Founded by Bert Flugelman (1923-2013) as a way of giving something back to the arts community in gratitude for that critical time when his own community helped him through disaster, the Artists' Benevolent Fund does exactly that. It's a fund administered by NAVA specifically to support visual artists through disasters. And with the compound impacts of COVID-19 and summer's fires, floods and storms, the Artists' Benevolent Fund is now ready to help ensure that creative careers aren't permanently derailed when crisis strikes.
Philanthropist Brett Kelly, a board member of Art Month Sydney, went a step further: he created a new donors' circle called ClubB50, where fifty people would each give $5,000 per year for ten years. A $50,000 commitment times fifty, aiming to raise $2.5m across a decade, sustaining that generosity by building a community
Internationally renowned sculptor Alex Seton, also a board member of Art Month Sydney, offered the donation of an artwork to each ClubB50 member, and so a community was born. Amazing – and so generous.
Our first major contributors outside of ClubB50 were the governments of South Australia at $50,000, and the City of Sydney at $83,000. With warm thanks to Premier Steven Marshall, Lord Mayor Clover Moore, and Deputy Lord Mayor Jess Scully, the Artists' Benevolent Fund grew quickly and attracted national attention.
Then those angels at Create Partnerships Australia stepped in, generously offering to double all donations until the end of the financial year, and that was pivotal to securing the kinds of donations from those of us who can't afford to give much and are grateful to see that little amount become twice as big.
I'm running an eye up and down the donor spreadsheet as I write, and let me tell you, it reads like a who's who of the visual arts, craft and design sector in Australia. And I don't mean the industry donors you'd tend to associate with major gifts. I mean the people whose hard work and generosity builds the sector, creating opportunities for one another – and then, when asked to give just a little bit more, astoundingly they find that capacity and they give most generously.
Who are these people? They're you.
Three dollars. Ten or twenty dollars. Fifty dollars, a hundred.
Because you've given what you can, here's what you've made possible – in the words of the artists who have benefited to date:
"The events of 2020 have left me and my practice in the most financially precarious position I've ever faced. The Artists' Benevolent Fund through NAVA has, quite seriously, meant the difference between being able to continue producing work or not." – Anonymous ABF recipient 2020
"I'm back to having my hands dirty in a functioning studio space thanks to the Artists' Benevolent Fund. I can't describe how much that means to me." – Anonymous ABF recipient 2020
"Having my first institution show on lockdown, my earning capacity has drastically reduced. What should have been a celebratory period transformed into the sobering reality of packing up my studio. The Artists' Benevolent Fund has given me a lifeline, allowing me to focus on my practice with the financial support to cover my studio costs and get through this difficult period." – Anonymous ABF recipient 2020
Artists helping artists is what founded NAVA. It's what founded the Artists' Benevolent Fund. It's what gets all of us through.
As you read this, no matter where you are: thank you for strengthening NAVA's community. Together, we are stronger.