City of Sydney donates $83,000 to Artists' Benevolent Fund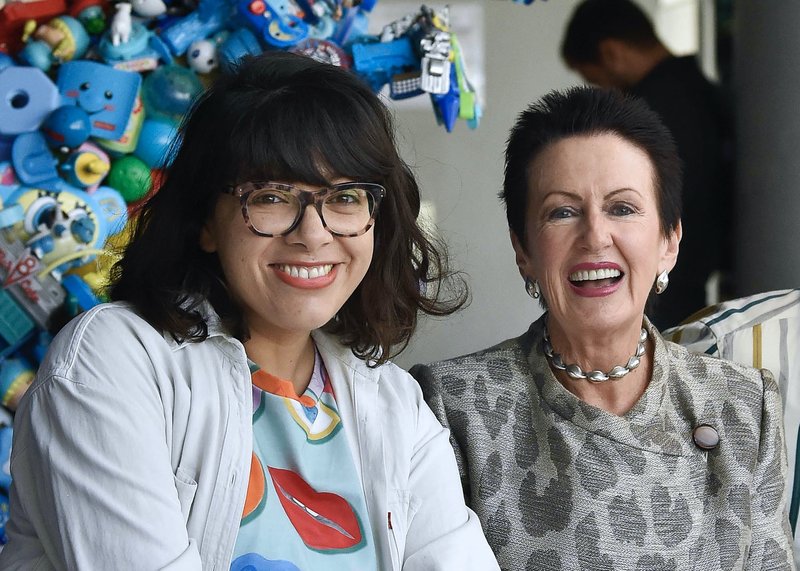 Image: Deputy Lord Mayor, Councillor Jess Scully and Lord Mayor of Sydney Clover Moore, courtesy of City of Sydney.
The City of Sydney has donated $83,000 to the Artists' Benevolent Fund. Announced as part of the council's $42.5 million increase to its relief package, $250,000 will be shared across three funds offering emergency relief to artists in crisis – NAVA's Artists' Benevolent Fund, the Actors Benevolent Fund of NSW, and Support Act.
"It's important that we practise physical distancing, but sadly, the measures that save lives also hurt the livelihoods of many in our community," said the Lord Mayor of Sydney Clover Moore. "Those who work in our creative, arts and entertainment industries are facing months of cancelled events, lost income and uncertainty.
"We know the City of Sydney is the heart of the state's cultural sector, and we know that sector is really hurting. Facilities are closing, and opportunities to work are rapidly diminishing. This has been a terrific shock to everyone who works in this space – from artists, actors and musicians to producers, technicians and back stage staff.
"What we're trying to do is support our artists and creatives through this period of survival, to continue work and project development and make sure they're ready for the renaissance when we're able to move past the coronavirus.
"We stand together with those who bring us so much inspiration, and who help us reflect on and understand the world we live in – especially during this crisis."
"What a timely, helpful donation – truly nation-leading at this time of crisis," said Esther Anatolitis, Executive Director of NAVA. "These funds will have a transformative impact on the livelihoods of artists at risk of giving up their practice altogether. My heartfelt thanks to the Lord Mayor of Sydney Clover Moore and Cr Scully for their unwavering commitment to supporting artistic practice as critical to our future."
The Artists' Benevolent Fund provides one-off financial assistance to Australian visual artists in crisis as a result of fire, flood, storm, serious illness, major accident, declared state or national emergencies, or some other unexpected catastrophic experience.
Initially established by Bert Flugelman in 1989, the Artists' Benevolent Fund was reinvigorated in 2020 by Art Month Sydney and NAVA in partnership. The Fund is administered by NAVA.
"The City of Sydney announcement of a $83,000 commitment is a most welcome contribution to the Artists' Benevolent Fund," said Alex Seton, artist and board member of Art Month Sydney. "We applaud the leadership in this announcement today, and with so many in the visual arts struggling at this time, we strongly encourage others to follow suit.
"Art Month Sydney is committed to the ongoing direct support of visual artists, and the Artists' Benevolent Fund is a vital initiative in assisting those in times of emergency. The Artists' Benevolent Fund is a national initiative, and with significant contributions from Arts SA and now the City of Sydney, we challenge all the other state and local governments to support their visual artist communities."
Art Month Sydney and NAVA invite private philanthropists to throw their support behind the fund, as exemplified by Brett Kelly with his 10-year commitment. Kelly's generous donation of $50,000 sparked his creation of ClubB50, which invites willing and able Australian art lovers to commit to donating $5,000 a year for 10 years.
Committed patrons of ClubB50 and donations are welcome: nava.net.au/artists-benevolent-fund/
Donations of $2.00 or more are tax-deductible. Every donation will make a difference.
"Australia's creative community were some of the first to feel the impacts of the shutdown to control COVID-19," said Deputy Lord Mayor, Councillor Jess Scully. "I watched in horror as I saw family, friends and colleagues lose all their income for the foreseeable future. Many creative and cultural sector organisations have also lost their income streams and have had productions and programs cease at great financial cost, which is why I'm so pleased to see the City of Sydney providing dedicated support for artists, creative practitioners and creative entrepreneurs through our new creative fellowships and grant programs.
"There has also been a stark cost to emotional and mental health too, the stress is enormous for so many, so I'm very glad that the City of Sydney is also making a significant donation to the organisations that provide support. It's so important that we continue to support those who #CreateAustraliasFuture through this crisis, and in the recovery and resurgence we see on the horizon."

Media enquiries & interviews:
Leya Reid
Advocacy and Communications Manager
e: leya@visualarts.net.au