Code of Practice October Consultation
Illustration by Emily Johnson.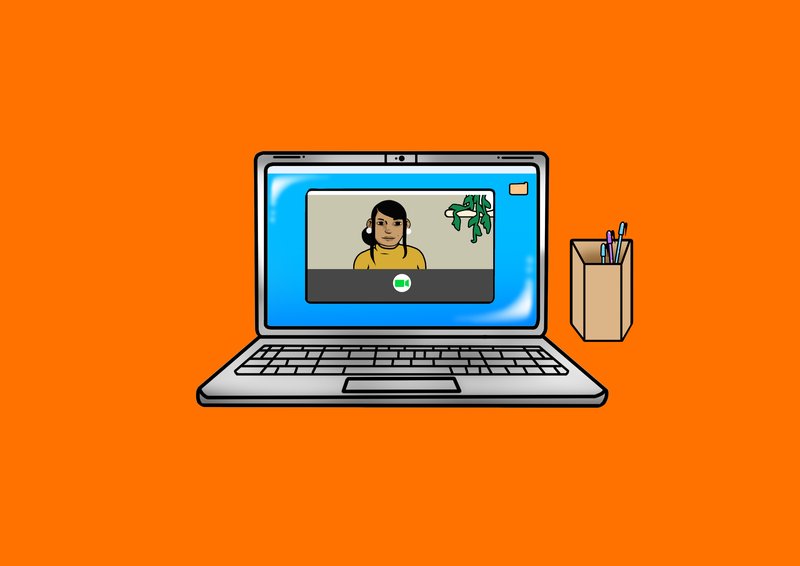 Image description: a drawing of an open laptop floats in the middle of a rectangle frame on an orange background. There is a geometrical cup on the right with three pens: two are pale blue, the middle one is purple. The laptop is on and the screen displays a person on a video call wearing a yellow turtleneck seater and a set of white earpods, they have black shoulder length hair. There is a plant on a shelf behind them to the right of the frame.
About the Code of Practice
The Code of Practice for the Professional Australian Visual Arts, Craft & Design Sector sets the national best practice standards for the sector, providing a set of practical and ethical guidelines for the conduct of business between art, craft and design practitioners and galleries, agents, dealers, retailers, buyers, sponsors and partners, commissioners, employers and the managers of residencies, workshops, competitions, prizes and awards, and more.
The second in a series of kick-start consultation conversations for our major revision of the Code of Practice was held in mid-October, hosted by NAVA and research partners from RMIT School of Arts. It's an understatement to note that this has been an incredibly difficult and challenging year for our sector, and it is with that in mind that we have set these very short meetings to tackle some big questions. Each one-hour conversation focused on different areas of the Code:

• Commissioning New Work (guest presenters: Dr Bianca Beetson and Michelle Newton)
• Loans and Touring (guest presenters: Deborah Kelly and Michael Edwards)
• Funding (guest presenters, Abdul-Rahman Abdullah and Frank Panucci)
Artists and Organisational NAVA Members, colleagues and stakeholders joined us to contribute their experience and insight to these discussions. Guest presenters opened the sessions with presentations about their experiences and insights to give context to the conversation and offer provocations. The consultation participants were then invited to deliberate in online breakout rooms to discuss best practice approaches to the topic of the meeting and what's missing in the Code of Practice that would be of benefit to the sector.
Graphic recording of the meetings
Graphic recordings by Sarah Firth.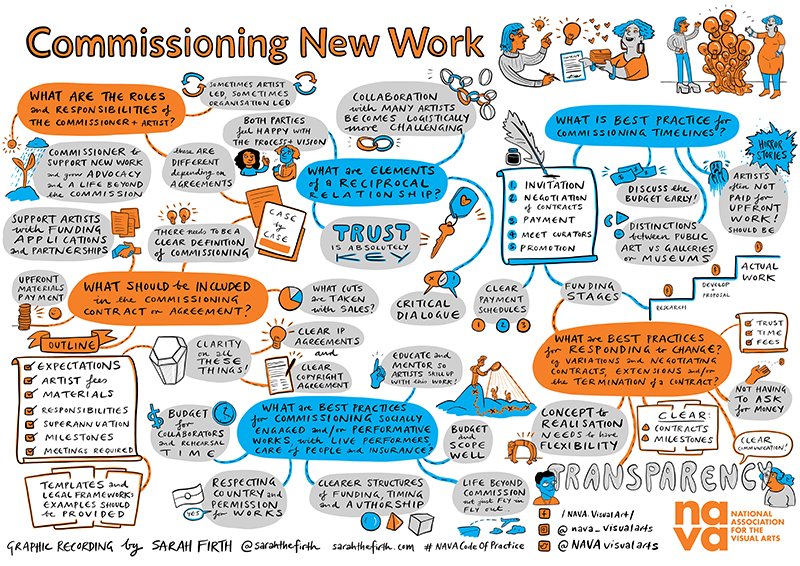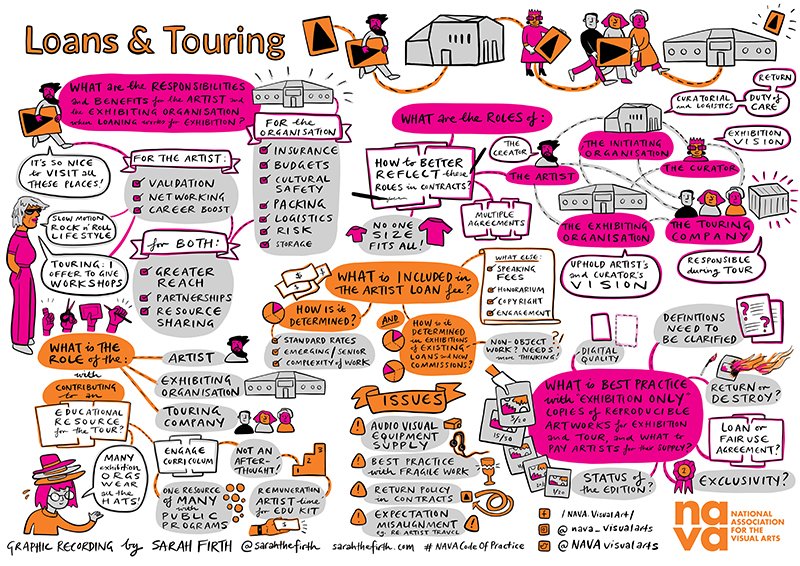 The discussions at each of these meetings reconfirm how important it is that NAVA is undertaking this comprehensive review of the Code. The dramatic effects of COVID-19 pandemic on the arts sector have only made these revisions to the NAVA Code of Practice more urgent.
There were unanimous calls for improved trust, transparency, time allowances, flexibility, listening to each other, developing close working relationships and fairness between artists and institutions but questions were raised about how that might be codified. Concerns were raised about conflict of interest and varying models of decision making when it comes to funding bodies; restrictive eligibility and selection criteria; time wasted on misunderstandings, undocumented agreements, unnecessary administration and waiting for unexplained late announcements. It was noted that mutual trust is key for reciprocal working relationships, as well as mutual exchange and respect.
Issues of accessibility, diversity, inclusion and cultural safety again emerged as areas for improvement. Addressing these as a priority is central to the Code of Practice revision. The new Code must be built on an ethical foundation that respects the rights of artists, promotes best practice, fair exchange and a safe, inclusive and equitable environment for all people working in the arts.
NAVA warmly thanks all contributors for their insights, which will be used to inform the development of key discussion papers for further research over the coming months. The sessions covered both familiar and new experiences, and we're taking a close look at these to help focus our research areas in the coming months.
Aboriginal and Torres Strait Islander voices will be at the centre of the revision of the Code of Practice. NAVA recognises the need to centre First Nations perspectives, truths, priorities and knowledges. If you identify as First Nations and are interested in being part of the working group or part of consultation in another way, please email our First Nations Engagement Coordinator, Georgia Mokak (Djugun) via georgia@visualarts.net.au to discuss further.
Over the next months we will continue to discuss these topics, encouraging more detailed conversations within focus groups, interviews and further research.
Focus areas such as payment standards will be considered in the next stages, so they are informed by the findings from the consultation sessions.
As always, we encourage you to become involved in further consultation, provide feedback and raise any issues regarding best practice that the Code of Practice should address. Please email NAVA's Best Practice Coordinator Holly Morrison via hmorrison@visualarts.net.au.
In the meantime, three discussion papers informed by our consultations in June are currently available online. This first set of papers consider awards, prizes and competitions; residencies and studios; and workshops and education. The purpose of these papers is to stimulate feedback to further inform the drafting process. The discussion papers are in survey format with space for text responses. If you require the papers in a different format, please get in touch with Holly as above.
The new Code of Practice, once implemented, will more accurately reflect the contemporary practices and needs of Australian artists and arts workers and further promote the development of a robust arts ecology that can sustain and support artists' careers while preparing organisations, institutions and policymakers for working with and for artists in financially transparent, culturally competent and ethical ways.
The October consultation process provides valuable insights from our members to ensure the new Code of Practice delivers on that mission.
Subscribe to Code consultation updates
Code of Practice October Consultation