NAVA reveals Arts Day on the Hill 2020 date for ambitious national advocacy at this critical time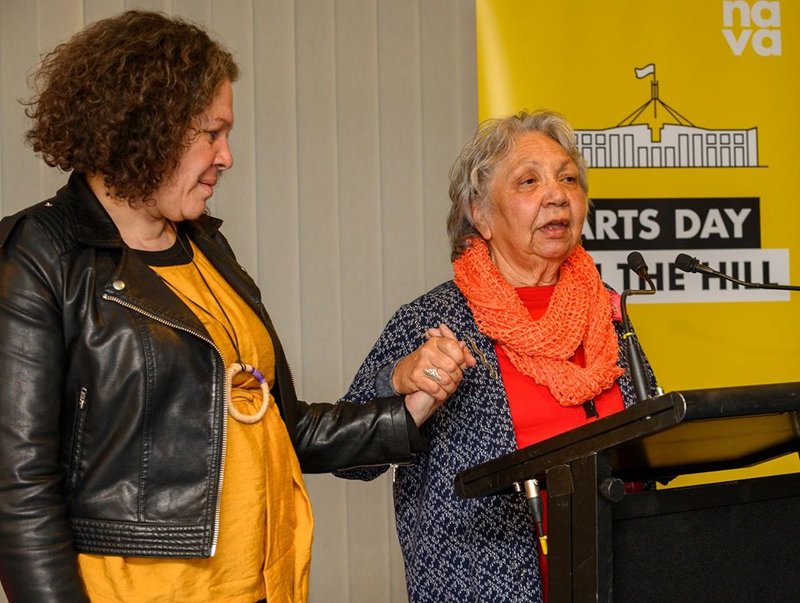 Image: Nadeena Dixon and Aunty Matilda House at Arts Day on the Hill 2019. Photograph by Irene Dowdy.
The National Association for the Visual Arts (NAVA) today reveals that the 2020 Arts Day on the Hill will take place on Wednesday 12 August.
"As the world reels with confusion about how best to respond to COVID-19, and arts and cultural events are being cancelled one after the other, Australia's artists and creative industries need urgent ways to communicate the value of the arts to the lives of all Australians," said Esther Anatolitis, Executive Director of NAVA.
Arts Day on the Hill is Australia's national day of advocacy for the arts.
Led by NAVA, Arts Day on the Hill builds sector capacity for sustained government engagement and lasting policy reform. The program, which culminates at Parliament House in Canberra, will feature a strong online component of advocacy training and network building well ahead of the day, with an intensive day of engagement on 12 August, currently scheduled as the first sitting week after the Parliamentary winter break.
"Our aim is to foster confident, informed advocacy by smart, connected artists and arts leaders." said NAVA's executive director, Esther Anatolitis. "Not just once-off, not just in an emergency, but in an ongoing way that precludes such policy and funding emergencies. Let's build something that lasts."
Ahead of Arts Day on the Hill, NAVA will release an online program of advocacy training in a range of formats. Participants will be connected with members of Parliament and provided with the tools and resources to champion an ambitious arts agenda for a long-term impact.
Via a competitive process, a number of Arts Day on the Hill Advocates from all over Australia will be engaged in more intensive training and collaboration. Last year's Advocates were Clare Armitage (NT), Selena de Carvalho (Tas), Nadeena Dixon (NSW), Shaun Edwards (Qld), Emma Fey (SA), Mish Grigor (Vic), Miranda Johnson (WA) and Rebecca Selleck (ACT).
NAVA will launch Arts Day on the Hill at Parliament House the evening before with the Parliamentary Friends for Contemporary Arts & Culture – a large and diverse cross-party group of Members and Senators co-chaired by John Alexander, Maria Vamvakinou and Adam Bandt.
Arts Day on the Hill was founded in 2019 as a collaboration between All Conference, APRA AMCOS, Asialink Arts, Arts Access Australia, Australian Library & Information Association, Australian Museums & Galleries Association, Australian Network for Art and Technology, Diversity Arts Australia, GLAM Peak, Live Performance Australia, Performing Arts Connections Australia and Regional Arts Australia, with the global perspective and expert advice of the International Federation of Arts Councils and Culture Agencies. 2019's workshops were presented with the Parliamentary Library's civics workshops, the Museum of Australian Democracy, the National Gallery of Australia, the Director of the Parliament House collection, Regional Arts Australia and IFACCA. The program is supported by the generous donation of Daniel Besen. 2020 partners will be announced in coming weeks.
Applications for this year's Arts Day on the Hill Advocates will open online in coming weeks. For more information about NAVA, visit www.visualarts.net.au
Jane Morey
Morey Media
t: 02 9929 9922
e: info@moreymedia.com.au
NAVA reveals Arts Day on the Hill 2020 date for ambitious national advocacy at this critical time