NAVA welcomes newly elected Board Members from four states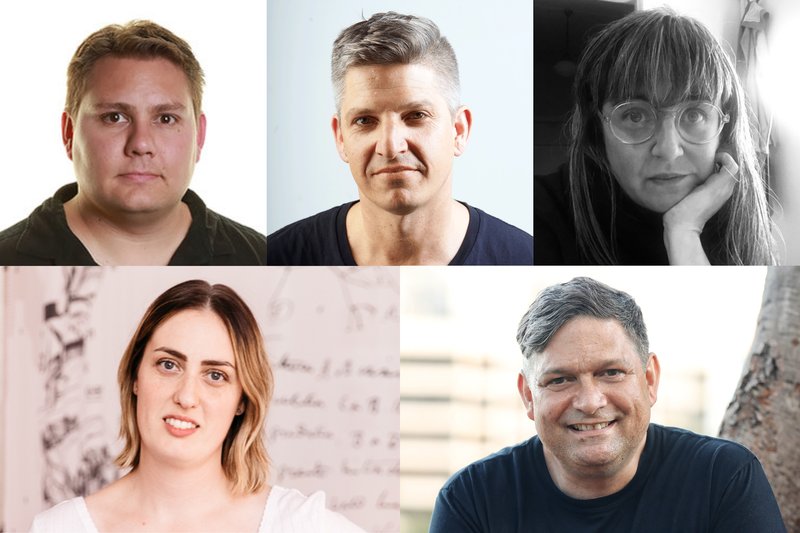 Rohin Kickett - photo by Jason Matz, Tom Mùller - photo by David Folly-Hans, Lisa Radford, Patrice Sharkey - photo by Sia Duff, and Wesley Enoch - photo by Prudence Upton.
The National Association for the Visual Arts (NAVA) today welcomes newly elected Board Members Rohin Kickett, Tom Mùller, Lisa Radford, Patrice Sharkey and re-elected Board Member Wesley Enoch, as the result of the recent Members' ballot.
"It gives me very great pleasure to welcome the newly elected directors," said James Emmett, Chair of the NAVA Board. "Their experience, skills and diverse voices will be a huge asset to the organisation."
"As we begin to envision the next NAVA strategic plan, I welcome the expertise and insights that Rohin, Tom, Lisa and Patrice will bring, and I'm delighted that Wesley's been re-elected," said Esther Anatolitis, Executive Director of NAVA.
Rohin Kickett, newly elected Artist Representative Board Members, is a Nyoongar artist from the Balardong region Western Australia. Rohin's artworks are inspired by his family stories, and exploring the Balardong region. His artworks represent the Nyoongar region by aerial view landscapes in an abstract style, while also exploring alternative ways of mark making..
"I am looking forward to being a voice for professional practicing Indigenous Artists," said Rohin Kickett.
Newly elected Artist Representative Board Member, Tom Mùller, is an established multi-disciplinary artist with an active international practice spanning the realms of site-responsive and temporal projects. Tom is also currently Director of programs at PS Art Space, and the co-founder and Artistic Director of the Fremantle Biennale.
"I am thrilled to be appointed to the NAVA Board," said Tom Mùller. "As an elected representative for artists I will advocate on behalf of our industry, remind our audiences about the vital and relevant roles artists continue to play in fashioning the culture and identity of our country. I will also ensure that WA is strongly represented on a national level and stress the importance of Australia-wide conversations in celebrating our rich and exciting national diversity."
Lisa Radford, newly elected Artist Representative Board Member, uses conversation and correspondence as a way of exploring the shared space between images, place and people. More often than not she works with others, most recently with Sam George and Yhonnie Scarce but previously with TCB art inc. and as a member of the collective DAMP. Currently working in the Painting Department at the Victorian College of the Arts, University of Melbourne, she shares thoughts publicly and intermittently in The Saturday Paper.
"What I am interested in is quite simple (I think): that is, working towards the greater recognition of art and artists and the improvement and maintenance of their shared working conditions," said Lisa Radford.
Patrice Sharkey, newly elected Organisation Representative Board Member, is a curator, writer and arts worker who lives on Kaurna land in Adelaide. She is currently the Artistic Director of ACE Open, South Australia's flagship contemporary art space, and was previously the Director of West Space in Melbourne (2015-2018).
"I am both thrilled and humbled to be joining the Board of NAVA, which is doing important work to champion the rights and needs of artists and arts workers in Australia," said Patrice Sharkey. "As an organisational leader of a small-to-medium contemporary art space that is part of the Contemporary Art Organisations Australia (CAOA), I will bring this perspective and network into my Board role."
Re-elected Organisation Representative Board Member, Wesley Enoch, is the Artistic Director of Sydney Festival and a proud Noonuccal Nuugi man. Wesley has a 30 year history of managing arts companies, project delivery and policy development.
There was a strong Member engagement in both Board Member nominations and voting, with a highly competitive field. The election outcome was independently scrutinised by the International Federation of Arts Councils and Culture Agencies.
Today NAVA also farewells Hannah Matthews, William Morrow, Sally Smart and Ionat Zurr after reaching their maximum tenure on the Board.
"I want to state our appreciation and gratitude for the enormous contribution of the outgoing elected directors, Sally Smart, Hannah Mathews and Ionat Zurr, and also of co-opted director Bill Morrow, who will reach the end of his term at the next board meeting," said James Emmett. "It has been a great pleasure working with these and the other inspiring members of the board. Finally, I thank all the candidates who put their names forward and all the members who voted. It was an extremely strong list of candidates and NAVA appreciates their passion and support for the organisation."
"Thank you to our departing Members for all your work over the years." said Esther Anatolitis. "And finally, a big thank you also to all the NAVA Members who nominated – such a strong field of candidates! A great testament to NAVA's important work at this challenging time for our Members."
The tenures of Rohin Kickett, Tom Mùller, Lisa Radford and Patrice Sharkey began as of yesterday's NAVA Annual General Meeting, 26 May 2020.
Media enquiries
Leya Reid, Communications and Advocacy Manager at NAVA
0413 821 503 | media@visualarts.net.au
About NAVA
The National Association for the Visual Arts (NAVA) leads advocacy, policy and action for a contemporary Australian arts sector that's ambitious and fair. For further information on NAVA visit: www.visualarts.net.au