The Past Becomes Our Future
NAVA's recent conversation at I.C.E. in Parramatta on the role of art in activism and world building.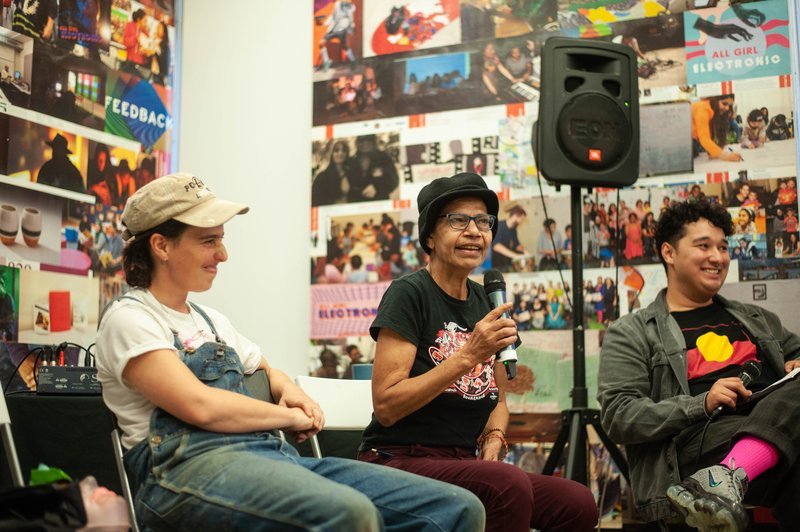 Image: artist activists Yul Scarf, Ray Delaney and Enoch Mailangi. Photo: Jade D'Amico
In 2019 the Australian Government provided a $6.7 million fund to the Australian National Maritime Museum so that its replica of the Endeavour could circumnavigate the country, marking the 250th anniversary of Captain Cook's arrival. Last month, during the 2020 Gay and Lesbian Mardi Gras Parade in Sydney, the Department of Homo Affairs (DOHA), comprising a group of artists and activists who focus their work around Australia's border policies and manifestations of white nationalism, intercepted the Liberal Government's float to draw focus to the implications of the Endeavour route. The action garnered national media attention.

At NAVA's The Past Becomes Our Future event held at I.C.E. in Parramatta earlier this month, we acknowledged that these current actions aren't rooted in the now, but in fact join a long line of important histories and activations which informs what groups like DOHA do today. The Past Becomes Our Future was a conversation about the role of art in world-building and community mobilisation, with five artist activists who referenced Sydney Mardi Gras as a fluid case study that connected their cross-generational experiences. At the event Ray Delaney, an activist from the Noonukle Clan in North Stradbroke Island, shared stories of the first official First Nations float in 1988, which was created in resistance to Australia's bicentennial celebrations of 200 years since the invasion of Warrane by the first fleet of British convict ships. "Dancer Malcolm Cole, he was dressed up there as Captain Cook. And all the white young men, they were dressed up as convicts. I think there were about 20 of them that pulled the boat up through the parade, up the street. They volunteered to do that because they got it. They got the message", shared Ray Delaney with the young people from Twenty10's Outwest program present.
"We just felt the need to do this at the time. That was because of the anti-bicentennial, the 200th anniversary of white Australian history in this Country." Ray Delaney connected this moment to their experiences resisting racial hierarchies and gender binaries in the 1980s and spoke to languages and intersectional politics happening at the time.
When genres of fantasy merge with authoritative realities, dominant models of moving through the world are recomposed. This is the strength of world-building practices and what ties together the experiences of each speaker. Other speakers included Alissar Chidiac, Dj Gemma, and Beau James, who also came together in a much-needed intergenerational exchange. Each speaker shared their experiences with the Sydney Mardi Gras Parade as a fluid case study, invoking the radical roots of the movement as a transformative site of protest. It became evident over the course of the night that Sydney's Mardi Gras has been used to platform a radical politic for change since its inception by the activists themselves.
For example, Alissar Chidiac spoke to her experiences with the two marches on June 24 1978, as well as the subsequent involvement in protests at police stations and courthouses that came to represent Mardi Gras in the 1970s and 1980s. She shared insights into the relationships between LGBTQI+ activism and the ecology of wider political cultural networks which took place on Gadigal land. An archival image from the 1982 Women + Arts Festival which was held outside of the AGNSW moved us into a discussion where she amplifies a conversation we had via email a week prior – "in taking a bigger picture, i could also comment that other movements, like IWD, have also become established, corporatised and normalised – with social advantages and political disadvantages – as with any assimilation and commodification of radical ideas, language and reformist movements – not exactly disaster capitalism, but certainly not revolution!"
Beau James' art performance practice is one of clowning and political satire. They shared examples of their different Mardi Gras and other performances. Notably, they discussed their experiences in the 40th anniversary of the Mardi Gras and the 30th anniversary of the First Nations Mardi Gras float that Ray had spoken about earlier in protest of the 1988 bicentennial celebrations. "We got the beautiful Malcolm Cole's costume back out, which for everyone who was on that float, looking back at Ray and those who had marched before us, they were the reason why we had marched. So it was a very very beautiful moment, there was a lot of consultation that went on with the family around that - I can't speak with my mouth open, so I speak with my body and what I represent." Beau went on to explain a splendidly re-visioned black Captain Cook portrayed by Chris Bonney, which took centre stage on the First Nations 2018 float. They examined their performance in this years' alternative Mardi Gras recovery party Club Kooky, and spoke about how reclaiming space and language challenged gender binaries, whilst being a vehicle for resistance, collaboration and community mobilisation from the late 1990s until now.
Dj Gemma shared stories of her contribution to the work of activist group 'Women For Survival' in the mid 1980s. The group organised through cold calls from an office space in Chinatown. They organised against extractive forces such as the largest uranium mines in Woomera, where Gemma was involved in weekly protests and documentations of the quantities of uranium extracted from the site. One such story involved marching in silence with local Elders through infra-red surveilled fields late in the evening to protest the mines. The group of women walked for hours, holding a giant sculpture of a tampon they had made from papier-mâché earlier before plugging the mine. Gemma was also involved as an alternative Mardi Gras club organiser after 1992, when capitalist and corporate co-option of Mardi Gras began to emerge. You could say it has had a push of 'No Politics at the Dinner Table' becoming the norm of the Parade. These club nights became a fundamental space for community and resistant performance practices.
Yul Scarf from DOHA wrapped up the night by saying, "There are a lot of ways to do activism. But I think that it is essential to have community and connection and vitality and generative modes of being together." This is particularly important in the instance of the parade considering that, as activist and lawyer Paul Kidd wrote, "We have now come full-circle, from a march against police violence that resulted in police violence, to a march that utilises police violence against those who challenge oppression, corporate greed or conservatism."
There is a depth and sweetness in reflecting with learning and building intergenerationally. "We didn't have language like community engaged art or art activism, we just did this work because we had to," Alissar Chidiac recounts. "The day after the event, my thoughts were about our shared experience of deep listening; it was simply compelling. The immediate rawness of each person's stories, the invoking of names and places, the organic archiving of past, present and future." In a brief email exchange, Alissar and Yul discussed: "When we are critical of Mardi Gras, we are not being critical of anyone's experience of Mardi Gras. We are critical of the power structures that have grown into the event and that replicate the violence of capitalism and the state. At the same time, we know Mardi Gras remains a significant event for many people in ways that can be life changing and affirming."
The night came to an end, and a young person from Twenty10 shared: "We don't get taught any of this sort of stuff in school. We are so lucky to have people and communities like this where we can all talk." Each of our speakers expressed an eagerness to continually come together and organise intergenerationally. This intergenerational, collective organising could look like more of these spaces where we all get to meet each other for the first time, and just talk.
- Enoch Mailangi and Justine Youssef
Transcript (148.5 KB)
Please note that there were technical difficulties in audio recording this event. The audio and transcript above only reflect parts of the discussions.
| Alissar Chidiac

Alissar Chidiac has never separated processes of politics, arts and activism. She has worked through cultural action and community engagement for 40 years, starting out with late '70s women's street theatre and early '80s community arts. Since 1991 her focus has been on Arab Australian cultures, through contemporary production, cultural heritage and performance work. Alissar's mid '80s solidarity work inspired her to live and work in Palestine in the mid '90s. She has deep experience facilitating innovative arts programs in Greater Western Sydney, on the Lands of Darug and Dharawal People. She is one of the Artist Coordinators of Arab Theatre Studio, a contemporary arts collective producing Arab-centred critical conversations and cultural work.
| Ray Delaney
Ray Delaney is from the Noonukle Clan in North Stradbroke Island, South Queensland. She is an activist, writer, community worker, early member of Koori radio and was a performer in the 1988 first First Nations Mardi Gras float. She is currently working on an auto-biography and documentary.
| Dj Gemma
Dj Gemma was born in Lebanon in another time and currently lives and works in Sydney on Gadigal Land. She is an artist, musician, and one of the founders of Club Kooky, a queer performance and club event in Sydney since 1995. She was also a contributor and resident DJ to Wicked Women, Gurlesque and Club Bent at Performance Space on Cleveland Street. Further to this she is the co-creator of Pluto Beat and Ya Leil, and was an early co-founder of Club Arak.
| Beau James
Beau James is from the Mununjali clan of the Yugambeh Nation from South East Queensland, and has over 25 years' experience working as a circus artist, physical comedian and cabaret performer. They have worked for a variety of Australian companies, as well as creating their own collection of works for events such as Sydney Mardi Gras, Club Kooki, Koori Gras, Pussy Cat Club, Club Kooky, Black Nulla, Brisbane Festival and Adelaide Fringe Festival. In 2019 they performed in a sell-out season of the Sydney Opera House production, Natives Go Wild. Through their performance work James strives to highlight life within the LGBTQIA+ community, focusing on issues such as culture, race, gender and politics.
| Yul Scarf on behalf of the Department of Homo Affairs
The Department of Homo Affairs is a collective of radical queer activists and artists based on Dharawal and Gadigal land. The Department is interested in disrupting neo colonial border politics through activism that is performative and art that is political. DOHA are currently focused on getting word out about 250 years of Gweagal Bidjigal resistance and recently had a fun time getting in the way of the liberal party at the 2020 Mardi Gras. Collective action is our medium to connect with each other, our broader communities, to be in solidarity and act out the stories we want to hear.
We pay our respects to the Burramattagal people of the Darug Nation, the rightful custodians of the land on which this event was held. We acknowledge their continuing connection to land, their resistance, their stories, artistic practices and knowledge systems that are shared here as they have been for over 60,000 years now. Sovereignty has not been ceded.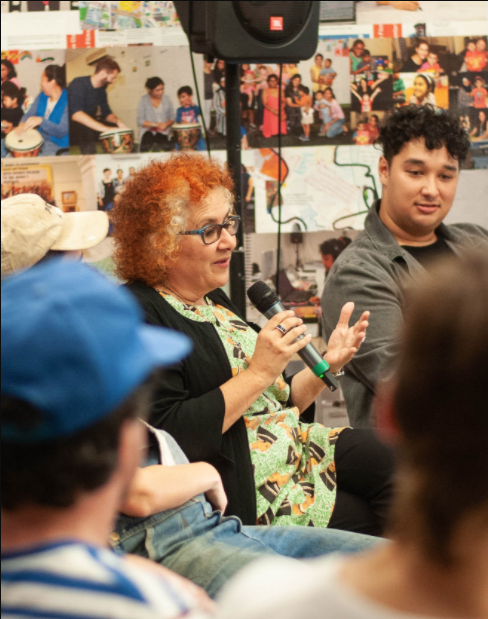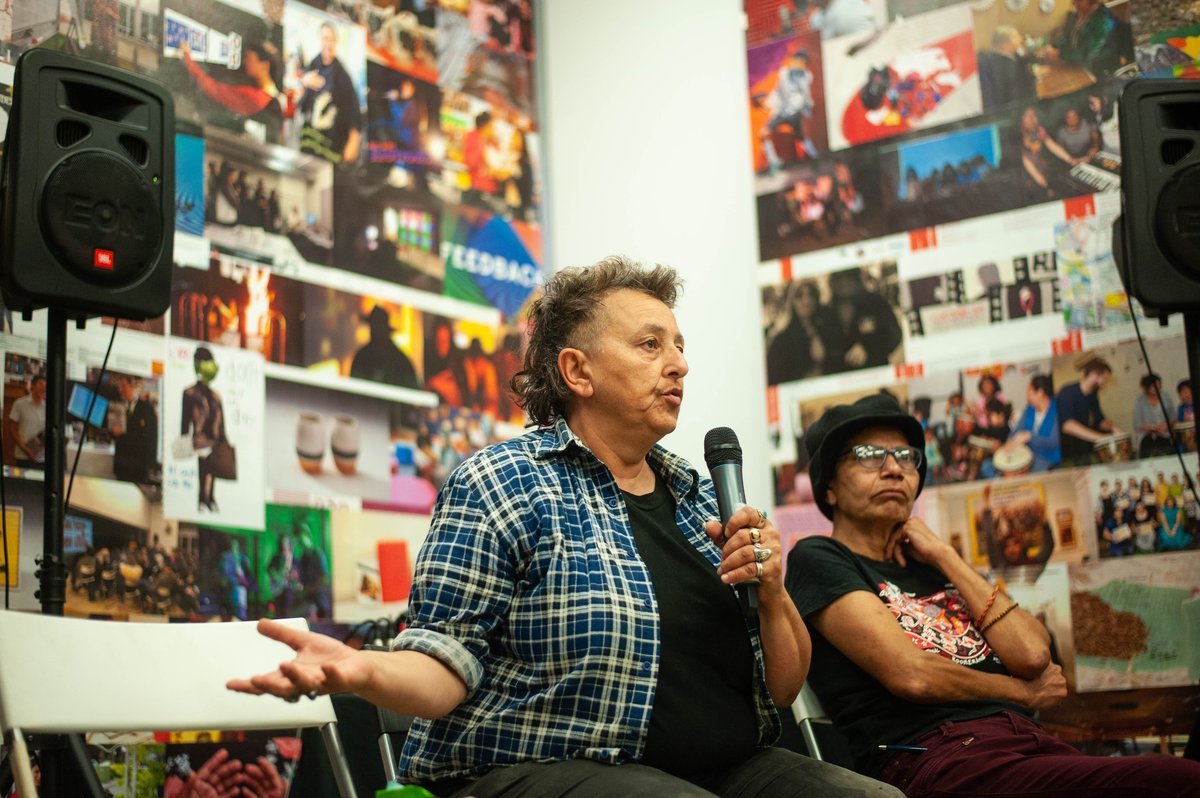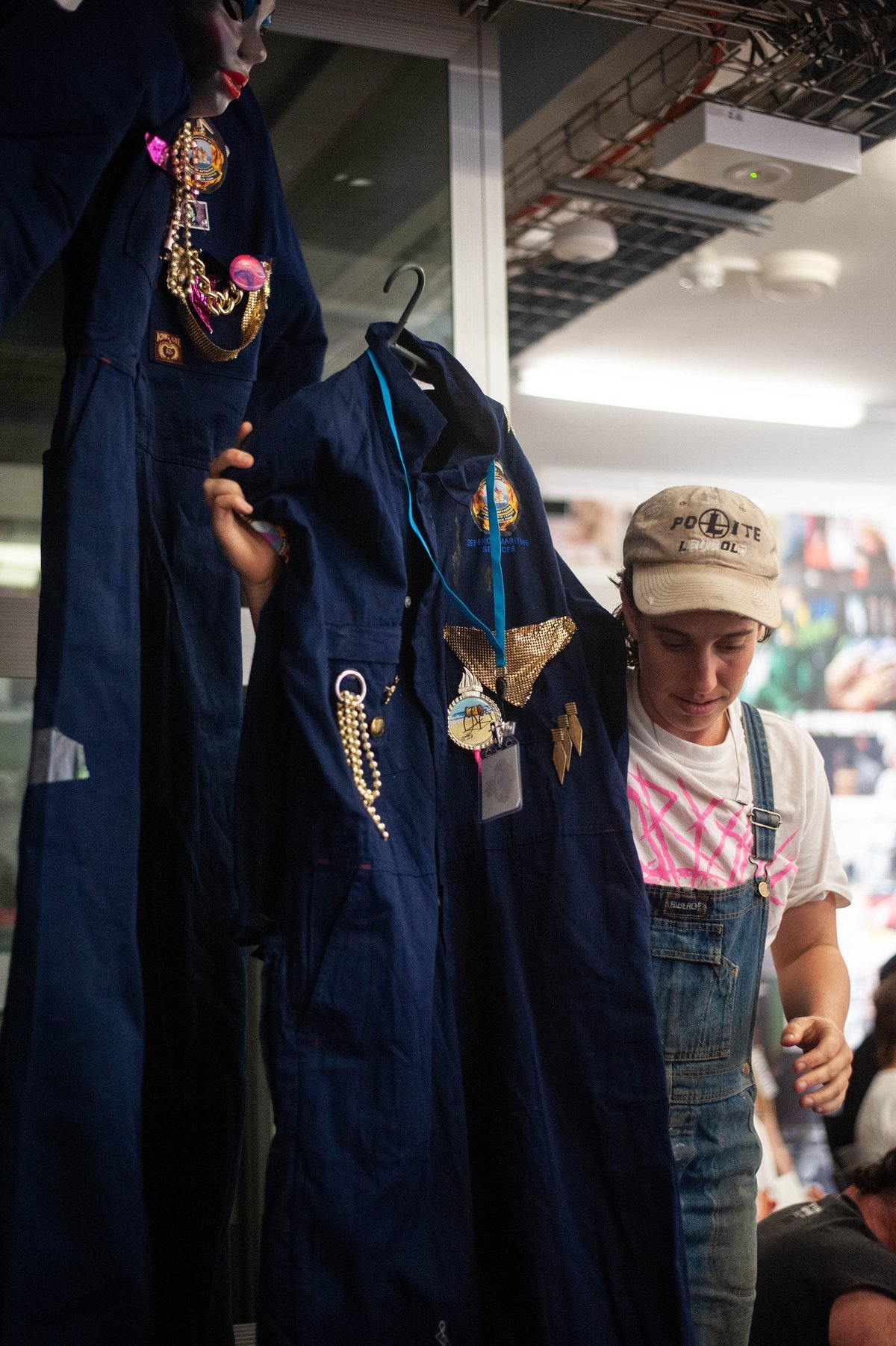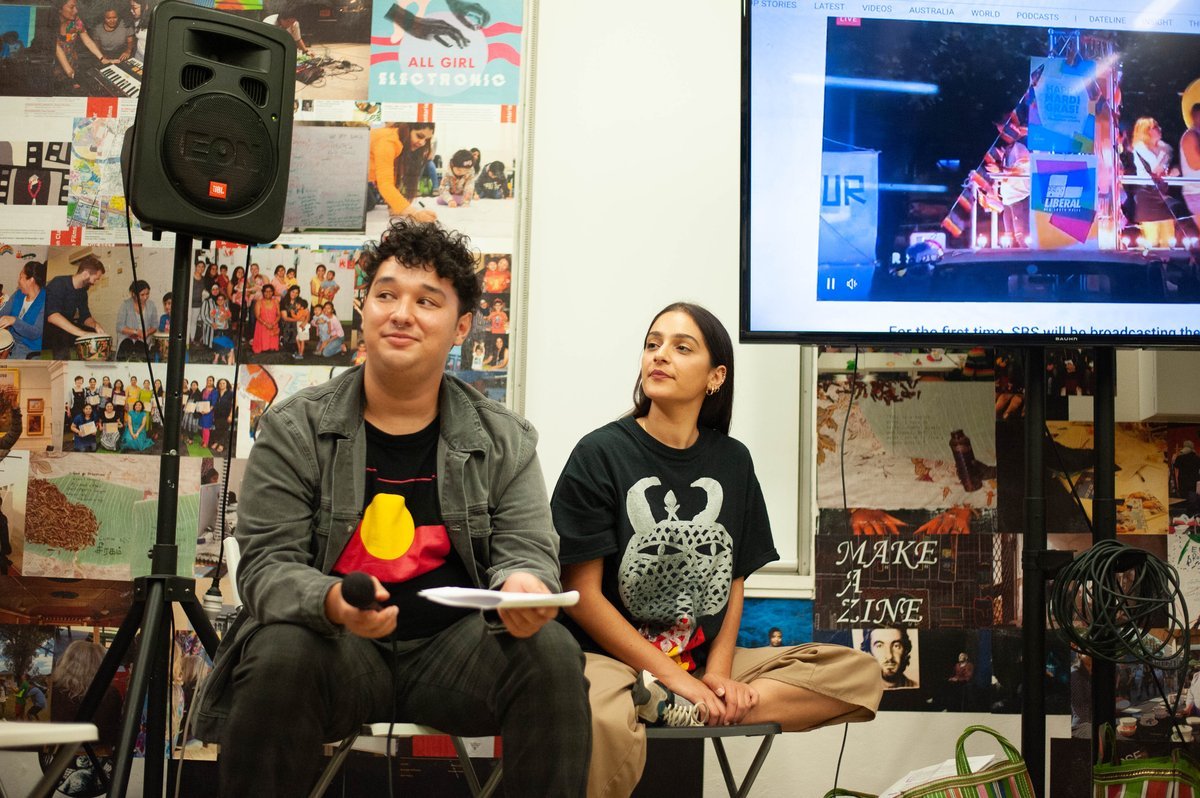 The Past Becomes Our Future