Shahmen Suku awarded the 2020 Carstairs Prize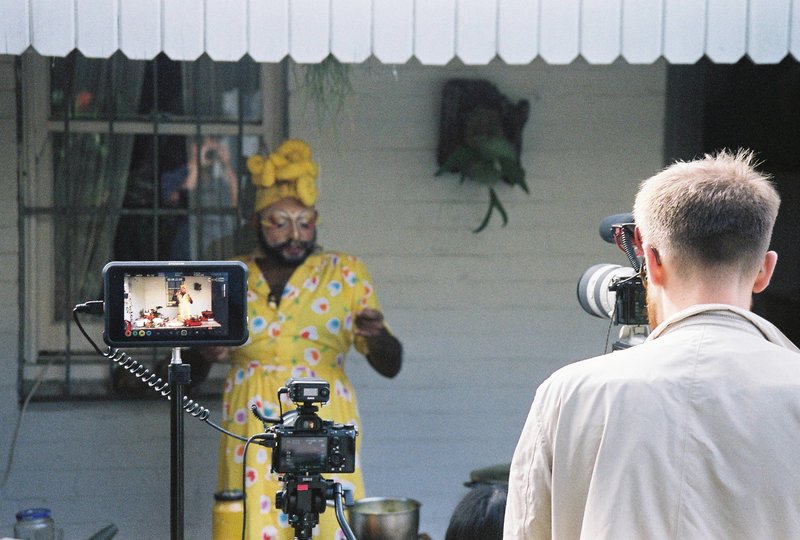 Photo by Chris Paraskevas.
Image description: Photo of three different sized cameras filming Shahmen Suku in a yellow dress and drag make-up, he has a beard and moustache and long yellow eyelashes, he is looking down. Suku is standing in front of a white brick-wall with a window to the left and a staghorn plant hanging on the right. A camera-man is looking down the lens of the cameras to the right of the frame. He is wearing a pale shirt and has short hair.
The National Association for the Visual Arts (NAVA) is pleased to announce Shahmen Suku as the recipient of the 2020 Carstairs Prize for socially engaged practice.
In the new year, Suku will use the $3,000 prize to develop and present a series of cooking show style videos featuring special guests from the New South Wales arts and culture scene. Live streamed from the artist's backyard in Sydney's inner west, the project aims to provide a platform to talk about art and community while also sharing insights into varied experiences of growing up in Australia.
On receiving the prize Suku said: "I am absolutely honoured to be receiving the 2020 Carstairs Prize and grateful to NAVA and the Carstairs donor. This will allow me to push my ongoing work "Where You'd Radha Be" into a new iteration to include artists and creatives of Colour as well as from diverse backgrounds. This will also allow me to support them while creating socially engaged videos as a platform for us to share our stories to create new connections through the art of making food."
Shahmen Suku is a performance artist based in Sydney NSW who explores ideas of racial, religious and cultural identity, gender roles, the home and the kitchen, food and storytelling. Growing up in a modern matriarchal Indian family in Singapore, Suku processes his sense of displacement from home as Radha, the Diva from India. Moving to Australia has given the artist multiple perspectives on migration, culture, race, colonisation and gender identity. Suku discusses these issues openly through his alter ego, Radha, sharing stories the way he learnt them from his mother's kitchen, through food.
"Congratulations to Shahmen Suku, "Where You'd Radha Be" promises to be a hugely exciting project that combines community, food, art and politics," said Zanny Begg, artist and film-maker and one of this year's assessors. "It was great to see so many wonderful proposals and it was a very tough choice."
The Carstairs Prize offers assistance to a mid-career Australian artist to present a socially engaged art project which embraces participatory and collaborative experiences. The aim of the funding is to bring participants into active dialogue with the artist in order to involve audiences beyond the art community. In recognition of the severe limitations in place due to continued physical distancing and the challenges this poses, applicants were encouraged to consider the digital and virtual space as a valid and essential arena for collaborative artistic endeavour.
This is the fourth year of the program supported by the donor of the previous Carstairs Residency Prize. Named after the Carstairs, the prize drew its name from an intriguing and eccentric blend of writers, poets, painters, pianists, and illustrators who immigrated to Australia from Fife, Scotland in the 19th century.
The Carstairs Prize is funded by a private donor and administered by NAVA. Providing this kind of philanthropic support can be a source of great satisfaction in making a valuable contribution to supporting living Australian artists. For more information about how you can make a tax-exempt donation to set up a new program shaped to your ideas and named for your family, legacy or artistic focus, please contact NAVA via nava@visualarts.net.au.