Code of Practice revision - independent arts workers
Illustration by Emily Johnson.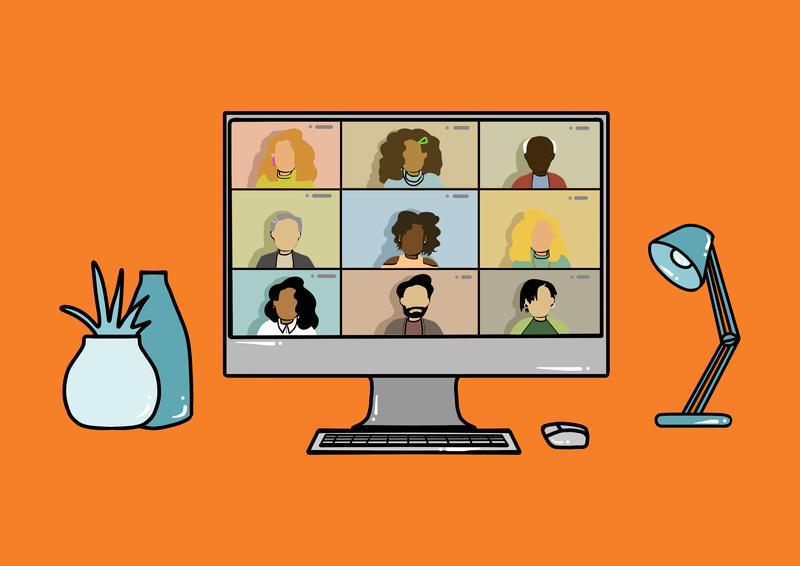 A group of eight independent practitioners working across a wide range of roles from around the country met on 22 November to discuss what's needed in the new Code of Practice to support independent workers. The consultation was facilitated by Zoya Godoroja-Prieckaerts, with support from NAVA and CAST, Contemporary Art and Social Transformation research group at the School of Art, RMIT University.
The work of independents is integral to the development and presentation of art, supporting organisations, groups and artists' practices. The aim of including best practice standards for independent arts workers and those who engage them in the Code of Practice is to support all types of work within our sector and clearly outline standards that value and support everyone involved, including those who work behind-the-scenes to bolster and support art. This way the sector can work to the best of its abilities and capacities.
The group discussed the various roles and job titles that exist within this category, including Arts Worker, Producer, Curator, Cultural Worker, Creative Associate, Consultant, Activist, Advocate, Grant Writer and more. It was noted that many who work within these roles are also practicing artists themselves, highlighting the crossovers within the sector and how including standards for this work will support a large portion of workers within the visual arts and craft.
There were two main areas of concern for the Code of Practice that the group deliberated over in breakout rooms. The first was rates of pay. Here, there was a focus around the current rates independents are being paid for short-term and long-term contracts, what determines these rates and what the standard rates should be.
Key findings from this discussion included:
Understanding that many of these roles require sharing one's Intellectual Property which should be valued and reflected in one's rate of pay.
Similarly, relational and cultural knowledge and skills need to be valued at higher rates.
Currently there is an expectation for independents to provide free advice when being informally consulted on project development by organisations. Suggestions for structural change included grant applications incorporating budget lines for Project Development Consultation Fees.
Possibility of determining a base rate that increases when specialist knowledge comes into play such as experience, intellectual property, relational and cultural knowledge, rather than just academic qualifications.
Recommendation for level of experience (particularly in regards to terms such as "mid-career" and "senior practitioner") to not solely be measured by number of years' experience, but be similarly influenced by or in favour of depth of knowledge.
The scale of the project and the organisation should influence the rate of pay, however the current scale disparity is too wide and there is no consistency or transparency around how organisations determine their rates when contracting independents.
The group then discussed these issues further in the second breakout session, expanding beyond rates and concentrating on outcomes that could address these challenges. There was a particular focus on what could be included in the Code of Practice that would help independents when working with organisations and/or artists.
The discussion made some recommendations for the new Code of Practice including:
Clarity around the minimum requirement for a contract.
Templates, checklists and/or lists of questions to help define the scope of works and conditions of engagement before a contract begins. This would help independents (and the organisations/artists contracting them) identify basic and specific needs to consider when undertaking new work.
Building revisions into contracts, similar to standards in Architecture and Design industries.
A breakdown of the stages of engagement.
The inclusion of case studies to accommodate the wide range and diversity of tasks and roles, assisting independents to identify options that relate to their specific situations. This will help in making educated decisions around unique circumstances that may not be outlined in templates, tables of rates, etc.
Updating NAVA's EOFY Tax Checklist to include information on what independent arts workers can claim.
The need for more simple English – echoing NAVA's Accessibility Focus Group – and an appendix with definitions.
Advocacy and training resources for organisations on engaging independent arts workers, including fair rates, conditions of employment and transparency around their budgets.
The meeting raised important concerns and made recommendations for practical courses of action that will support the sector. As the first consultation for this area there is clearly more work needed to flesh out details, but as an initial meeting there were valuable insights and learnings.
In the coming weeks NAVA will release the Independent Practitioner Discussion Paper for open comment. Stay tuned to NAVA's social channels to be notified of how you can contribute to the ongoing conversation in this next phase of consultation. For more information on how you can share your voice, get in touch here – we would love to hear from you.