Farewell Mimi Crowe
NAVA's Co-Director, Mimi Crowe, has announced her resignation from NAVA. Her last day is 23 December 2021.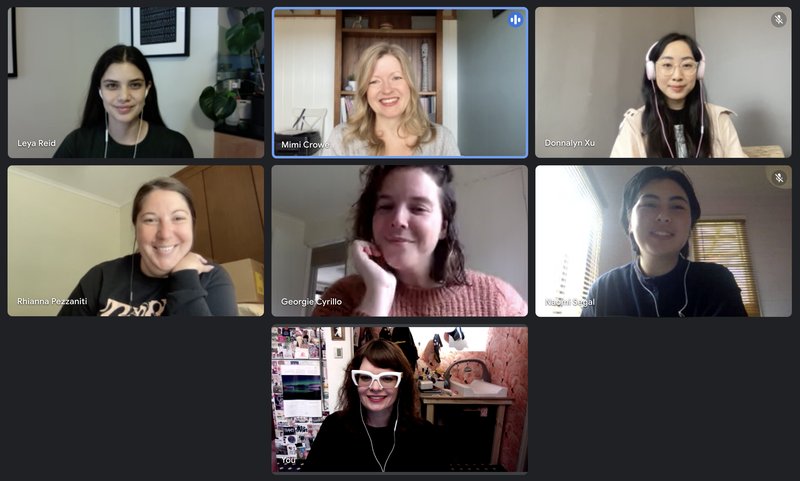 Screenshot of NAVA staff meeting. L-R: Leya Reid, Mimi Crowe, Donnalyn Xu, Rhianna Pezzaniti, Sarah Rose, Georgie Cyrillo, Naomi Segal, and Penelope Benton.
NAVA's Co-Director, Mimi Crowe, has announced her resignation from NAVA to take up a role based full-time in South Australia at the City of Adelaide leading the Creative City program.
"NAVA is an extraordinary organisation doing important work and it has been a privilege to work here. I leave NAVA with a deeper understanding of the needs of artists and look forward to carrying that knowledge with me in my new role."
"This is an exciting opportunity for Mimi in her hometown of Adelaide," said NAVA Deputy Chair, Patrice Sharkey. "The Board acknowledges the good work of the Co-Directors in building connections and advocating for the sector impacted by public health restrictions and border closures across the country this year."
"Mimi started in her role as the wave of lockdowns began in New South Wales and Victoria, and NAVA has been impacted like all arts organisations across the country," said Penelope Benton, NAVA Executive Director. "In a short period of time, a great deal has been accomplished. NAVA undertook a national survey on the impacts COVID has had on the visual arts released with the national Sit For An Artist campaign encouraging those eligible to get vaccinated. This public and ambitious campaign gained traction and critical attention for the impacts felt by the visual arts with articles, interviews, meetings and communication with the Creative Economy Taskforce, Minister Fletcher, State Arts Ministers and key Members of Parliament."
"It has been wonderful working collaboratively with Mimi over the last several months and I am grateful for all the things we achieved together. Whilst we are sad to see Mimi go so soon, we wish her every success in her new role."
"The team and I continue to be motivated and inspired by NAVA Members. We look forward to completing the Code of Practice revision and continuing to meet the needs of Australian visual artists, arts workers and organisations in 2022."
Mimi's last day with NAVA is 23 December 2021.