Judith Crispin receives the 2021 Windmill Trust Scholarship for Regional NSW Artists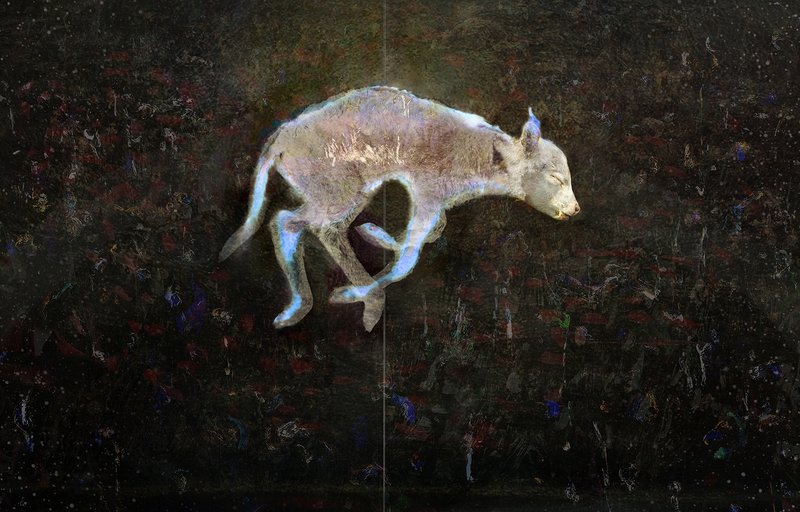 Image: Robyn, still-born among wildflowers and flint, and the Sun will return her to the sky, like a dazzling, burning bird. Lumachrome Glass Print, Cliche-verre, Chemigram and drawing. Stillborn calf, flowers, flint, chalk, coloured inks, vegemite and bleach, on fibre paper. Exposed 52 hours in a geodesic dome.
The Windmill Trust and the National Association for the Visual Arts (NAVA) congratulate Dr Judith Nangala Crispin announced as the recipient of 24th annual scholarship for regional NSW artists.
Crispin will use the $10,000 scholarship to make a visual-literary portrait of Millewa, the Murray River, where it passes through the Country of her ancestor Charlotte Clark.
"I am thrilled to be receiving the 2021 Windmill Trust Scholarship. It's been such a tough couple of years for Australian artists, and it makes such a difference to feel supported and valued by peers," said Crispin today. "This scholarship allows me to retrace my ancestor's footsteps along the banks of Millewa, the Murray River, making artwork to honour the plants and animals that live there."
Dr Judith Nangala Crispin, a descendant of the Bpangerang people of north-east Victoria, is a poet and visual artist currently based in Wamboin, a rural-residential area in the Southern Tablelands of New South Wales. Her practice is centred around lumachrome glass printing, a combination of lumen printing, chemigram and cliché-verre techniques. These alternative photographic methods are augmented in Crispin's work with drawing. She describes her work as a collaboration with Country, because most materials are drawn from Country. Her artistic process, evolved through extensive experimentation, involves arranging blood, clay, sticks, leaves, seeds, resin, and ochres, with road-killed animals or birds, on light-sensitised paper. She does this en plein air, at the place the creature has died, to avoid disturbing their remains more than necessary.
"In a year of great uncertainty, Judith Nangala Crispin's project impressed upon us the importance of maintaining connection to family, culture, and place," said this year's assessors, artist and 2020 scholarship recipient Debbie Taylor-Worley, artist and writer Matt Chun, and Director of Bathurst Regional Art Gallery, Sarah Gurich.
"Judith's 230 km journey along the banks of the Millewa / Murray River in the footsteps of her ancestor Charlotte Clark will result in the creation of a unique and compelling portrait of the Millewa that evokes the fragility, beauty, and interconnectedness of Country."
"The role of the Windmill Trust Scholarship in supporting regional artists is vital, and we are delighted that this year's scholarship will assist Judith Nangala Crispin to tell this important story."
"We congratulate Judith on being awarded the scholarship in an extremely competitive round and very much look forward to the work that emerges from this journey," said NAVA's Executive Director Penelope Benton.
"Presenting artists with this type of support is one of the most rewarding parts of our work. I extend our warm appreciation to the Windmill Trust for this ongoing partnership."
The Windmill Trust Scholarship was established in 1997 by Primrose Moss to honour her sister, artist and former Director of the Macquarie Galleries, the late Penny Meagher and is targeted at regional NSW artists.
"The Trustees are delighted with the judges' selection of Dr Judith Crispin for the award of the 2021 Windmill Trust Scholarship and congratulate her on the award," said Victoria Weekes, Windmill Scholarship Trustee. "In yet another year of high calibre applications, Judith's work and project stood out as exemplary and we are privileged for her to now be part of the Windmill Trust story."
The Windmill Trust Scholarship was born out of a desire to offer support to NSW artists living outside metropolitan areas to advance their careers. Over the past two decades this initiative has supported and promoted the vast array of talent that exists in the diverse regional and remote areas of NSW, including Murrumbatemen, Moree, Orange, Wapengo and the Northern Rivers, supporting projects from a diverse range of media. Fifty incredibly strong applications were received this year from artists across the state, from Brewarrina to Dalmeny.
For further information on the Windmill Trust Scholarship please contact NAVA via nava@visualarts.net.au or visit nava.net.au/nava-grants/
Windmill Trust Management Committee at info@windmilltrust.org.au or visit windmilltrust.org.au