NAVA defends anti-police sentiments in artwork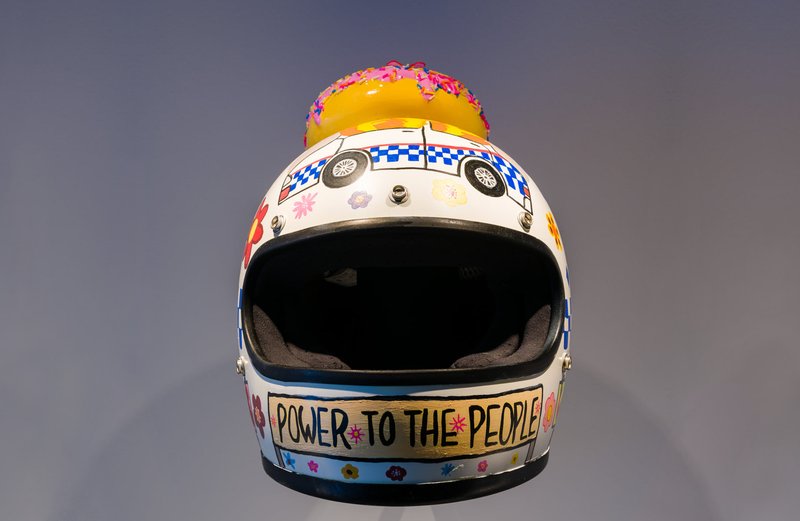 The National Association for the Visual Arts defends a work by artist and NAVA Member TextaQueen, currently on display as part of Full Face: Artists Helmets at Queensland Art Gallery | Gallery of Modern Art (QAGOMA). The work has been criticised this week for its anti-police sentiments.

TextaQueen's Defund the Police Helmet 2020 was made in alignment with Black Lives Matter movement against police brutality and calls for abolition of the prison industrial complex in favour of services that prevent, address and resolve harm within communities. The artist drew stylistic inspiration from 60s era protest imagery including a Power to The People sign held by Marsha P. Johnson at the 1970 Gay Liberation Front protest at Bellevue Hospital, New York.
"This is a really imaginative work which tackles some difficult issues in a very accessible way," said Penelope Benton, Acting CEO of NAVA.
"The commentary TextaQueen refers to in this work is not new, nor is it an underground movement. In 2020, tens of thousands of people took part in Black Lives Matter, Stop Black Deaths in Custody and refugee detention protests and marches across Australia. Public demonstrations of civil unrest around state violence and police brutality continue to grow both here and overseas."
"NAVA contends that as society's chroniclers, commentators and critics, artists should be at liberty to make art about any subject and by using any means, as long as it is within the law."
"The right to freedom of expression is the right to express opinions without interference, and cannot be subject to any exception or restriction. Freedom of Expression is a universal human right and one that is particularly valued by artists."
"Expressions of people's experiences can materialise in creative ways. Freedom of expression must be defended and upheld. Any attempts to suppress or delegitimise freedom of expression are cause for deep concern and must be called out. In this case demands from police representatives for an apology from the hosting gallery contributes to delegitimising debates on significant social justice issues."
TextaQueen is known for using the humble fibre-tip marker (aka 'texta') to draw out complex politics of gender, race, sexuality and identity in vividly detailed works on paper. Their portraiture-focused practice expands across the photographic medium, murals, self-publishing, animations, performance and more to imagine an ever-expanding created universe representative of the psychic survival process of a person of colour amongst cultural and colonial legacies.
Creating in collaboration with other 'other-ed' people and via examining their own existence as a person of Indian origin living on others' ancestral lands, TextaQueen re-frames subjective experiences into critiques of their broader structural contexts, centering representations of 'marginalised' identities in complicated states of empowerment.
"Artistic practice is about expressing ideas. Political art plays a significant role in challenging systems and structures of power, and helps us to engage with and counter socio-political conditions and imagine a more just world, all important to a healthy democracy."
---
About the exhibition
'Full Face: Artists' Helmets' features the work of 15 contemporary Australian artists who accepted an invitation from QAGOMA to individualise a Biltwell Gringo ECE 'full face' helmet, the quintessential motorcycling accessory. The display was conceived in response to 'The Motorcycle: Design, Art, Desire', and includes work by a broad cross-section of practitioners. Their artworks engage with the interwoven themes of art and design that 'The Motorcycle' explores, or with related social, political or environmental concerns.
The artists have responded in a range of surprising, captivating and sometimes poignant ways. Several have emphasised the air of danger attached to motorbikes, or the communities connected with them. Some have made personal associations with the helmet or used it to foreground significant contemporary issues, while others still have riffed on the objects' place in popular culture. Together, these varied and inventive approaches provide a striking and thought-provoking counterpoint to the design focus of 'The Motorcycle' exhibition.
Featured artists: Monika Behrens, Kate Beynon, David Booth (ghostpatrol), Eric Bridgeman and Alison Wel, eX de Medici, Shaun Gladwell, Madeleine Kelly, Callum McGrath, Archie Moore, Robert Moore, Nell, Reko Rennie, Brian Robinson, TextaQueen, Guan Wei.
'Full Face: Artists' Helmets' is on display until 16 May 2021. Entry to the gallery is free.
Image: TextaQueen Defund the Police Helmet 2020. Enamel paint, synthetic polymer paint, coins, and found plastic and ceramic object on Biltwell Gringo ECE helmet. Photograph by Joe Ruckli, courtesy of Gallery of Modern Art, Brisbane.
Image description: Photo of a white modern motorcycle helmet, hand painted with spaced out 60s era graphic flowers over whole surface; on forehead a flaming so called Australian blue checkered cop car with the letters F T P in fire; above the neck decorated with signs held by various brown hands each displaying a different colour letter of the words "Community Heals" and another long sign saying "Power to the People"; the temples show blue chequerboard squares broken apart; the rear shows broken prison bars with the words "No More Prisons End Slavery" within; on crown sits a ceramic money box in the shape of a pink sprinkle doughnut with an 'x' over the coin slot.