Reset, Recreate
What's NAVA doing in 2021?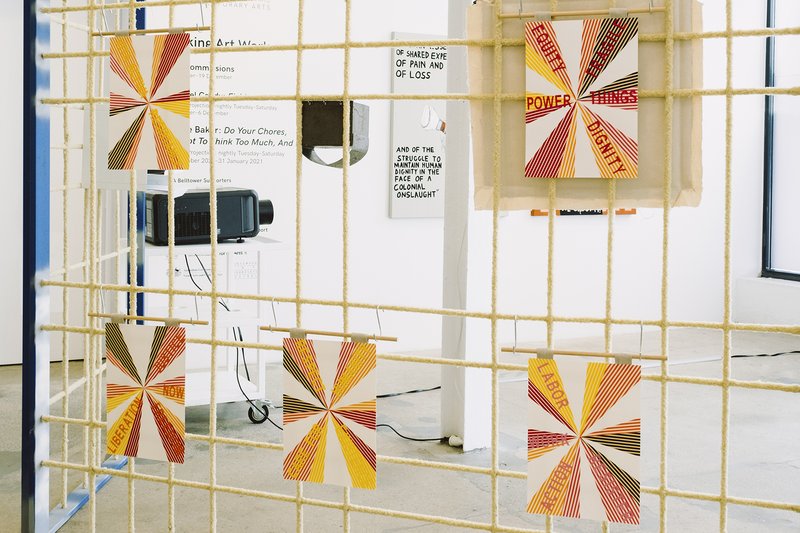 Image: Rachael Haynes, Slow Revolutions, 2020, quilting cotton, watercolour paper, Belgian linen, and dowel, 42cm x 45cm each. Mounted on Sarah Poulgrain, A Structure to Fold and Hang, 2020, mild steel and fleece, 240 x 240 x 240 cm. Commissioned by the Institute of Modern Art for Making Art Work. Photo by Charlie Hillhouse.
The ways in which we create, consume and engage with art have been unquestionably disrupted by the events of 2020. Fortunately, our community is resilient. We are imaginative, and we are supportive. As we lift our gaze from the challenges and stresses of last year, we must be prepared to tackle this monumental opportunity to reset and recreate Australia's future together.
Welcome to the new year and to our first NAVA news of the year. Our team is drawing on learnings and reflections from the ongoing crisis to strengthen our capacity as an organisation to reform and strengthen industry standards for all arts practitioners and arts workers.
In the midst of a pandemic, economic crisis and climate emergency, critical times require equally critical responses that overcome old ways of thinking. Already, we have seen huge changes to the way we create and engage with art: accommodating for Covid-safe practices, improving digital access and access more broadly, increased flexibility for practitioners and projects, and so on.
The expanded use of digital settings has provided multi access points and experiences, allowing art to be enjoyed by more. The pandemic has shown us how easy inclusion can be. We have also seen digital spaces used more and more to amplify local voices, local history, local culture and local identities. In the current social and political context, these diverse voices are crucial to determining futures and setting agendas. As performer, theatre maker, and access consultant Madeleine Little said on the panel Post-pivot digital and access at ArtsHub's Visions 2020 conference:
"We just need to accept we can't go back to the way things were. That's not going to happen. It's not going to work. What do we need to do to get to a place of equitable access and opportunities for everyone."
Cultural institutions and art organisations play a crucial role in responding to changes in artistic production, spaces and community formation. We must welcome and support localised voices and creativity. This cannot happen until we are willing to extend care and understanding towards arts professionals who are facing increasingly precarious conditions, commitments and challenges.

What's NAVA doing in 2021?
Major Revision of the Code of Practice
The impacts of the pandemic have highlighted the need for clearer frameworks and industry standards to sustain the sector long into the future. Our major revision work of the Code of Practice has never been more important. Throughout 2021, we'll be working alongside a number of artists, arts professionals, partners and advisers to develop this comprehensive and accessible resource by employing a 'payment-for-consultation' model that centres the diversity of our arts communities and pays them directly as advisers, designers and co-authors.
NAVA invites you to join us for preliminary consultations on Festivals; Hiring Space; and Selling and Commercial Galleries, Tuesday 23 and Wednesday 24 February 2021.
The consultations will inform the development of key discussion papers that will guide deeper work through focus groups, interviews and further research over the coming months.
Please register your interest by visiting
Code of Practice February Consultation 2021.
We've updated the Code revision page with a 2021 timeline
Four new discussion papers have been released today on Artist self-organisation - ARIs, Exhibition, Loans and Funding
NAVA's Pre-budget Submission
Already, NAVA has been busy working to ensure that contemporary arts issues feature prominently in local and national conversations, so that responsible decisions can be made to strengthen the arts for everyone.
On 29 January 2021 NAVA submitted a 2021-22 Pre-Budget Submission, calling on the federal government to invest ambitiously and fairly in the Australian arts industry. Over four days last week in preparation for our submission to the federal government, NAVA undertook a snap survey of the visual arts and craft sector.
Over 90% of the 485 respondents said they were impacted by the ongoing COVID-19 public health restrictions restrictions, while 30% said they had been, or were going to be impacted by the latest reduction to the JobKeeper and JobSeeker payments or the upcoming end to these support payments. Almost 60% of respondents said their main concerns this year included income security, followed by program cancellations, postponements, or downscaling (58.3%), and cuts to art education (44.22%).
When asked about the longer term impacts on them and/or their organisation, the answers were many and varied. Many expressed sincere fears over the uncertainty of the future, financial stresses, major declines in mental health, restricted earning capacity and limited job prospects, organisational and sole trader economic survival, reduced ability to continue art practice due to income insecurity and no superannuation, the expenses and time consumption associated with digitisation and presenting art safely, and several feared poverty and homelessness.
NAVA welcomed the Prime Minister's announcement of a $160m industry package for the arts (plus $90m in loans) in June 2020 as an important first step towards redressing the economic impact of COVID-19. Recent announcements from the Australian Government of a high-level Task Force as well RISE and Sustainability Fund recipients are also incredibly helpful and valued.
However, NAVA remains concerned that these initiatives do little to assist individual artists and rebuild many parts of the visual arts, craft and design sector, already weakened by exclusions from existing income support measures. With premature reductions to JobKeeper and JobSeeker next month, Australian artists and arts institutions are facing further devastating long-term losses.
The Australian visual arts sector is in dire need of assistance. Greater investment in the arts is needed at a federal level, not only to assist survival through this crisis, but to enable it to thrive. The arts sector is one of the most effective industry targets for successful economic stimulus. This is the time when we need to be investing in pathways that strengthen the creative economy, not just adventurously, but fairly and equitably too. In this year's Budget, NAVA urges the Government to preference the majority of Australians who believe that arts and culture should be financially supported.
The Australian Parliament starts its new year today, with both Houses sitting for three days. NAVA encourages artists, galleries, festival directors and audiences to write to your MP. Let them know about the ongoing impacts of the pandemic on your practice or business and call for the extension of COVID-19 stimulus measures including the extension of JobSeeker and JobKeeper as well as an ambitious and fair investment in the arts. Search for your MP here.
Tips for success:
Make it yours: Describe your work in your own words. Personalised letters get noticed.
Be passionate: What does your practice mean to you? What does Australia's contemporary arts scene mean to you? Write with clarity and passion.
Don't risk being ignored: Offensive or abusive messages don't get taken seriously and completely undermine your efforts. Treat this letter as seriously as you want all artists to be treated.
NSW Government grant programs
Yesterday, on 1 February, Penelope Benton presented at the public hearing for the Inquiry into integrity, efficacy and value for money of NSW Government grant programs, calling for:
Consistent methodology and full transparency in the decision making and grant approval process
Rotational peer and expert assessment panels
Respect for artists in the application process
Provide clear and comparable results each round in a timely fashion
Provide actionable feedback to unsuccessful applicants
Ambitious investment in the NSW arts sector is crucial to sustaining artists' careers, developing the contemporary arts sector and advancing a healthy democracy.
Other Inquiries
NAVA will be making submissions to these upcoming inquiries and encourages you to add your voice:
We'll also be tracking the inquiry into Australia's creative and cultural industries and institutions. The next public hearing is on 5 February.
This year we are excited to announce that we are searching for a new Executive Leader. We will be posting more information about this position in the coming weeks.
Coming up we've got quite a number of local, state and territory elections that will provide a focus for our advocacy work: a state election in WA (13 March); and local government elections in WA (24 February, 26 February and 5 March), Northern Territory (28 August), and NSW (4 September).
Arts Day on the Hill is Australia's annual focus on building sector capacity for sustained government engagement and lasting policy reform. Our aim is to foster confident, informed advocacy by smart, connected artists and arts leaders. Not just once-off, not just in an emergency, but in an ongoing way that precludes such policy and funding emergencies.
Details about this year's Arts Day on the Hill program will be released in the coming months.
If you are not already a NAVA Member, we invite you to join us as part of a bold national voice for the Australian arts community. The more of us there are, the more ambitious we can be. NAVA Premium Plus Membership is $298, NAVA Premium Membership is $90 and NAVA Organisation Membership is $345.
As always if you have any questions or comments please don't hesitate to contact us. You can reach us on 1800 046 282 (free call) or email nava@visualarts.net.au