Saluhan awarded the 2021 Carstairs Prize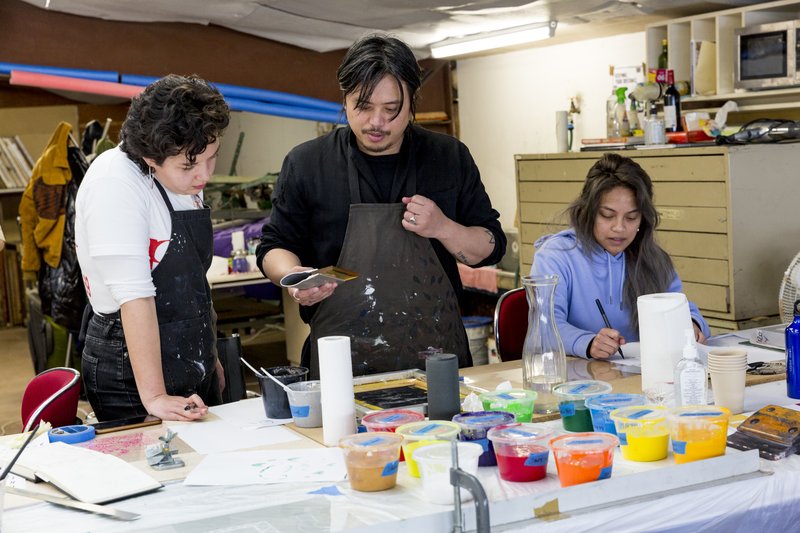 Image: Saluhan 2021, Agimat Workshops, Sunshine Print Artspace. Photo by Lucy Foster.
Image description: Photo of three people behind a table participating in a print workshop at a print artspace. The person on the left is standing in a white shirt and a black apron. They are staring at a print in progress on the table in front of the person in the middle, who is wearing a black long-sleeve shirt and black overalls. The person on the right is seated at the table and wearing a purple hoodie.
The National Association for the Visual Arts (NAVA) is pleased to announce Saluhan as the recipient of the 2021 Carstairs Prize for socially-engaged arts projects.
Saluhan will use the $10,000 prize to develop Dialekto, a multidisciplinary arts project of free workshops and events in visual arts, sound, cooking and storytelling at Siteworks, led by Saluhan artists for local communities of colour. This will be followed by a curated group exhibition of participant works in 2022.
"We are thrilled to receive the Carstairs Prize in 2021 and thank NAVA for their generous support of our collective and their commitment to championing socially-engaged arts practice," said Saluhan. "The funding will enable us to advocate for an alternative model of contemporary arts practice that considers creativity and connection as vital to the wellbeing of both our artists and our communities. Maraming salamat po."
Formed in 2019, Saluhan is an emerging collective of Filipinx/o artists based in Naarm, led by Aida Azin and MJ Flamiano alongside Kenneth Suico, Catherine Ortega-Sandow, Bea Rubio-Gabriel, Rio Withall, Vader Fame, and Kuya Neil. Saluhan was created with a focus on facilitating collaborative projects that combine art, activism, and community development.
"Saluhan's collaborative and interdisciplinary collective stood out with their intergenerational and multifaceted community project that will aid in the sharing of knowledge, skills and art," said this year's assessor, performance artist and 2020 Carstairs Prize recipient Shahmen Suku.
"NAVA warmly congratulates Saluhan on being awarded the Carstairs Prize in a round that received almost double the applications of the year before," said NAVA's Georgie Cyrillo, who manages the Carstairs Prize. "With thanks to the generosity of the donor, it is a privilege to support the work of Saluhan, who will in turn create safe and inspiring spaces for the communities around them."
The Carstairs Prize, which was given a boost from $3,000 to $10,000 in 2021, offers assistance to an Australian artist or group to present a socially engaged art project that embraces participatory and collaborative experiences.
The aim of the funding is to bring participants into active dialogue with the artist in order to involve audiences beyond the art community. In recognition of the severe limitations in place due to continued physical distancing and the challenges this poses, applicants were encouraged to consider the digital and virtual space as a valid and essential arena for collaborative artistic endeavour.
This is the fifth year of the program supported by the donor of the previous Carstairs Residency Prize. Named after the Carstairs, the prize drew its name from an intriguing and eccentric blend of writers, poets, painters, pianists, and illustrators who immigrated to Australia from Fife, Scotland in the 19th century.
The Carstairs Prize is funded by a private donor and administered by NAVA. Providing this kind of philanthropic support can be a source of great satisfaction in making a valuable contribution to supporting living Australian artists. For more information about how you can make a tax-exempt donation to set up a new program shaped to your ideas and named for your family, legacy or artistic focus, please contact NAVA via nava@visualarts.net.au.