Sit For An Artist Campaign Giving Visual Artists a Shot at Recovery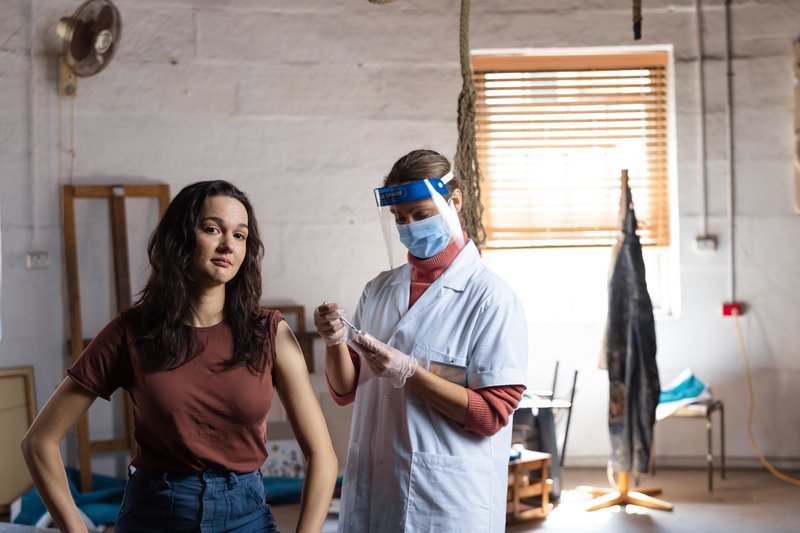 Image: Thea Perkins. Photo: Lauren O Photography. Location: National Art School.
The visual arts sector is in crisis. Australian artists and arts workers have been impacted by lockdowns across the country with their exhibitions and commissions cancelled. Today, the National Association for the Visual Artists (NAVA) launched a new campaign, Sit For An Artist, urging everyone who is eligible to get vaccinated to support Australia's creative recovery.
NAVA's Sit For An Artist campaign has been created in response to deep concerns about the long-term impacts of the pandemic and lockdowns on visual artists, galleries, organisations and arts workers.
Recent research undertaken by NAVA* revealed that 81 per cent of visual artists earned less than $25,000 in the 2020-21 financial year, while 50 per cent reported an income decline of up to 100 per cent. Just 21% of visual artists were eligible to receive JobSeeker payments in 2020-21.
With 44 per cent of visual artists generating their income from art sales, gallery closures have had a huge impact on livelihoods, with sales falling 72 per cent. Of those working in arts organisations, 44 per cent reported reduced working hours, 38 per cent lost contracts and 73 per cent of arts organisations across the country experienced exhibition cancellations or postponements. The impact on mental health has been devastating, with 49 per cent of artists and 51 per cent of art workers reporting significant or extreme impact.
Mimi Crowe, Co-Director (SA) says, "NAVA has existed for nearly 40 years, advocating and supporting Australia's visual arts and craft sector. We have never seen the sector in crisis like we do right now. Getting to 80 per cent vaccination rate and opening borders is an important first step for the visual arts. We want to see artists travelling interstate and overseas again, making and exhibiting new work and showcasing the best of Australia's art."
The Sit For An Artist campaign is a play on the age-old concept of sitting for an artist for a portrait, but this time NAVA is asking Australians to sit for a COVID vaccination.
Fronting the campaign, that was filmed at the National Art School in Sydney, are Thea Perkins, an Arrernte and Kalkadoon woman with an emerging painting and installation practice; Dean Cross, a multi-disciplinary artist of Worimi descent; Wendy Sharpe, major Australian figurative artist; and Ramesh Mario Nithiyendran, a Sri-Lankan born contemporary artist with works held in galleries across the country.
Dean Cross says "an artist's sense of self is often tightly bound with what they do, so mental health is a key concern."
Thea Perkins agrees that "while COVID has been catastrophic for artists in a pragmatic and financial sense, the greatest damage is to mental health. There will be a kind of invisible effect. We won't even know the ripple effect that the pandemic has had on the arts."
Penelope Benton, Co-Director, NAVA (NSW) says, "COVID and the lockdowns have decimated the visual arts. Art making has dropped by nearly 40 per cent as artists have had to find work in other areas to survive, and over half of our sector is concerned about the future. Career momentum has been derailed, especially among early and mid-career practitioners, and forward programming is being retracted and becoming more risk averse. The gap in the visual arts sector will be felt for years, and we fear a generation of artists may be lost.
"The Federal Government has provided arts funding support, but the visual arts has been largely excluded due to ineligibility. Artists don't necessarily have regular incomes, so being able to show financial loss or downturn can be difficult. We need to reopen so artists can get back to work and start on the slow road of recovery."
Ramesh Mario Nithiyendran says, "The pandemic has affected everyone's morale and sense of stability, leaving them fearful of the future."
Adds Wendy Sharpe: "We all want to go to galleries. We want to go to concerts. We want to go to museums. We want to go to restaurants. We want to meet other people. We don't want to be locked up forever. So go get vaccinated."
Mimi Crowe, Co-Director, NAVA (SA) says, "The arts are proven catalysts for cultural recovery. In response to every national disaster, hardship and crisis, the arts are at the front of efforts to raise funding, awareness and hope. That is what the visual arts sector continues to do in the face of this global pandemic. Art is one of the critical ways Australians tell our stories, understand our world, and reflect on our collective experiences. Art is a vital part of our nation's recovery."
Let's all do our bit for Australia's visual arts sector by supporting NAVA's campaign to 'sit for an artist'."
To view the Sit For An Artist campaign, visit: nava.net.au/sit-for-an-artist
SOURCE: Pulse Survey data for 20210-21. 1,224 artists, arts workers and arts managers.
NAVA has expressed its sincere thanks to the artists, organisations and individuals who provided support for this campaign, including the Australia Council for the Arts and National Art School.
Campaign Creative and Strategy by Atypical. Production by ArtVid, an imprint of Playground Films.
MEDIA ENQUIRIES:
Jane Morey
Morey media
E: Jane@moreymedia.com.au
M: 0416 097 678