$10,000 Windmill Trust Scholarship for Regional NSW Artists now open for applications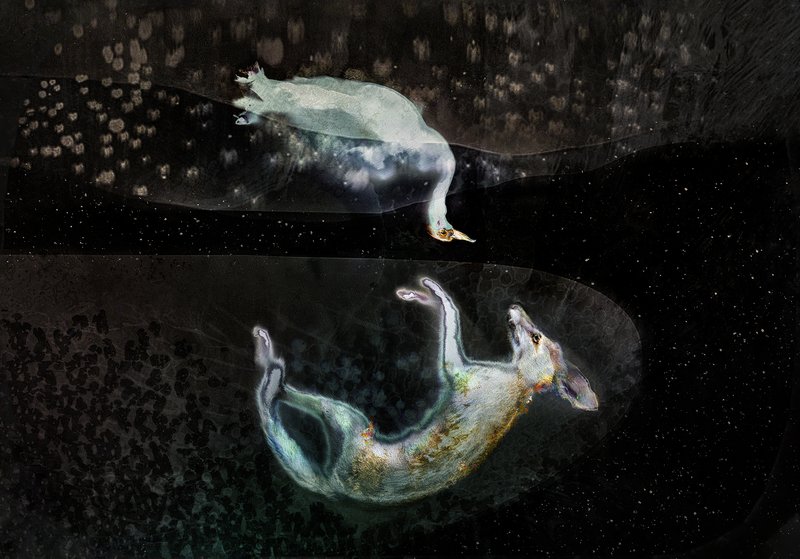 Image: Collaboration between 2021 Windmill Trust Scholarship recipient Judith Nangala Crispin and Country. After red brake lights and the highway, Dean and Esther, lifted from the hunt and hurled spinning into star silvered black, forge a new friendship in the unutterable vastness of space. Lumachrome glass print, cliche-verre, chemigram, drawing and acid wash. Road-killed fox and muscovy duck, sand, turmeric, mineral salts, developers, graphite and chinese ink on fibre paper. Exposed 41 hours in a portable geodesic dome. Murray River near Yarrawonga.
The Windmill Trust, together with the National Association for the Visual Arts (NAVA), is pleased to announce that the 2022 Windmill Trust Scholarship for Regional NSW Artists has opened for applications.
2021 recipient, Wamboin resident, Dr Judith Nangala Crispin said, "The Windmill Trust Scholarship allowed me to walk the banks of the Murray River in the footsteps of my matriarchal ancestors, honouring the lives of the animals and birds of that Country through art."
"This project has brought me closer to understanding what kind of connection can be forged between an individual and the land that nurtures them. It's such a rare opportunity to have uninterrupted time to work in nature. It has transformed my art and given me renewed purpose. I'm very grateful to the Windmill Trust for investing in me, and for helping me sow the seeds of future work."
This award opens up avenues for regional artists seeking to further their professional development, exhibition opportunities or deepen research with a $10,000 scholarship.
"Regional NSW has had a very tough few years, with fires, floods and Covid. We are excited to see the Windmill Trust Scholarship in its 25th year continuing to provide support to regional NSW artists to take their practice to a new level," said Victoria Weekes, Windmill Trustee.
"We encourage everyone to take the opportunity to experience rural and regional NSW and support its contribution to art."
Established in 1997 in memory of the artist Penny Meagher, the Windmill Trust Scholarship was born out of a desire to offer support to Australian visual artists living outside metropolitan areas to advance their careers. This will be the 25th year of this unique opportunity for artists in regional areas throughout New South Wales.
"This scholarship has a tremendous impact in providing career changing opportunities to regional New South Wales artists," said Penelope Benton, NAVA's Executive Director.
"This year's recipient will join an esteemed alumni of artists working in a variety of mediums from across regional NSW, including Murrumbateman, Oberon, Wapengo, Gerringong, Lightning Ridge, and the Northern Rivers."
Applications for the 2022 Windmill Trust Scholarship for Regional NSW Artists are now open and close 23:59 AEST Sunday 4 September 2022. 1 x $10,000 scholarship will be awarded.