Dominique Chen, Libby Harward and Caitlin Franzmann awarded the 2022 Carstairs Prize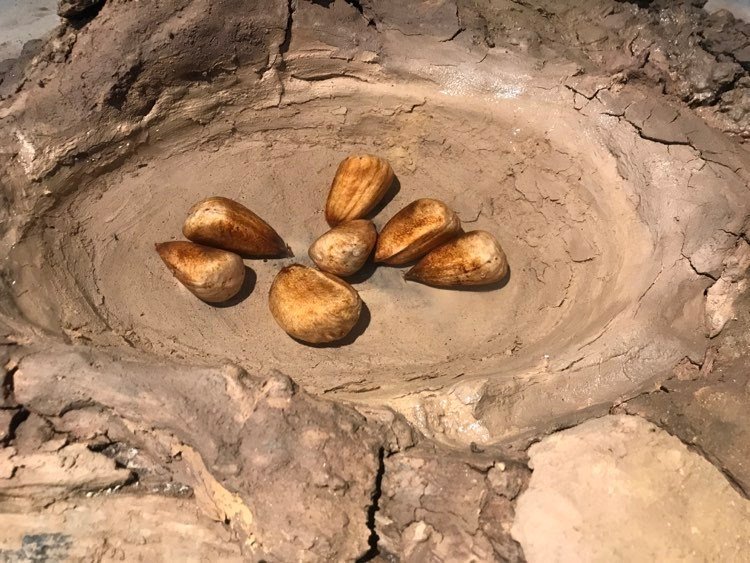 Image: (untitled), Libby Harward and Dominique Chen, 2022. Fermenting bonyi/bunya nuts in a bed of river mud. Installation as part of Caitlin Franzmann's Natural State exhibition at The Condensery, Somerset Regional Art Gallery, 2022. Photo by Caitlin Franzmann.
ID: Photo of fermenting bonyi/bunya nuts in a bed of river mud.
The National Association for the Visual Arts (NAVA) is pleased to announce Dominique Chen, Libby Harward and Caitlin Franzmann as the recipients of the 2022 Carstairs Grant for socially-engaged arts projects.

Queensland based artists, Chen, Harward and Franzmann will use the $10,000 prize to collaboratively develop a new socially engaged work that centres fermentation as a way of thinking through culture, diversity and belonging to place. The outcome of the work, Cultures of Care, will be incorporated as part of the Cementa Festival and residency program in Kandos NSW in 2024.
'We are absolutely thrilled by this award, and the opportunity it allows for us to be supported in our practice', say Dominique Chen, Libby Harward and Caitlin Franzmann. 'We are looking forward to what the time and space to be together, and to develop new, collaborative ways of working will bring. Thank you to all those that made it possible.'
The artists, individually and collectively, adopt socially engaged creative processes to explore and exchange ways of understanding, being with, and belonging to, place. Their recent collaborations focus on microbial processes as a way of thinking through these themes both metaphorically and literally.
In 2022, Gamilaraay and Quandamooka artists Dominique Chen and Libby Harward collaborated on a relational project '(Untitled) Bonyi Living Culture' which explored connection to their living culture through ancient durational practices of Bonyi (Bunya nut) fermentation processes. Centered around a bowl of fermenting Bonyi, the artists hosted talks, workshops and shared meals with Yinibara custodians and their guests to reconnect with ancient fermentation processes. It is this work that brought the three artists together to make broader connections and experiences of ferments across cultures, Indigenous and non-Indigenous, adding to paths of (re)discovery and insight. In November 2022, the artists brought their relational practices together for the exhibition 'Natural State' at The Condensery in Somerset region, also part of Yinibara Country.
'Some of the strongest points of the application from Dominique Chen, Libby Harward and Caitlin Franzmann were elements such as working in regional areas, knowledge sharing across cultures and the activation of spaces through food, guided walks and a yarning circle,' said artist Zanny Begg, who was one of this year's grant assessors alongside artist and 2020 Carstairs Prize recipient Shahmen Suku. 'It is very exciting to see the fermentation process centred in the project, Cultures of Care.'
The Carstairs Grant, which was given a boost from $3,000 to $10,000 in 2021, offers assistance to an artist or group to present a socially engaged art project that embraces participatory and collaborative experiences. The aim of the funding is to bring participants into active dialogue with the artist in order to involve audiences beyond the art community.
This is the sixth year of the program supported by the donor of the previous Carstairs Residency Prize. Named after the Carstairs, the grant drew its name from an eccentric blend of writers, poets, painters, pianists, and illustrators who immigrated to Australia from Fife, Scotland in the 19th century.
The Carstairs Grant is funded by a private donor and administered by NAVA. Providing this kind of philanthropic support can be a source of great satisfaction in making a valuable contribution to supporting living artists. For more information about how you can make a tax-exempt donation to set up a new program shaped to your ideas and named for your family, legacy or artistic focus, please contact NAVA via nava@visualarts.net.au.