NAVA launches Code of Practice Teacher Toolkit for Visual Arts Educators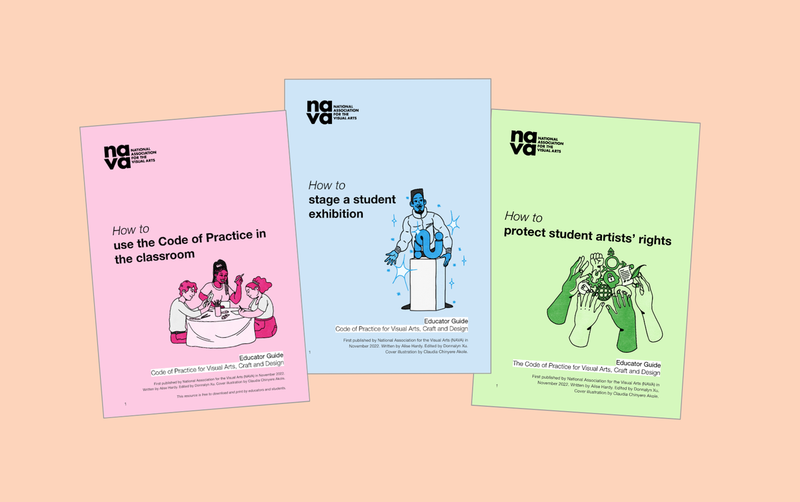 Illustrations on covers by Claudia Chinyere Akole © 2022.
[ID: Graphic on orange background featuring three 'How to' Educator and Classroom Guides PDF covers in pink, blue and green.]
The National Association for the Visual Arts (NAVA) today launches five complimentary resources as part of a new Teacher Toolkit for teaching and applying the Code of Practice for Visual Arts, Craft and Design (the Code) in the classroom.
The Teacher Toolkit offers three 'How to' Educator Guides and two Classroom Guides specifically designed for secondary school classrooms, with content and learning outcomes linked to curriculums and syllabuses for all Australian states and territories.
The 'How to' Educator Guides support teachers with ideas, information and practical examples for teaching and applying the Code's good practice standards to the classroom. Guides include 'How to protect student artists' rights' and 'How to stage a student exhibition'.
The Classroom Guides can be used as a lesson presentation, classroom resource or planning reference to introduce students to ideas, themes and topics from the Code through the voice of local contemporary artists. Guides include 'Sue Jo Wright | Access Rights for d/Deaf and Disabled People' and 'Jeanette James | Self-Determination'.
Educators can preview and download the five complimentary resources on NAVA's website: nava.net.au/learning/secondary-schools/teacher-toolkit
New 'How to' Educator and Classroom Guides will be regularly added to the Teacher Toolkit. Future resources will be free to access for NAVA Members. NAVA encourages Visual Arts Educators to join with a Premium Membership or schools to join with an Organisation Membership which includes three logins for staff: nava.net.au/join
NAVA Education Coordinator, Schools Alise Hardy said, 'Learning about good practice is a lifelong journey that will provide long-term benefits for the visual arts, craft and design sector.'
'The Code of Practice can be used as a starting point for students to learn about good practice and what it means to be a contemporary visual artist, craftsperson or designer in Australia.'
Educators and schools can also use the Code of Practice to inform their engagement with local artists and student artists.
'NAVA's Teacher Toolkit offers engaging learning experiences to help students develop the skills and knowledge needed to navigate the professional arts sector with confidence.'
This pilot set of accessible PDF resources are free to download with funding the Australian Government through the Australia Council for the Arts, its arts funding and advisory body.
About NAVA
The National Association for the Visual Arts (NAVA) is a membership organisation which brings together the many voices of the contemporary arts sector to improve fundamental conditions of work and practice. We do this through advocacy, education and the Code of Practice. For further information on NAVA visit www.visualarts.net.au.
About the Code of Practice
The Code of Practice for Visual Arts, Craft and Design (the Code) provides a set of best practice, ethical guidelines for the conduct of business between arts practitioners and arts sector employers in the Australian visual arts sector. To access the code visit https://code.visualarts.net.au/