New Code of Practice to improve fundamental conditions of arts work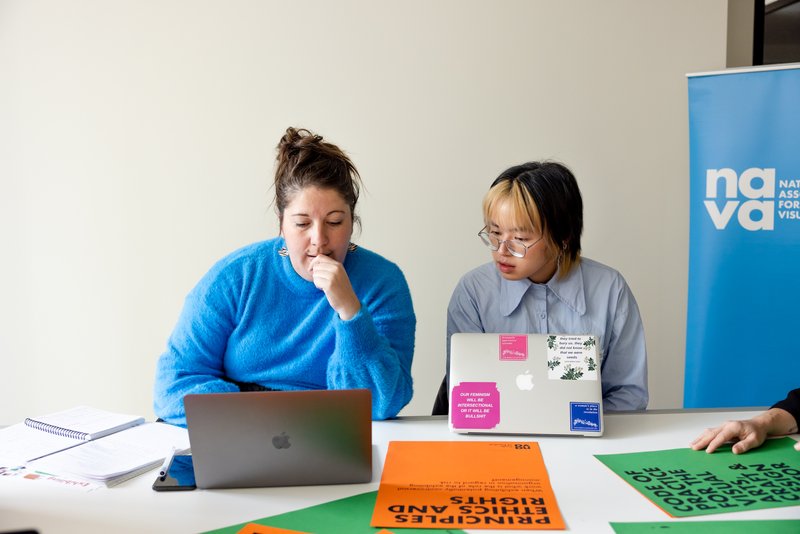 Code of Practice Project Manager, Rhianna Pezzaniti and NAVA Membership and Projects Officer, Emma Pham. Photo by Jacquie Manning, 2022. Image description below.
The National Association for the Visual Arts (NAVA) will soft-launch the new Code of Practice for Visual Arts, Craft and Design on 27 September 2022.
The sixth edition of the Code of Practice sets out good practice approaches to working relationships in the professional Australian visual arts, craft and design sector, ethical standards of access and inclusion, and payment rates for artists and arts workers.
NAVA Executive Director Penelope Benton said, 'Professional contemporary arts practice has evolved significantly since the Code was last revised in 2009, coincidentally around the same time that the consultation process for Creative Australia - National Cultural Policy first began, which was abandoned six months after it was released in 2013 following a change in government.'
'Alongside the Federal Government's plans to launch a new National Cultural Policy before the end of this year, the new Code offers a firm foundation for effective policy change.'
'The visual arts, craft and design sector is dynamic, diverse and multifaceted, but its lack of regulation and legislation, combined with increasingly precarious conditions makes work and practice unsustainable for many.'
'The Code serves as a map for ensuring a collaborative, equitable, creative, and inclusive sector for current and future participants. It also doubles as an advocacy tool to support the basis of policy and legislative change for the long-term benefit of the sector.'
Key changes and additions to the Code include:
a full revision to Payment Standards for artists and arts workers
a new introductory Principles, Ethics and Rights chapter with sections on First Nations, Access Rights for d/Deaf and Disabled People, Racial Equity and Representation, Gender Equity, Equitable Application Processes, Freedom of Expression, Climate Adaptation and Justice, Emergency Response and Disaster Preparedness, Community Engagement and Climate Adaptation and Environmental Action, Social Media, and Grievance and Dispute Resolution
new sections on Artist Run Initiatives (ARIs), Working with First Nations Art Centres, Touring Exhibitions, Festivals, Funding and Sponsorship
greater support for Access Rights, Indigenous Cultural and Intellectual Property (ICIP) and other specific considerations for working with First Nations practitioners embedded throughout.
'Changes to the Code were informed by a collaborative approach involving partnerships, consultation feedback sessions and working groups with over 2,000 practitioners and arts workers across Australia over three years.'
The Code will be made available on a new digital platform with improved aspects of design, function and access. NAVA is currently seeking additional funds to support Stage Two of the Code rollout, which will include additional accessibility features such as Auslan interpretations for key sections, visual tools, and audio media to redesign the way people access and interact with the Code content online.
This project has been assisted by the Australian Government through the Australia Council for the Arts, its arts funding and advisory body, and the NSW Government through Create NSW.
About NAVA
The National Association for the Visual Arts (NAVA) is a membership organisation which brings together the many voices of the contemporary arts sector to improve fundamental conditions of work and practice. We do this through advocacy, education and the Code of Practice. For further information on NAVA visit www.nava.net.au
About the Code of Practice
The Code of Practice for Visual Arts, Craft and Design (the Code) provides a set of good practice, ethical guidelines for the conduct of business between arts practitioners and arts sector employers in the Australian visual arts sector.
[ID: Two people are sitting in a white room at a white desk, the person on the left is wearing a blue woollen jumper, her brown hair is tied up in a loose bun, her elbow is rested on the desk and her hand is folded at her mouth. She is looking down at her open laptop. The person on the right is wearing a pale blue collared shirt. She is wearing glasses and has short dark hair with blonde streaks around her face. She also has a laptop open which has stickers on the lid. She is looking at the other laptop. There are orange and green sheets of paper on the desk as well as a notepad. The is a blue banner in the background with the NAVA logo.]