CoUNTess: Spoiling Illusions Since 2008
An excerpt from CoUNTess: Spoiling Illusions since 2008 by Melinda Rackham and Elvis Richardson.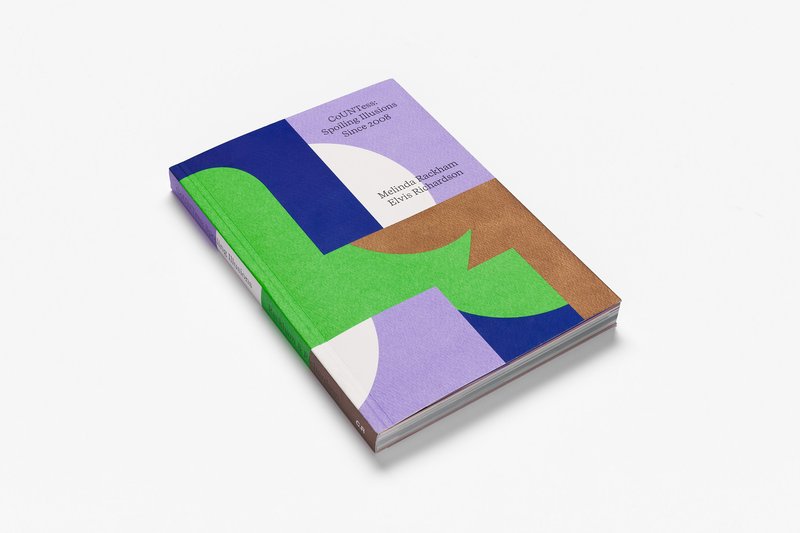 RESIST

This is a book about data – data that exposes the inequity of gender representation in the Australian visual arts sector and the history and impact of the CoUNTess data collection and analysis project. It is also a book about the lives of women artists, writers, curators and academics navigating an asymmetrical art world, where the odds are statistically weighted against them. For every male visual arts graduate in Australia there are three women, yet in the professional arts arena of exhibitions, commissions, acquisitions, reviews, monographs, retrospectives and market value, men regularly outnumber women.
Initially writing under the anonymous mantle of CoUNTess, artist Elvis Richardson addressed this inequity head-on in 2008 by counting and compiling gendered data to unravel the skewed economic experience of women in contemporary Australian art. Her sharp-witted blog was not concerned with moral outrage (although this would be a reasonable response) but in quantifying power in the artworld. And that continued exposure of inequitable representation and reward has prompted significant institutional change. In order to document and dissect a decade or so of the very tangible results of the CoUNTess project's advocacy and evolution, in 2019, Elvis teamed up with artist and writer Melinda Rackham to produce this book.
Having witnessed the CoUNTess project from its beginnings and a keen promoter of the blog, Melinda occasionally commented anonymously on particularly funny or galling blog posts. From the distance of curatorial, community building and organisational roles in the global networked, science and media arts spheres, she noticed a change happening in the mainstream Australian artworld. Gallery directors and curators were talking about gender representation and concerned how their institutions would fare when the Countess Reports landed. Gender parity had become a requisite accountability in the artworld…
CONSIST
We speak to a rich mix of art, cultural and feminist contexts, both contemporary and historical in Australia and globally, providing both specific and broad examples in the visual arts and creative cultures…
Significantly, Elvis's intimate recollections voice how adoption, class, opportunity, motherhood, struggle, self-doubt and persistence as a professional artist, solidified into a demand for transparency in the artworld. This raw, emotional, intellectual and financial examination of her challenges, successes and motivations uncover the realities of being a widely exhibited and travelled prize-winning artist and activist.  Her life writing infuses a deeply political aspect into the realities behind opening nights, exhibition reviews, social media posts, air kissing and the glamourous construction of artist profiles in our artworld. We think many of you reading will relate.
To reframe and decommodify artistic and personal value we let art speak for itself. Chapter 5: Look Out assembles works by 40 individual and collaborative groups of contemporary Australian (cis and trans) women, queer and non-binary artists, across race, ability and generation. Some iconic and familiar others underestimated or underseen, these mostly figurative and narrative works embody the richness and diversity of artists' personal identity and experience. It is not possible to include all we would wish to, and this community of images is a means to open conversations rather than a definitive survey.
PERSIST
…It is clear from an early stage that income, ethnic background and social class significantly influence the likelihood of becoming a professional practising artist. As well as these socio-economic barriers, high school students encounter a digital world driven by Artificial Intelligence that unproblematically promotes the white male norms and hierarchies of its architects. The advent of the #MeToo and #BLM movements have revealed how deeply these inequities have been mistaken for normal for too long. Equity will not exist until we all, whether we be artists, audiences, artworld door bitches or feminist art scholars; dismantle the myth of (white) male genius by confronting our own privilege and reclaiming our predecessors…
We don't make assumptions, but we do predict change. We see ways ahead that depend, not upon femwashing, but on action by both a few and the many. Like creativity and social media activism, fairness, equity and social justice are never about the individual, but are sustained and powerful forces fuelled by collective will. We believe communities of artists, curators, makers, writers, audiences, administrators, collectors, philanthropists and scholars of all origins, geographies, abilities and persuasions, together, can alter today's truisms about gendered success...
COUNTESS: Spoiling Illusions Since 2008 is a uniquely Australian project which calls out gender inequity in the art world with biting humour backed by decades of data. Boldly and insightfully written by Melinda Rackham and Elvis Richardson, CoUNTess: Spoiling Illusions Since 2008 offers insights and actions for change. Statistical analysis and queer and feminist theory chart how the education of artists, the role of galleries and museums, art prizes, magazines, curators, collectors and philanthropists contribute to an art world where women miss out. From original cheeky anonymous CoUNTess Blog posts to today's collaborative Countess.Report collective interventions, this is vital reading.
Beautifully designed by Elliot Bryce Foulkes and Maria Smit.
The next Countess.Report will be released in February 2024.
$15 discount to NAVA Members and low waged artists.
Image: CoUNTess: Spoiling Illusions Since 2008 by Melinda Rackham and Elvis Richardson, design by Elliot Bryce Foulkes and Maria Smit, published by Countess.Report Melbourne 2023. Photo: Christo Crocker.
ID: Photo of a book on a light grey background. The cover features blocks of colours in blue, purple, brown and white. The title 'CoUNTess: Spoiling Illusions Since 2008' and authors names 'Melinda Rackham and Elvis Richardson' are printed in black text on the top right corner of the book.