NAVA Strategic Action Plan 2023-2025
NAVA shares its key aims and objectives for the next three years.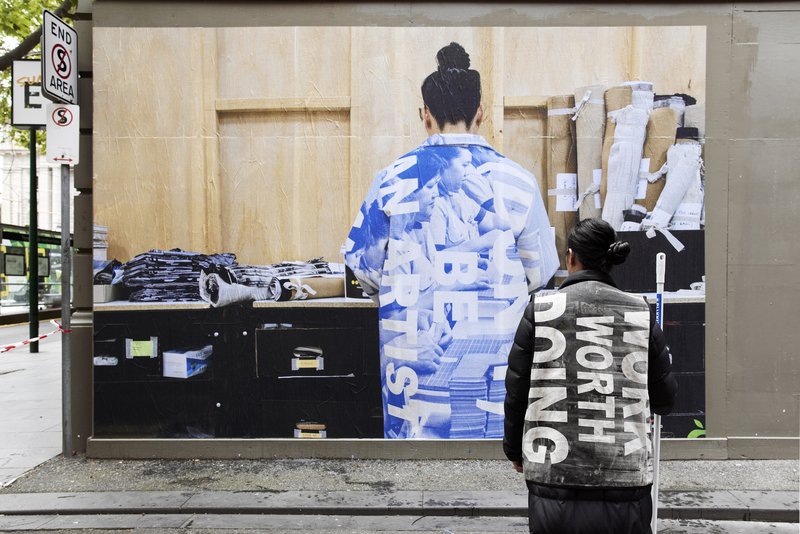 Kay Abude, (DON'T) BE AN ARTIST, 2021, colour paper billboards (a series of five individual paper billboards installed in succession and performed every Tuesday over a five week period from 16 November - 21 December 2021 at The Hotel Windsor, Melbourne), 310 x 467cm. Presented as part of Flash Forward – Creative Laneways Project, The City of Melbourne. Photo: Nicole Reed.
We are thrilled to share the NAVA Action Plan 2023-25 with Members and sector colleagues.
NAVA can do good work because it is bolstered by our community of people who give to the cultural and creative industries. Through all our accomplishments across 40 years: Code of Practice for Visual Arts, Craft and Design (the Code), Indigenous Art Code, establishment of Viscopy - now part of Copyright Agency, introduction of moral rights and resale royalty rights legislation, ATO Income Tax Ruling: carrying on business as a professional artist, and more, we have been supported and sustained by the voices we seek to foreground.
Over the last few years, NAVA has been balancing the completion of major work on the Code, while responding to the impacts of ever changing policy settings, Covid-19, and extreme weather events made more frequent and severe from climate change. While responsive work is critical to keeping pace with Members' needs and will always be part of what we do, NAVA will take more time in this strategic period to focus on longer-term initiatives. We will be seeking to engage Members more deeply in our advocacy work and support the uptake of good practices across the sector through broad adoption of the Code.
Thank you to everyone who supports NAVA in our work. We are grateful to all of you who offer feedback, contribute to our surveys and consultations, share insights from your practice and research, and who use some of their hard earned income to be part of the Membership community – you keep NAVA going. We look forward to working together over the next three years for a more vital, sustainable and ethical visual arts, craft and design sector.

NAVA acknowledges the Gadigal, Wangal, Dharug, Dharawal, Kaurna, Ngunnawal, Ngambri and Dja Dja Wurrung peoples as the Traditional Custodians and Knowledge Holders of the unceded lands on which we live, learn and work.
The NAVA community is based across hundreds of sovereign Nations and unceded lands throughout the continent that has become colonially known as Australia. NAVA pays our deepest respects to all Custodians of Country to whom these lands belong.
We acknowledge Aboriginal and Torres Strait Islander peoples as the first artists and storytellers on this continent, and pay respect to First Nations communities' Ancestors and Elders.
Sovereignty was never ceded. Always was, always will be Aboriginal land.