NAVA launches its Reconciliation Action Plan 2023-2024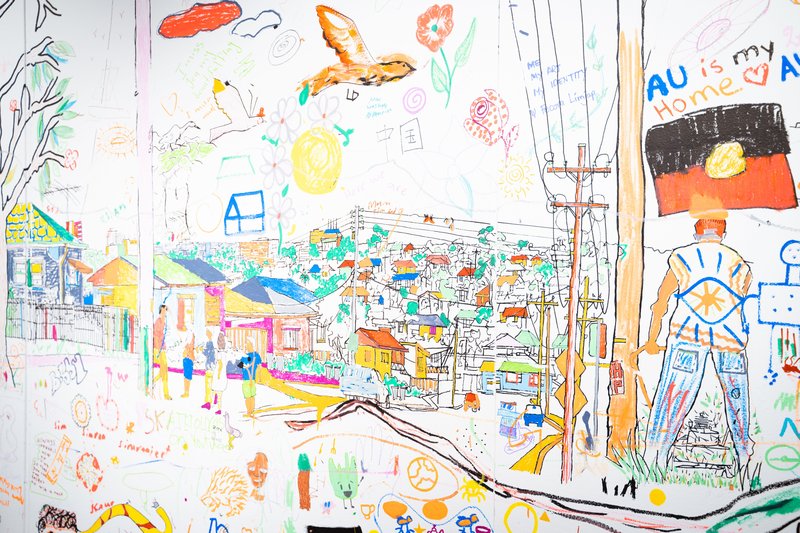 The National Association for the Visual Arts (NAVA) today launched its first Reconciliation Action Plan (RAP) for January 2023 – January 2024. The plan affirms NAVA's commitment to listen, learn, and build ongoing reciprocal relationships with First Nations artists, arts workers, and organisations.
Chair of the NAVA Board, Clothilde Bullen said, 'As NAVA continues to build into its framework best practice related to our arts communities, the Board is proud and delighted to support the development of NAVA's first RAP. We know that good cultural governance is intrinsically linked to better outcomes. The RAP is one tool that will allow NAVA to develop and embed the necessary cultural competency within the organisation to support First Nations Membership, artists and communities with their work and practices.'
NAVA's vision is for a vital, sustainable and ethical contemporary arts sector where First Nations arts and culture is at the core. Our vision for reconciliation centres principles of First Nations self-determination and story sovereignty, supported by broad and thriving networks of Aboriginal and Torres Strait Islander artists, arts workers and leaders.
This vision will be achieved by working collaboratively with First Nations colleagues to support First Nations culture bearers, artists, organisations, communities, and knowledges across Australia in all of our advocacy, learning and Membership services.
NAVA Membership and Projects Officers and members of the RAP Working Group, Naomi Segal and Donnalyn Xu said, 'We are delighted to launch NAVA's first Reconciliation Action Plan. We would like to thank all those involved in this process, including the designer Lily Sawenko and accessible document specialist KC & the Graphics Bandwagon, as it has truly been a collaborative effort to produce this significant and valuable document.'
NAVA's Executive Director and RAP Champion Penelope Benton said, 'As an organisation that advocates for best practice, we are excited to finally begin formalising NAVA's commitment to reconciliation. The RAP framework continues to guide our examination and development of cultural competence skills and models within our organisation. We have all benefited from this process and are collectively committed to its application across the entirety of our work.'
NAVA's Reconciliation Action Plan focuses on four key areas:
Relationships
Respect
Opportunities
Governance
The implementation of NAVA's RAP will be spearheaded by our RAP Working Group (RWG), currently comprising Membership and Projects Officers Donnalyn Xu and Naomi Segal. The RWG is responsible for distributing RAP deliverables to staff members, and supporting all staff in being accountable for the completion of these tasks.
Through implementing this RAP, the RWG will expand to include NAVA senior staff and Aboriginal and Torres Strait Islander representatives external to NAVA, who will be remunerated for their time and contributions. Directors of the NAVA Board will also be invited to participate.
For the front cover of our inaugural RAP, NAVA wanted to highlight and honour Dharug artists as several NAVA staff members live and work on Dharug Ngurra. The cover image shows the detail of a wall in Songlines & Sightlines, an exhibition that took place at The Leo Kelly Blacktown Arts Centre in 2021 and 2022.
Songlines & Sightlines – Colouring-in Blacktown was an invitation to consider Blacktown's past, present and future. The project was a collaboration between Dharug artists and Knowledge Holders Leanne Mulgo Redpath and Erin Wilkins, with artist and architect Peter Rush, and featuring additional images by the late Bundeluk Watson.
The NAVA Reconciliation Action Plan (RAP) January 2023 – January 2024 is available for download on the NAVA website nava.net.au

Image: Songlines & Sightlines 2022, image by Raf Flores, featuring works by Leanne Mulgo Redpath, Erin Wilkins, and Peter Rush, curated by Tian Zhang and A'isyiyah Prahastono, courtesy of Blacktown Arts and Blacktown City Council.
About NAVA
The National Association for the Visual Arts (NAVA) is a Membership organisation which brings together the many voices of the contemporary arts sector to improve fundamental conditions of work and practice. We do this through advocacy, education and the Code of Practice.
National Association for the Visual Arts (NAVA) acknowledges the Gadigal, Wangal, Dharug, Dharawal, Kaurna, Ngunnawal, Ngambri and Dja Dja Wurrung peoples as the Traditional Custodians and Knowledge Holders of the unceded lands on which we live, learn and work.

The NAVA community is based across hundreds of sovereign Nations and unceded lands throughout the continent that has become colonially known as Australia. NAVA pays our deepest respects to all Custodians of Country to whom these lands belong.
We acknowledge Aboriginal and Torres Strait Islander peoples as the first artists and storytellers on this continent, and pay respect to First Nations communities' Ancestors and Elders.
Sovereignty was never ceded. Always was, always will be Aboriginal land.