Royalty income for artists in Australia
Find out how to register your artwork to collect potential royalty payments.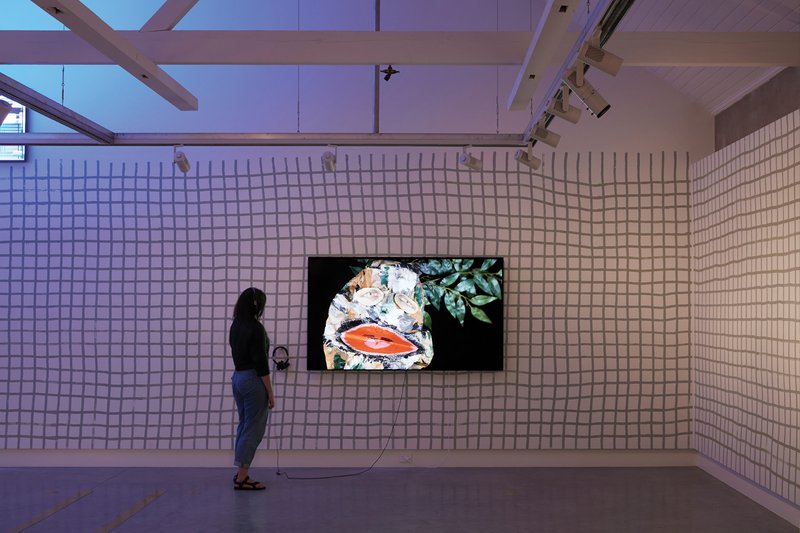 Image: Heath Franco and Matthew Griffin, The Entertainer, 4K video, sound. Commissioned by Ngununggula for VIDEO COMMISSION currently showing until 12 March 2023. Photo by Zan Wimberley.
ID: Photo of an exhibition space with exhibition ceiling lights and walls featuring uneven, grey gridded lines. A person in jeans and a black top is facing away from the camera towards a screen installation on the back wall. The screen shows a video work featuring leaves and a papaya with eyes and an elongated mouth on a black background.

Artists, designers and makers can draw income from their artwork in more ways than direct sale. The use of that work, whether it is shown on broadcast television, resold or licensed, can generate royalty payments over the lifetime of the artwork.
Under the artists' resale royalty scheme, artists and other rights holders are entitled to 5% of the sale price on certain resales of their work. The Copyright Agency has been appointed by the government to collect and distribute these royalties.
A royalty is payable when:
the work sells for the second time after the 9 June 2010
the work resells for $1,000 (including GST) or more
the resale was not a private sale from one individual to another
the artist is an Australian citizen or resident
if the artist has died: it was less than 70 years ago; and there is a beneficiary or estate with a connection to Australia
Register your details with the Copyright Agency so they can contact you if you are owed a royalty. Registration is free.
The newly announced national cultural policy Revive includes plans to broaden the Resale Royalty Scheme to the international commercial sale of eligible works.
When you own copyright for a work, you can give others permission to reproduce, publish or otherwise communicate that work to the public under certain terms through a licence. Where an artist is licensing a work for commercial use you should consider negotiating royalty payments and outlining the agreed terms in a written agreement. Payment standards for licensing can be found in NAVA's Code of Practice for Visual Arts, Craft and Design.
Some artists may prefer for their licensing interests to be managed by a third party. The Copyright Agency helps their members look after the rights in their work and ensure fair payment for its use. While based in Australia, the Copyright Agency is part of a network of visual arts management organisations around the world, so artists may receive licence fees for the use of their work internationally.
Membership to the Copyright Agency is free, but there is a deduction from payable royalties to cover operating costs and the Cultural Fund. Anyone who owns or controls rights in text or images can join.
In Australia, the Copyright Act 1968 allows for educational institutions and governments to use copyright material without the permission of creators and rights holders, provided that fair payment is made by the user. These statutory licences are administered by collecting societies, Screenrights and the Copyright Agency.
Screenrights manages licences related to the copying, communication and retransmission of broadcast programs. If an artist is aware of their artwork appearing on a television program broadcast in Australia or New Zealand they should register it for free with Screenrights as a membership is required to do this. To attract royalties, the artwork does not need to be featured and can even appear in the background of a scene. Membership to Screenrights is free. Otherwise, The Copyright Agency can also collect royalties on behalf of artists.
The Copyright Agency manages licences related to the copying and communication of books, magazines, newspapers, artistic works and other content. Under this scheme, fees are collected from licensees and distributed as royalties to members based on data from surveys. Membership to the Copyright Agency is free.
Organisations can choose to take out a commercial licence with the Copyright Agency to free their business activity of the risk of copyright infringement. This licence allows their staff to communicate copyright material within their organisation. Similar to the statutory licenses, payments are based on the type and volume of usage in survey data.
If your images have been published in books, journals, magazines or newspapers, you may be eligible for a royalty from the Commercial licences that the Copyright Agency operate. Each year the Copyright Agency encourages artists to complete the Image Royalty Claim survey to increase the information they have on images that are available for copying and sharing. Members can upload new works throughout the year to the Member Portal, with distributions typically made in June.
Royalty income for artists in Australia