Show an artist some love.
Give a NAVA Premium membership to your friends or family this Xmas.

NAVA membership is a wonderful gift.
---
NAVA Gift Package
When you give NAVA membership, you will receive a handsome e-card to send the lucky artist*. The e-card explains how they set up their membership, and is valid to December 2018. Once they redeem their membership, we will send them a membership card, along with a special gift package of NAVA treats (pictured below).
What membership means
NAVA provides essential support to artists and craftspeople:
+ arts policy advocacy
+ setting best practice standards
+ professional development guides and forums for artists
+ access to grants, job listings, exclusive industry advice and opportunities.

* by the next business day. Please note NAVA is closed 22 December 2017 - 8 January 2018, no e-cards will be issued during this time.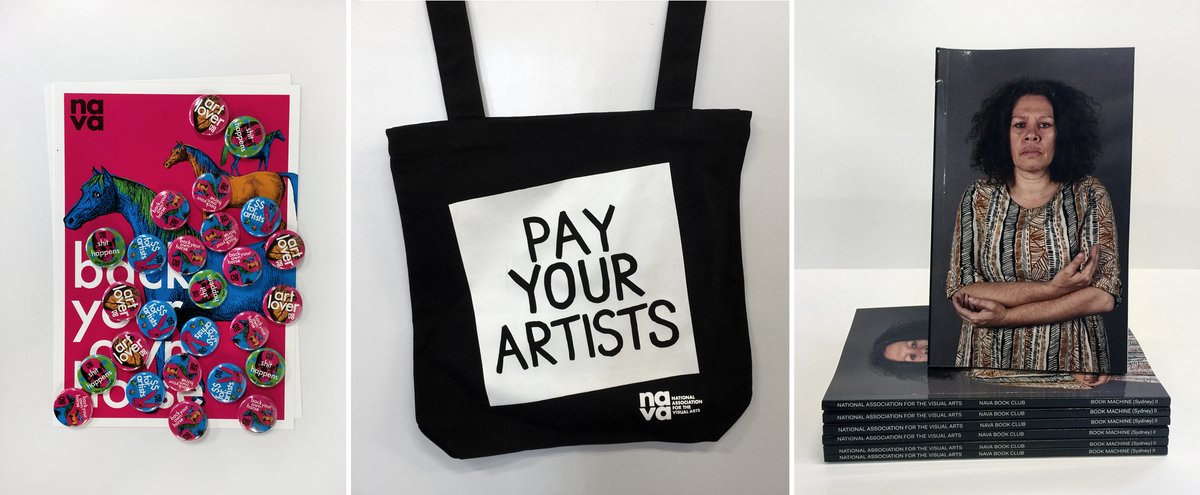 Premium Membership Benefits

+ Campaigns - NAVA membership fees directly contribute to NAVA's ongoing campaigns on behalf of our sector including artists' fees, protecting artists' copyright and art education. We welcome input and participation from our members.

+ Code of Practice - a comprehensive guide to best practice standards for artists' fees, gallery representation, residencies, tax, insurance and artists' rights.

+ Discounts - on entry to paying exhibitions at major galleries around Australia, and on art magazine subscriptions.

+ Guides - factsheets and checklists covering a range of topics including grant writing, promoting your work, tax and working internationally.

+ Grants - NAVA offers a wide range of grant programs for artists, arts writers and curators at all stages of their careers

+ Industry news - monthly articles and news updates.

+ Opportunities - find the latest opportunities listed on our website including grants, residencies, prizes, awards, scholarships, fellowships, exhibition callouts, public art commissions and jobs.

Click here for a full list of benefits.