Senate Backs VET Training Support for Arts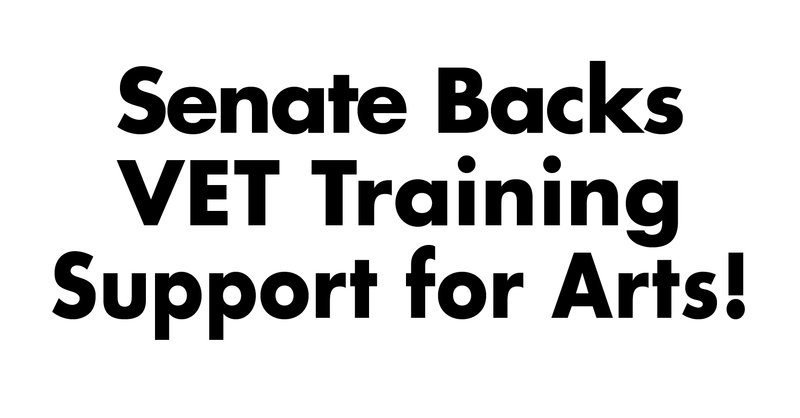 The peak industry body for the visual arts sector, the National Association for the Visual Arts (NAVA) welcomed the amendments made to the VET student loans legislation to encourage the Minister to ensure that legitimate arts courses are not excluded.
The arts sector expressed its gratitude for the support of the Cross bench and Labor representatives in the Senate and particularly the Greens who championed the cause.
Arts industry and education representatives have been vigorously lobbying in Canberra, making the case to all political parties that the capacity of legitimate training providers should not be compromised in pursuit of preventing rorting of the VET student loans system.
In the visual arts, the case is being strongly made for ensuring loans eligibility for students undertaking training in courses like photography, ceramics, jewellery and games design.
Tamara Winikoff OAM, Executive Director of NAVA said today, "Because the course list is not contained in the legislation and is the purview of the Education Minister alone, we call on Simon Birmingham to make the changes recommended by the arts industry".
Winikoff continued, "It's becoming clear that the innovative ideas, entrepreneurship, agility and resourcefulness of arts trained graduates will become increasingly important to the future of work in this country. This requires an understanding by decision makers that a narrow view of what kinds of training are required would hold us back in comparison to many other countries like Canada, Korea and Scandinavia, which have heavily invested in their creators."
Julie Moss, Managing Director, Photography Studies College (Melbourne) said," The work of trained arts graduates makes a vital contribution to the economy and community wellbeing.
We in Australia must understand and support the importance of creativity in everything that we do, both for our cultural and personal development and developing goods and services which are unique to this country."
In a late night decision at the last parliamentary sitting for the year, the following amendment to the VET Student Loans Bill 2016 was endorsed by the House and passed.
The second reading amendment moved by Senator Hanson‑Young on behalf of the Australian Greens and added at the end of the motion was:
", but the Senate calls on the Government to recognise the importance of the Australian arts industry and community by giving greater representation to artistic and creative courses on the VET student loans eligible course list.".
Senator Sarah Hanson-Young, the Greens arts spokesperson has confirmed the party's commitment will continue when parliament resumes in 2017.
For media comment and enquiries please contact:
Tamara Winikoff OAM, Executive Director, NAVA 02 9368 1900
Yu Ye Wu, Marketing & Publicity Coordinator, NAVA 02 9368 1900 / ywu@visualarts.net.au