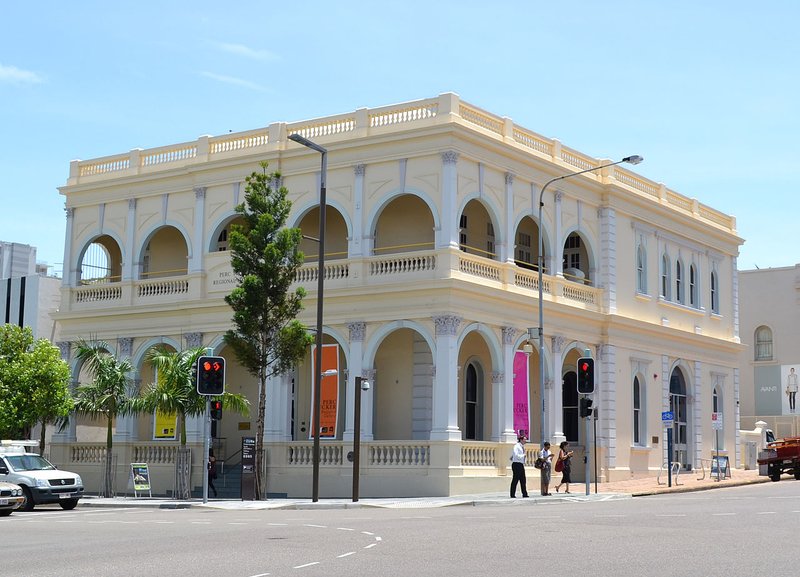 It is culture that is the glue which sticks communities together, never more than in the regions which often face testing times with the volatility of climate and markets. There's an abundance of evidence that attests to how much value regional communities place on having comparable access to cultural opportunities to that of city dwellers. While the vast distances in Australia make this challenging, there are many structures and programs which have this purpose including the Regional Arts Fund (RAF) which has directly injected an estimated $150 million into local communities in the form of grants and locally-generated funds to support regionally-inspired arts projects and events. [1] There is also National Exhibitions Touring Support (NETS) Australia, a national network committed to the delivery of touring exhibitions of contemporary visual culture to remote and metropolitan communities throughout Australia. Annually, it tours over 50 exhibitions to audiences of more than half a million people featuring works by over 1000 artists.
With a long history (the Art Gallery of Ballarat established in Victoria in 1884) and proliferating around the country, regional galleries are often the backbone of the cultural life of regional communities. They are primarily supported, both in terms of capital works and operations, by funding from Australia's 565 local councils which make the largest investment in arts and culture of any level of government - $1.350 billion dollars a year. [2] From its own commissioned research into the small to medium visual arts organisations (which include regional galleries)[3], NAVA has found that local government funding has increased in the last 5 years in real per capita terms. This contrasts with the federal funding which declined 55% over the 2008 to 2013 period and even more substantially since then. Nationwide, local government cultural and arts funding has increased 9% in real terms over the same period.
As an example, there are notable recent major refurbishment programs for some regional galleries which have reinvigorated the local arts scene including:MAMA Albury ($10.5m development completed in October 2015), Bendigo Art Gallery ($8.5m re-development in March 2014) and forthcoming, the Shepparton Art Museum (34.5mill project) all drawing on the precedent of the success of MONA in Hobart in transforming the economic and cultural life of Hobart and further afield in Tasmania.
However, this local government support can be very precarious and volatile depending on the political complexion and attitudes of councillors. A case in point at the moment is the much criticised recent sacking of Shane Fitzgerald, the greatly admired and very successful Curator and Manager of Townsville's Perc Tucker Regional Gallery and Pinnacles Gallery. Only two years ago, the Council released a 50 page report 'Culture Matters' which acknowledged, "there's a social dividend in investing in the cultural and creative sectors with the return in strengthening our underlying valued of inclusiveness, openness and democratic practice."
Despite the success of the galleries in attracting substantial philanthropic support and large audiences (more than for its sports stadium), in the last few weeks, the Council implemented the findings of its commissioned report which recommended a leaner structure to the organisation. It singled out the Gallery Manager position to be cut with the responsibilities being absorbed into a more generic position, 'team manager cultural facilities' which includes oversight of sports facilities. Townsville's Mayor Jenny Hill was quoted as saying the cuts follow a review aimed at "seeking budget savings to keep downward pressure on rates and improve council's customer focus".
One of the Townsville Galleries' philanthropic supporters, Philip Bacon said, "There are case studies where this has happened before. The Newcastle Council did the same as Townsville with catastrophic results." Newcastle Council's 'Future City' Director Judy Jaeger and Newcastle Art Gallery Director Ron Ramsey were both sacked by Newcastle City Council over misunderstandings related to the gifting to the Newcastle Gallery of a Brett Whiteley sculpture.
Keeping regional councils cognisant of not only the social but also the economic benefits of sustaining lively cultural facilities and programs is a constant struggle. It can be difficult to dissuade councillors who choose the pragmatism of narrow bottom line economics over the hidden economy associated with the well-being of the local regional community. To quote again from the Townsville 2014 report, " there's another benefit in investing in the arts and artists to build a rich cultural life: the economic dividend."
The 'Regional Arts Impact Australia' report[4] describes well how this economy works: "The regional and remote arts and cultural economy is made up of direct and indirect employment, audiences and tourists, earnings through export, touring, sales, intellectual property and the built and natural environments." The report refers to Victorian state government research undertaken by Deloitte in 2006-07 which found that the economic benefits of arts businesses include that they: are significant generators of new ideas and work; attract and engage new and diverse audiences and participants to the arts, including disadvantaged groups; stimulate economic activity; provide significant employment opportunities for artists and arts workers; promote professionalism in the arts, providing training and skills development opportunities and make a significant contribution to cultural export and tourism. [5]
The recent Artlands conference in Dubbo NSW was a high moment in the arts calendar which showcased the ideas and achievements of people who work in the regions. It demonstrated how the dynamism and diversity of regional arts is a signature for the whole of Australia.
Tamara Winikoff OAM is the Executive Director of NAVA
Image: Wikipedia
---
[1] Regional Arts Australia Sharpening the Arts; In Regional Australia
[2] Cultural Funding by Government 2010 – 11 (4183.0) Australian Bureau of Statistics
[3]Economists at Large report commissioned by NAVA (2016) National Research Into the Small to Medium Visual Art Sector. Forthcoming.
[4] Regional Arts Australia (2014), Regional Arts Impact Australia: That's a fact
[5] 6. Small Arts Organisations Research and Evaluation: précis of research conducted by Deloitte for Arts Victoria, September 2007.