$5 million for Artists
NAVA's latest advocacy campaign calling for a new $5million government allocation for artist fees.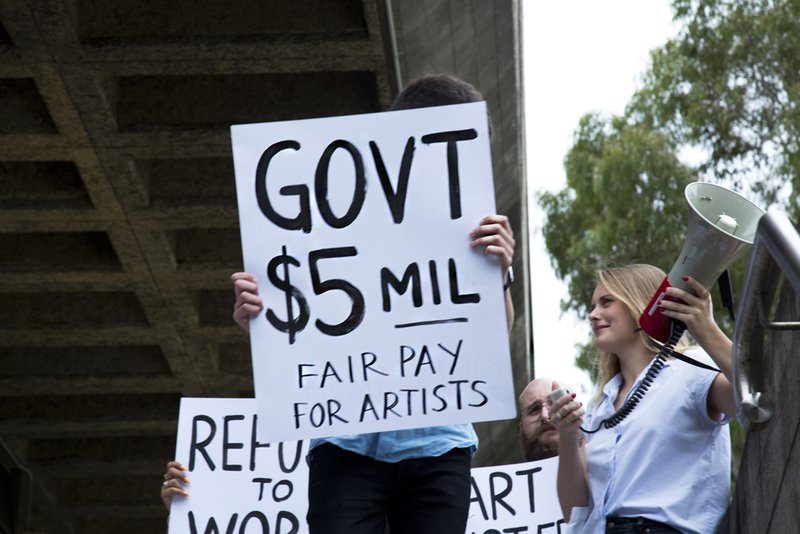 Today, NAVA is launching a new campaign to gain recognition of a group of rights for artists and other art professionals. This includes artists' fees, superannuation for artists and art workers and a pension supplement to be paid when artists' incomes drop below the poverty level.
NAVA is asking people who care about ensuring the viability of artists' careers, to sign a petition calling for a new allocation by the federal government of $5 million a year to enable the payment of artists' fees by underfunded public galleries, at least at the standard rate listed in the industry's code of practice.
The concept of industrial fairness for art professionals is predicated on the acknowledgement that there are a variety of professional activities that take place in and around the art enterprise that deserve to be paid for. While it is widely understood that artworks have a financial value and can be bought and sold, there is less clarity about what artists should be paid if their work is commissioned or loaned for exhibition in public galleries when the work is not made available for sale.
However, over the last few years the momentum has been building in Australia and many other countries for the payment of a fee to artists for their labour, over and above the costs of production of their artworks. The effort that artists undertake in developing a concept, realising it through making a work and then exhibiting it for public enjoyment, deserves the same recompense as that is required by all other professionals who are paid for their labour as well as the cost of any materials they use in their work.
The renewal of NAVA's artists' fees campaign is based on the evidence revealed by its 2016 survey of art industry practices around the country. Despite wide recognition of the validity of the principle of paying artists for their skills and efforts, and the recommendation by most arts funding authorities for organisational grant recipients to pay fees according to industry standards, the survey revealed that adherence is erratic.
The increasing pressure on small to medium public galleries and artist run initiatives has been exacerbated by the Coalition Government's dramatic assault on arts funding from 2013. Its cuts to Australia Council funding have resulted in a 70% drop in grants for artists and the loss of operational support by 50% of the small to medium art spaces (S2Ms) previously funded. These S2Ms form an essential platform for artistic experimentation and the production, exhibition and critique of the work of contemporary living Australian artists. Artists are the hardest hit, but it is the community which will also suffer through the loss of access to contemporary Australian visual culture.
Also causing confusion is whether artists and other art professionals like installers, should be paid superannuation. Information from the Australian Tax Office is ambiguous which has resulted in many who are providing their services to galleries and public events not being paid the super to which other Australian citizens are entitled, in order to make provision for their old age. NAVA is pursuing clarification and an understanding of when payment of super should be made.
In addition, artists find it almost impossible to get recognition of their professional status when they require social security assistance. It seems Centrelink largely regards art as a 'lifestyle choice' (to quote a recent statement by the Education Minister when defending his excision of many art courses from the VET Student Loan Scheme). In many other countries which value their artists, there is a commitment to assist artists to make a sustained living from their practice across their lifetimes. Imaginative measures have been adopted to make sure that artists are supported when their income drops below a certain level.
NAVA wants to engage the industry and key decision makers in consideration of what similar measures can be devised in Australia to support our most valuable, innovative and challenging creators to be able to sustain careers and contribute to the social, culture and economic enrichment of all Australians. The campaign will involve a broad range of art industry professionals in discussing options and advocating for their rights. They will include artists, curators, installers, art writers, gallery staff and people who work in other kinds of arts organisations, as well as political key decision makers and arts funding bodies.
You are urged to sign the petition, use the campaign tools to add your weight to the lobbying effort and join in the discussions which will be advertised through our communication channels.
To help us with the campaign, we would appreciate your donation which will enable NAVA to provide the tools, co-ordinate actions and be your public voice.
Let's make 2017 a positive turning point in the recognition of the rights of Australia's art professionals.
Tamara Winikoff OAM is the Executive Director of the National Association for the Visual Arts.
Photo: Tanja Bruckner, 2017.