Ambitious and Fair
What would it mean to be part of a contemporary arts sector that's ambitious and fair?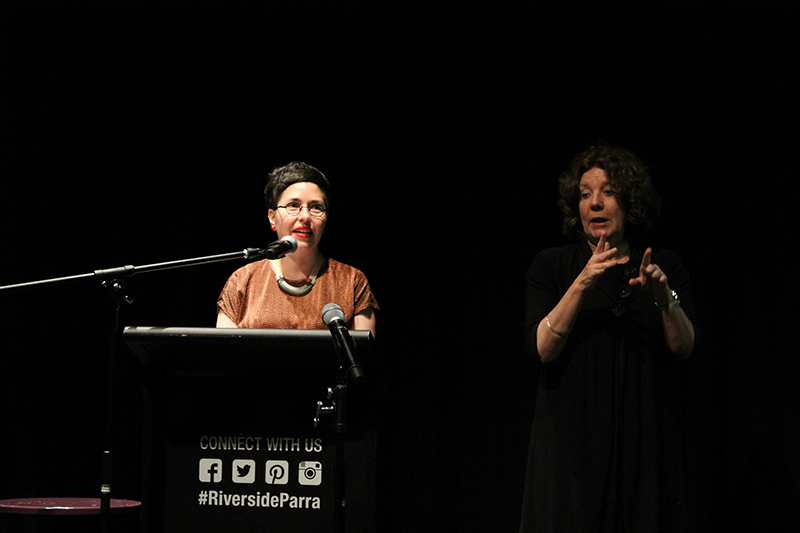 At Future/Forward in Canberra, NAVA launched our Strategic Plan 2018-2020 and its mission to lead advocacy, policy and action for a contemporary arts sector that's ambitious and fair. Since that time, we've been talking a lot about the Code of Practice as we embark on the work of revising it. Nationally consistent, nationally observed industry standards are essential to unleashing that ambition and achieving that fairness, so we're keen to get the Code of Practice right – and that will take time.
On the first day of Future/Forward we talked a lot about ambition and fairness. Are they too optimistic, too utopian, somebody asked? What does "ambitious" and "fair" mean to you?
"Ambitious" has a number of connotations – both positive and negative. On the one hand it's confident, adventurous, determined and bold, but on the other, it can sound ruthless and single-minded when its motivations are unfair.
Similarly, "fair" also evokes both positive and negative things. It's about being reasonable and honest, or acting with integrity, but it also sounds just adequate, just ok, just fair. A "fair go" is quintessentially Australian when we think of the individual "battler", and yet the values of collective fairness that are promoted by unionism have been sullied into negatives and all too readily attacked by those with agendas rooted very much in unfairness.
The way we're seeing more and more groups treated is very far from fair – whether they're groups of people with culture, gender or sexuality in common, or groups held in indefinite and cruel detention. And yet, like diversity, fairness is a property of groups and not of individuals; ambition is a force that drives both individuals and groups, but fairness is about their encounter. And too often, the ambition of the artist is relegated in favour of another kind of ambition – not an artistic ambition but perhaps one for profit or power.
A contemporary arts sector that's ambitious and fair would support artists as a group and also as individuals. Astounding work. Fulfilling practice. Best standards. Good conscience. How will we make that happen?
A number of governments are asking the very same question, which makes our work even more timely.
In Queensland, plans are underway to develop a "10-Year Roadmap for the Arts" and a public consultation is now open. Called Creating Queensland's Future, this comprehensive approach situates the arts in a broader cultural and creative sector and is also looking for contributions from business and all levels of government. The consultation explicitly references the "period of rapid change" that characterises the entire state, and recognises the pivotal role of the arts in shaping the Queensland of the future. There's a discussion paper to frame our feedback – be sure to have your say by 18 December.
Victorians are going to the polls on 24 November and we'll be issuing our Election Report Card soon. It's a very important time for Victorian Members to be contacting local MPs and candidates, and letting them know what the arts means to you. Victoria's Creative Industries framework and the Creative State Strategy and a recent progress report outlines the state's achievements against 40 commitments.
The Australia Council is also asking questions about ambition and fairness in its review of the Major Performing Arts Framework. What assumptions underlie some of the recent consultations in this area such as the National Opera Review? Do you think it's conscionable for 62% of the Australia Council's budget to go to 28 companies in uncontested recurrent funding? What would make that kind of investment conscionable? And what should long-term investment look like if we're to sustain the Australian arts sector across all artforms? The Australia Council are holding a series of discussion forums all over Australia, and there's also an invitation to provide a submission by 26 November and a consultation paper for context.
Globally, UNESCO is undertaking research on the Status of the Artist, looking at "policies and measures taken around the world to support the economic and social rights of artists." Their 2018 Re|Shaping Cultural Policies report found that "artists' employment and social status continues to be precarious, with low access to social security, pensions and other welfare provisions." Our recent research in Canada looked at their Status of the Artist framework in the context of our Code of Practice work, and we'll be watching the UNESCO research with great interest.
Of course, some of the best ways to effect real change aren't at the global level but that the very local: talking to one another about what ambition and fairness really looks like in our contexts. At Artlands, someone told us that if they had to pay artists at industry rates, they'd have to present fewer exhibitions. "Yes," we said, "that's right." At Future/Forward, someone told us that if we insisted on galleries being accessible to a greater diversity of artists, we'd see some close down. "Yes," we said, "that's right."
Ambition and fairness are not mutually incompatible – but the longer we pursue the one without the other, the more we skew their trajectories. We need to keep asking ourselves what consent really means when an artist agrees to show their work for free. What visibility really looks like when people don't go out of their way to let someone know that they've been excluded. How we can rethink institutional power in ways that champion cultural diversity.
Let's ask ourselves the same questions that we expect governments to answer and industry standards to uphold. Ambition and fairness starts with us.
Image courtesy of Diversity Arts Australia. photo by Rashmi Ravindran.