Artists call for a contemporary arts sector that's ambitious and fair
Media Release - Post-Future/Forward
Image: Zan Wimberley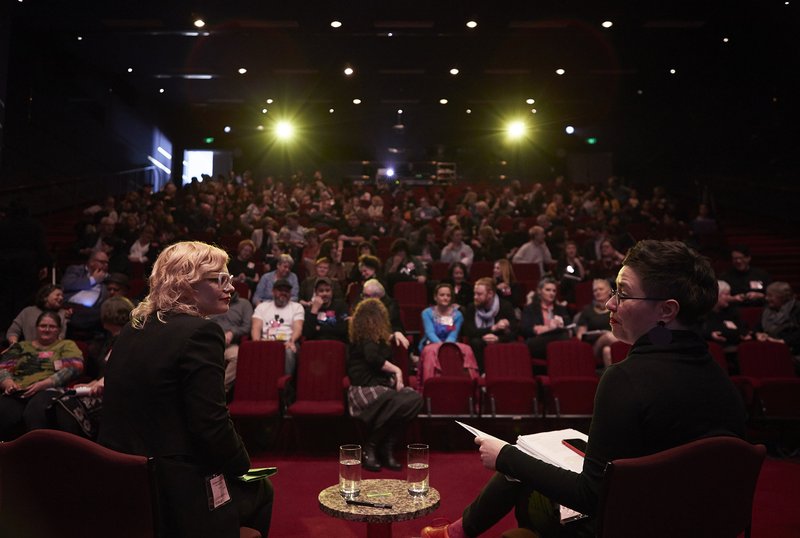 The urgent need to put First Nations first for a stronger Australia, the necessity for more ethical approaches to our cultural diversity, a 2% for art scheme for all new public developments, recognition of the leadership of artist-run initiatives, and nationally enforceable best practice standards were among the actions called for by Australia's contemporary artists gathered in Canberra for NAVA's Future/Forward on 14-15 August at the NGA and Parliament House.
In putting First Nations first, Gamilaroi Murri man and NAVA Board Member Peter White said: "For me the big question is this: are you a good person? Very simple. Very easy way to move forward." In redressing inequity, Artist Abdul Abdullah called for us all to "afford others the specificity and complexity that you afford yourself."
Future/Forward opened a national conversation about the politics of policy change, engaging over two hundred artists and arts leaders as well as hundreds more online across Australia.
Minister for the Arts Mitch Fifield joined Future/Forward on its second day at Parliament House, where Gabriel Nodea, Chair of Warmun Art Centre, WA, asked the Minister to hold country, culture and language close across all policy priorities. Recent Australia Council research shows that the average income earned by artists is only $18,000, a figure well below the poverty line and a 4% drop on the previous such study seven years earlier. Minister Fifield was asked to develop policies that redress the career difficulties and the poverty faced by an increasing number of artists whose work ambitiously tackles issues politicians are afraid to confront. In the shadow of Senator Anning's despicable remarks the night before, Minister Fifield was also asked to ensure that the Parliament's response would strongly counter the pattern of condoning racism.
In calling for the 2% scheme, Fiona Foley announced her intention to quit her artistic practice – a shocking prospect for one of Australia's leading artists no longer able to sustain a living wage from her work, despite her strong national profile, works in galleries across the nation, and public artworks in several Australian cities and towns.
NAVA Executive Director Esther Anatolitis then followed up Future/Forward by meeting with eight MPs across all major parties to brief them on artists' expectations as well as on the advocacy, policy and action focus of NAVA's new Strategic Plan launched at Future/Forward.
"NAVA Members and Australian artists have set the bar high for our next steps," said Anatolitis. "Artists can't sustain careers and audiences can't experience Australian work without ambitious policies and fair practices that champion artistic courage."
Following a September trip to Canada and the US to benchmark global best practice, as well as participating in Arts Access Australia's Meeting Place in Alice Springs, NAVA's work continues with regional consultations as part of the national regional arts event Artlands in Bendigo in October, and Artstate Bathurst in November.
Join the national efforts towards a contemporary arts sector that's ambitious and fair at nava.net.au
ENDS