Q&A Grace Dewar
NAVA chats to Grace Dewar about the impact of the First Coat festival in Toowoomba its future.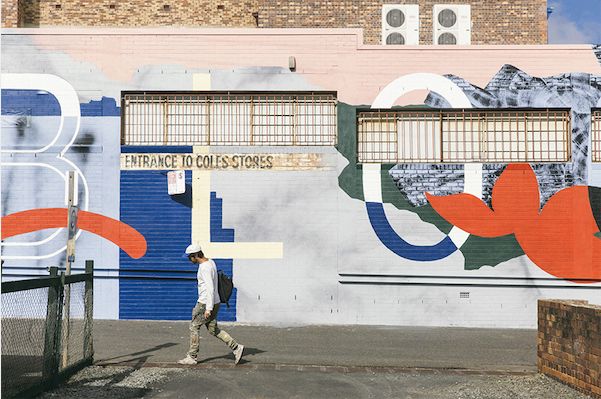 Instrumental in enhancing Toowoomba's city centre, First Coat International Art Festival operated as a three-day public art event from 2013 - 2017.
Presented by First Coat Studios, Toowoomba's First Coat Outdoor Gallery proudly boasts over 80 mural sites, created by innovative and inspiring artists from across the globe.
Established in 2012, First Coat Studios is an artist-run initiative with core programs in exhibitions, workshops, public art projects and events. First Coat exists to celebrate, nurture and contribute sustainably to their local creative culture, and to position Toowoomba as a city at the forefront of regional arts.
How was First Coat Festival originally conceived?
First Coat Studios (FCS) was originally established in 2012 as part of a local hybrid arts collective, theGRID. What began as an aerosol arts supplies store, was relaunched in 2013 as an art gallery and shared artist studios in a purpose-renovated venue. Initiated in response to the social and cultural needs of the Toowoomba region, the First Coat team delivered their first public art festival in February 2014 with a four month lead time.
In partnership with Toowoomba Regional Council and with state government support, First Coat established a collaborative model and attracted significant sponsors from year one. Growing from the original pitch of 5 artists and 5 walls, First Coat 2014 produced 19 walls with 27 artists and continued with an ambitious 30 artist international and national line-up and curated side events over the following three years.
The creative community in the Toowoomba has a strong history and culture of collaboration, self-organisation and artist run initiatives, how has this culture of self-organisation of artists in the region help to make projects such as First Coat International Art Festival possible?
Our local history of self-organisation and artist run models has fostered a strong culture of DIY for our region. FCS Co-Director, Ian McCallum and I had our first solo exhibitions with Made. Creative Space (2011-13), found our feet at theGRID: Hybrid Arts and MARS Gallery (2009 -16), and interned, exhibited and curated with Raygun Contemporary Projects (2010 - current).
Through these collaborations and mentorship, we've been shown how to drive our own projects and support other creatives. It's with these experiences that we were confident in signing on to our first three year lease and starting the festival.
After four years and over 100 public arts sites created, the First Coat Festival concluded in 2017, what in your view has been the most successful outcomes of the project, and what legacy has the festival left for the Toowoomba region?
We approached the gallery, studio and festival with interest in making a contribution to where we live. There's a visual impact that comes with such a large amount of public works, especially as they are in such close proximity to one another. The outcome, like that of young Australia's mindset, is an inclusive community that celebrates creativity and diversity. This extends outside of a four year festival and is ingrained as part of our cultural heritage.
Beyond the murals and festival, FCS nurtures diverse, contemporary art forms that are inclusive and accessible, as to engage people that may not have connected with the arts otherwise. For us, that's been a really important motivator that has guided our programs through our seven year history.
What impact do you consider festivals such as First Coat have on developing Toowoomba's recognition as a leading regional arts and cultural destination?
We've established one of the largest outdoor galleries in regional Australia, and five years from our first event, this is recognised as a iconic tourism trail for our region. The landmark public works are unique to Toowoomba and this compliments other offerings, like the expanding cafe and restaurant culture, the surrounding natural environment, and the heritage buildings and character of our streets. The impact is a year round cultural activity that is accessible to diverse audiences and adds another layer to a city that's flourishing.
First Coat Festival has been recognised for attracting increased visitation to the region, what opportunities do you see a growing cultural tourism sector presents for artists in broadening audiences and incomes for their practice?
Through the studio and festival, we've provided a platform for local artists to expand their skills in different ways, such as their methodology for art production, curation, event management and workshop facilitation. Whilst the festival format provided a wider audience, professional development in our arts community has been an integral part of strengthening our arts ecology. This has directly led to paid outcomes for artists, and although these opportunities are still limited in our regional landscape, we're definitely seeing a shift. There's still a push for educating the wider community in benefits of supporting local arts and culture.
How did artists engage with and respond to the cultural and historical significance of the sites where they created work?
Arts working in the public realm are inevitably connecting with their environment. Some are more active in their research and connecting to place but all will respond, in some way, to the site or surrounding contexts. One of the parts I enjoy most in producing public art is seeing how different artists respond with in the parameters of their practice and having them share their perspective of the area the work will exist.
As an example, the work of 2017 feature artist, Tristan Kerr is a 50m-long homage to both our region and our arts community. The text 'In Bloom' is a nod to Toowoomba's positive cultural change and evolution of its identity, as well as references the history of the Garden City and annual Carnival of Flowers.
What's next for First Coat?
As an artist-run studio and gallery, we're transitioning to non-profit status and establishing a more sustainable model for our operations, with the intention of being here for the long-haul. ARIs generally have a short lifespan. We're hopeful we can continue to contribute to our community in new and innovative ways, whilst challenging notions of contemporary art in regional Australia.
We are also navigating long-term strategies with our Council, as to grow and maintain Toowoomba's public art catalogue and provide more opportunities for local artists. Next year we're looking to launch another public art event in Toowoomba, in a smaller scale and a different format to what the festival has been, and we're excited by new the collaborations this will bring.
Image: Tristan Kerr 'In Bloom' First Coat 2017, photo Luke Shirlaw