Industry roundtable expresses urgent need for national standards in public art commissioning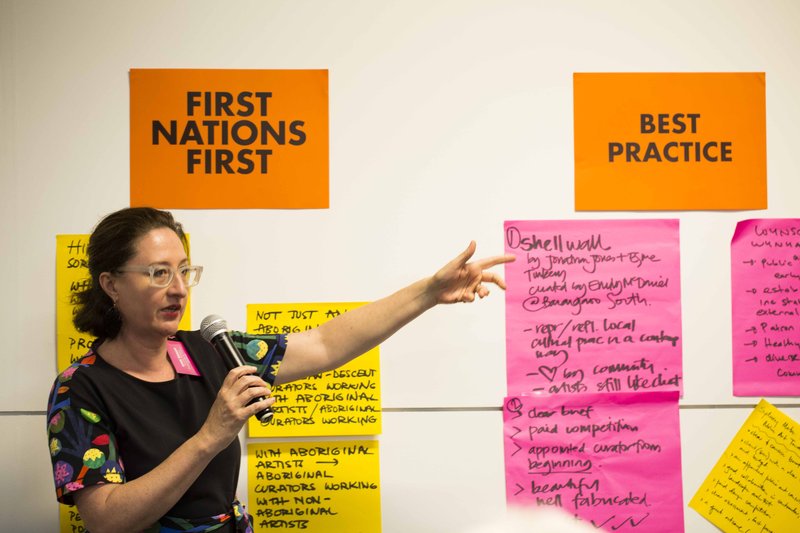 Image: Annie Tennant, General Manager, Sustainability and Culture, Lendlease, joining in for the outcomes of the roundtable. Photo by Tanja Bruckner
The early leadership and comprehensive guidance of First Nations experts, the importance of quality education and training, and the need to build trust across and beyond government, were the most pressing issues to emerge from NAVA's 7 November roundtable on commissioning art in the public space.
"Public art offers deep insights into a local culture, the ideas it can foster and the place it can become," said Esther Anatolitis, Executive Director. "It expresses a community's willingness to think differently and take confident risks together.
"A national approach is timely and urgent. Major public art projects are being planned around new train station developments in several capital cities – with Chris Fox's award-winning Interloop at Wynyard earning international renown. Many state governments are also developing new policy, and there's growing demand from local and regional governments for expert advice as they revise their own public art policies. Now is the time for artist-led national standards to inform best practice."
A diverse group of artists, industry leaders, architects, developers, consultants, agents and government colleagues at all levels participated in last week's three-hour workshop, which informs NAVA's revision of the Code of Practice for the Professional Australian Visual Arts, Craft and Design Sector. This is the first of a series of consultations to be held across Australia, with the second in Melbourne next week on Monday 19 November.
Roundtable participants called for nationally consistent templates for contracting, comprehensive education for artists and practitioners across the commissioning process, ways to "de-risk" the process, and much-needed clarity across all areas including design, fabrication, maintenance and decommissioning.
"Public art commissioning is a fraught space with many competing stakeholders, and is the subject of a high proportion of complaints and disputes handled by NAVA," said Esther. "While the roundtable had no trouble coming up with examples of poor practice, one best practice example championed by all was Jonathan Jones and Esme Timbery "Shell Wall", curated by Emily McDaniel at Barangaroo. This was a commission that treated all parties with respect. An Indigenous curator was appointed at the outset; the artists had a good relationship with the commissioner; local cultural practice and local community were honoured; and most importantly, there was a lot of trust."
NAVA leads policy, advocacy and action for a contemporary arts sector that's ambitious and fair. National standards on commissioning art in the public space are a priority area in NAVA's revision of the Code of Practice, which records and benchmarks best practice across the contemporary arts. In revising the Code, NAVA will work with arts, research and legal partners to develop artist-led, industry-supported standards for commissioning art in the public space.