Industry spotlight: policy expectations of Australia's arts experts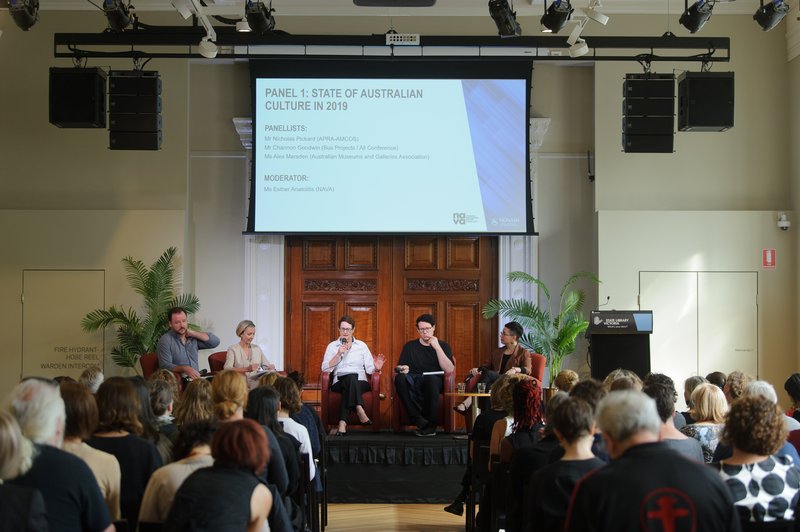 $111.7bn is the economic contribution of cultural and creative activity in Australia, according to figures released by the Bureau of Communications and Arts Research late last year. But where does that figure come from? What does it include, and what does it ignore?
If we take a look only at the visual arts and crafts component, we see that this study has limited the field to just the manufacture and sale of jewellery, watches and clocks, with professional photographic services thrown in. That's it.
This omits the entire visual arts, craft and design market including the creation, exhibition and sale of contemporary art in public and commercial galleries, the secondary market of sales at auctions or through dealers, and the work of all Aboriginal Art Centres. The economic contribution of Australia's painters, sculptors, photographers, public artists and so many other contemporary practices has not been considered at all.
So while $111.7bn or 6.4% of GDP sounds like a great big contribution, it's actually an underestimate.
And given that rates of creative participation in the arts are highest in the visual arts by some margin, according to Australia Council research, the oversight is quite damning.
So what happens when the work of Australia's most active artists is overlooked by constructive policy and programs?
Creative participation may be high, but the numbers of professional visual artists and craft practitioners are in fact declining, and so are their incomes – both overall incomes, which are 21% below the average wage, and the incomes professional artists derive exclusively from creative work, which are below the poverty line and have dropped 19% in seven years. Despite working longer and harder than ever before, more and more artists are living precariously, it's taking longer for artists to become established, and the gender pay gap is worse in the arts than in any other industry.
These findings from Making Art Work, research also commissioned by the Australia Council, are alarming.
And given the massive disruption to arts policy and public investment since 2014, the findings are no surprise. Cuts made to the arts without consultation, warning nor justification continue to reverberate, while the Australia Council's capacity to foster much-needed sector development has all but vanished.
Given these concerning trends, leading arts bodies from all artforms are calling urgently for policy and investment in the practitioners who create our future.
To make sure that Australia can defy the troubling trends in artists' incomes, career prospects and fair pay, NAVA has released a set of national policy priorities. These include making fair pay at industry standards a condition of public funding, advancing copyright reform, and prioritising initiatives that promote artist self-organisation, strengthened communities and a vibrant independent arts sector. We're advocating for three new programs – Artist Time, Artist Led and Artist Run – that put the artist back at the centre of artform and sector development. We're also calling for increased investment in the Australia Council and the Regional Arts Fund, to repair the damage since 2014 and boldly invest well beyond those levels. Last month, we put these priorities to the test at a national forum.
NAVA's Monash University collaboration Australian Cultural Policy: The Next Decade offered timely policy direction to strengthen our creative culture and our democracy, which emerged as a key theme of the day's discussion. Gabi Gabi / Kabi Kabi and Wiradjuri artist and academic Dr Bianca Beetson led the day's thinking with her keynote which is the NAVA Podcast this month. We heard the policy priorities of Shadow Minister for the Arts Tony Burke, while unfortunately Minister for the Arts Mitch Fifield was unable to attend and did not send a video statement. The comprehensive Australia-wide sector representation included First Nations arts, architecture and planning, artist-run initiatives, broadcasting, contemporary arts, disability, games, libraries, literature, live music, museums and galleries, performing arts and screen, as well as academics, industry peak bodies, philanthropy, think tanks and unions. Government attendees were from the departments of Communications and the Arts, Foreign Affairs and Trade, and Disability, as well as several local and state governments. Each session is now available as a podcast and future events are being planned.
As election day approaches, there's strong national consistency on what's needed for a contemporary arts sector that's ambitious and fair.
Arts Access Australia is advocating for #RealMoneyRealJobs, calling on all parties to close the disability pay gap. It's a gap that's grown alarmingly: while artists with disability currently earn 42% less than artists without disability, back in 2008 that gap was only 9%.
Regional Arts Australia is highlighting the Regional Arts Fund and the need to invest urgently – because all 25 million Australians "are better off when the 8.8 million Australians who live outside of the metropolitan cities are creative, productive and thriving, contributing their unique perspectives to the national identity and making Australia a more culturally diverse nation." The Vote 1 Regional Arts campaign calls for an additional $2m per year.
A group of performing arts sector organisations have released a useful infographic and a set of principles around innovation and funding. Advocating for "a secure creative future" are AMPAG, Ausdance, BlakDance, Live Performance Australia, Music Australia, Performing Arts Connections Australia, Symphony Services Australia, Regional Arts Australia and Theatre Network Australia.
Across the arts, we see strong national consensus for sophisticated policy and targeted investment in the practitioners who create our future. That underestimated figure of $111.7bn or 6.4% of GDP is a sleeper; the more Australia's politicians limit their cultural responsibility to culture war, the greater their distance from the priorities of the 98% of Australians who participate in the arts as part of everyday life.