State of the arts
Mitch Fifield and Esther Anatolitis at Future/Forward 2018, photo by Zan Wimberley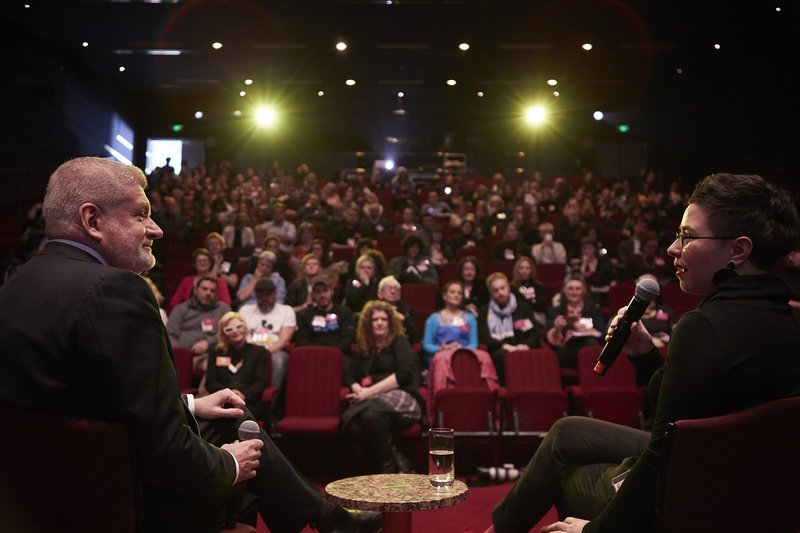 The contemporary arts in Australia are a two-speed economy. More than that: multiple economies on multiple speeds running on multiple gears. There is no one "arts industry", just like there's no single "sports industry"; artist-run initiatives, the small-to-medium sector, commercial galleries, state-owned institutions, and the massive unfunded sector, together form a complex set of interdependencies that touch on every aspect of our lives. And while that's in the very nature of artistic practice, our stop-start approach to policy means Australia's contemporary arts sector risks shrinking at the very moment it's poised for national and international impact.
On the one hand, the visual arts are Australia's most popular artform in terms of participation. The arts industry overall contributes $111.7 billion to the economy, or 6.4% of GDP, and employs more people than the IT, mining and energy sectors each employ. While 98% of all Australians engage with the arts, with households spending over $6.5 billion annually, 30% of all Australians enjoy or create visual art. And with audiences growing, multiple billions are about to be spent on new contemporary art galleries all over Australia.
On the other, the numbers of visual artists and craft practitioners are declining, and so are their incomes – both their overall incomes, which are 21% below the average wage, and the incomes professional artists derive exclusively from creative work, which are below the poverty line and have dropped 19% in the seven years since the previous Australia Council research reports. Despite working longer, harder, and across more disciplinary areas than ever before, more and more artists are living precariously, it's taking longer for artists to become established, and the gender pay gap is worse in the arts than in any other industry.
The complex interdependency of these factors suddenly seems quite stark indeed. The overwhelming bulk of new work is created by small companies and artist-run initiatives, which is where internationally renowned artists like Patricia Piccinini had their start; her 2016 Brazil exhibition ComSciencia was the most visited exhibition in the world, while back in the 1990s she and her collaborators created a space where "some days I'd be there the whole day and only five people would turn up – but we were part of a community that showed art." Artistic collaboration yields extraordinary outcomes and yet public investment in those independent platforms is declining.
Policy across multiple areas neglects the arts – both in dollar terms, but also in neglecting to tackle its complexities and their many opportunities. In education, for example, there are opportunities to prepare the next generation for the future of work by nurturing critical, creative thinkers with the skills employers need most. The recent Australian Government Bureau of Communications and Arts Research report found that creative skills are driving our fastest-growing industries. In community wellbeing and resilience, the arts are a prescription for good health – a link even our defence forces understand. And at all levels of government, regulations on public and commercial space use impact significantly on creative entrepreneurialism which can transform entire cities and towns– or, if misunderstood, cause significant cultural and economic decline, as is currently being experienced in NSW.
As election coverage intensifies, now is the perfect time to consider what's at stake for arts and culture – what's at stake for the ways we express, enjoy, inspire and challenge ourselves and one another – in the full spectrum of policy announcements and omissions.
Arts Agenda offers monthly insights into a range of national priority issues from an artist, industry and researcher perspective. Read on.