Local artists call for protection of Afghan artists
Image: Journalists in Kabul, photo courtesy of Elyas Alavi.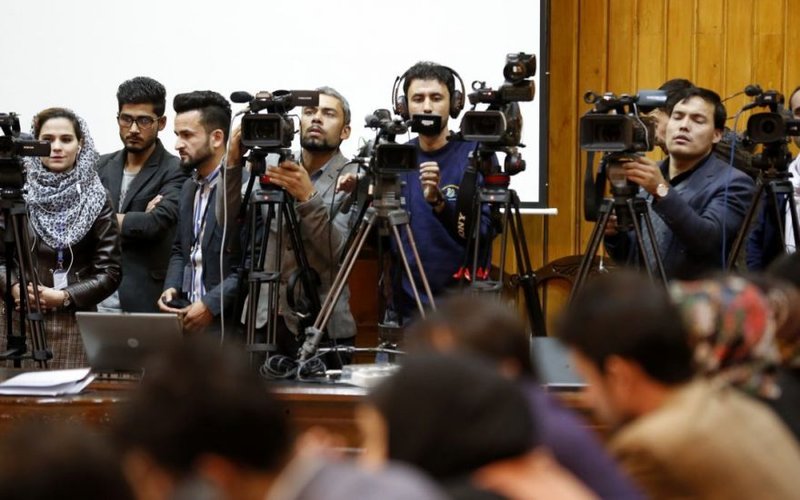 Over three thousand local artists endorsed an open letter requesting the Australian Government take urgent humanitarian actions to protect groups whose lives, civil freedoms, and creative expressions are at risk under an oppressive Taliban regime. Internationally renowned artists Abdul Abdullah, Hoda Afshar, Rebecca Baumann, Daniel Boyd, Bonita Ely, Elyas Alavi, Khadim Ali, Caroline Rothwell, Michael Meszaros, Sally Smart, and Tom Mùller were among the many creative and cultural workers and organisations to add their support.
Khadim Ali, an artist based in Australia, says the situation for artists and vulnerable groups in Afghanistan remains critical.
"The effect of the Taliban regime will once again have a generational impact on the progress of Afghan artistic and cultural practice," he says. "We are asking the Australian Government, and the world not to turn its back on some of the most vulnerable people in Afghanistan, to ensure the vitality of Afghan cultures are not diminished once again."
The call to action was penned by a small group of creative and cultural workers from the Afghan diaspora in Australia in response to the illegal and forcible return to the Taliban regime on 15 August 2021. The priorities outlined in the statement seek to protect, preserve and sustain Afghan cultures by protecting the artists, artisans, scholars, writers, and marginalised groups whose lives and creative expression cannot continue under this violent takeover of the country.
Elyas Alavi, an artist and poet based in Australia said, "With every hour that passes, the ability to protect and evacuate people is heartbreakingly unattainable. I am in contact with my artist friends who are now having to take desperate measures to ensure their safety. The urgency is now ensuring access to food and shelter. Beyond this we are talking together about the other ways that we can support the continuation of their creative practice from afar. Although this feels like a future focus, it is the type of hope that people need right now."
The joint letter urged the Australian Government to increase and extend its humanitarian support to the newly displaced population in Afghanistan, commit an additional humanitarian intake of at least 20,000 Afghan people, and prioritise new and extended options for Afghan nationals and asylum seekers in Australia.
In solidarity with the people of Afghanistan, NAVA presented the letter on Monday 31 August to the Minister for Foreign Affairs, Hon Marise Payne MP, Minister for Communications, Urban Infrastructure, Cities and the Arts, Hon Paul Fletcher MP, Minister for Immigration, Citizenship, Migrant Services and Multicultural Affairs of Australia, Hon Alex Hawke MP, with a copy sent to Shadow Minister for Foreign Affairs Senator the Hon Penny Wong, Shadow Minister for Industrial Relations and the Arts, The Hon Tony Burke MP and Shadow Minister for Immigration and Citizenship, Home Affairs and Government Accountability, Senator the Hon Kristina Keneally.
Read the Joint statement and call to action in solidarity with the people of Afghanistan.
How you can support the Afghan people
The ramifications of the Taliban regime for the people of Afghanistan are devastating and evolving hourly. Every action, small or large counts.
If you are able to please consider extending a donation to the following efforts currently active and delivering humanitarian support to people in Afghanistan.
Australian artist Ben Quilty has established the online fundraiser through Crisis in Afghanistan, and has raised over $4,000,000.
Women for Afghan Women (WAW) are asking for donations to help them respond to this devastating humanitarian crisis and evacuate/relocate thousands of Afghan women, children, and families.
Please also consider signing the wider petition created by Action For Afghanistan.