Federal Budget 2022-2023: Much more to be done for the arts
NAVA's analysis of the October 2022-2023 Federal Budget.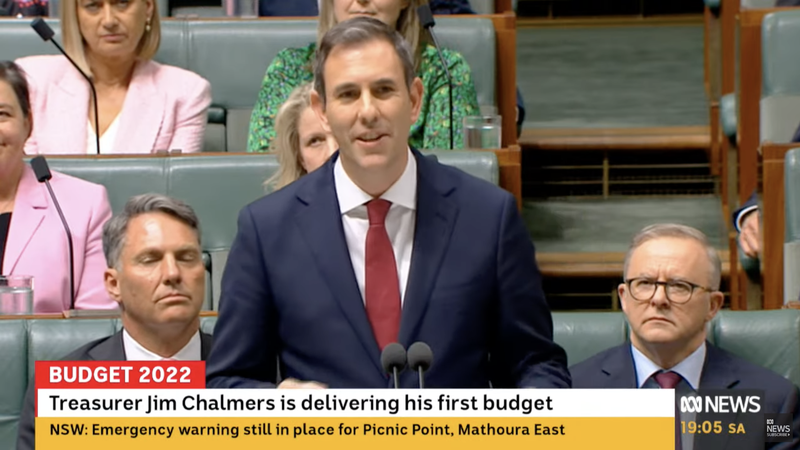 Against a backdrop of rising inflation, the risk of recession, and ongoing declines in reported incomes, art making and confidence for artists and arts workers, Treasurer Jim Chalmers handed down a "responsible Budget" that sets out his plan to ease the cost of living – cheaper childcare, paid parental leave, cheaper medicine, housing affordability and wage growth – but with very few new initiatives for the visual arts.
While disappointing, the lack of new funding announcements for the arts is not a surprise. Minister Burke has been clear since before the election that he would not be making any funding decisions until work on a new National Cultural Policy was complete. However, the limited budget allocations for visual artists this close to the much anticipated release of the new policy remains concerning.
Funding committed to the visual arts as part of the revised 2022-2023 Budget:
$80 million for the National Aboriginal Art Gallery in Alice Springs to establish a world-leading facility displaying Australia's most significant First Nations artists.
$50 million for Perth's Aboriginal Cultural Centre to develop an institution showcasing Western Australia's First Nations history and culture.
$ 2.4 million for the Bundanon Trust to support its expanded operations in the Shoalhaven region.
NAVA welcomes investment in arts infrastructure, however this must be matched to support artists in the creation of new content for these spaces and the people who will work there. NAVA would like to see a national strategic approach to build First Nations visual arts and crafts employment and representation in middle-tier jobs, leadership roles, boards, and Aboriginal advisory groups in remote, regional and urban areas. This should include First Nations-led education, training, mentorship and skills development programs.
Alongside $22 million for the new Live Performance Support Fund and the partial redirection of funds from the RISE program to the Temporary Interruption Fund for screen productions, NAVA would have liked to have seen an allocation of funding for pandemic relief initiatives extended to the visual arts in a scheme that also supports artists and galleries impacted by extreme weather linked to climate change. Insurance against disasters can be prohibitively expensive for artists and arts organisations, especially those living and/or working in at-risk zones. The recent cancellation of home insurance policies for artists producing work at home without an alternative solution exacerbates the already precarious working conditions that artists are facing.
NAVA welcomes the measures for education, health, women's safety, and disaster relief that will benefit many artists and arts workers. What the budget lacks is meaningful measures to support the sustainability of the arts and cultural sector that could deliver long term gain for all Australians. This leaves the door open for more promising funding decisions to be set out in the new National Cultural Policy launching before the end of the year and a more comprehensive arts budget in May next year.
The Federal Government's plans to boost wages and job security by improving workplace relations and enterprise bargaining is likely to benefit many low-income workers, however will do little for artists and arts workers. Without an award rate for the visual arts, craft and design sector, most artists and arts workers will miss out on any increases to fees and wages gained through enterprise bargaining and award processes decided by the Commission. A visual arts, craft and design award is urgently needed. With the National Cultural Policy set to launch in December, NAVA renews calls for the inclusion of an Industrial Award Rate to legally enforce minimum payment standards.
NAVA's priorities for inclusion in the National Cultural Plan and May budget:
Establish an industrial award for the visual arts, craft and design sector that includes standard entitlements as recognised under the national workplace relations system.
Invest in a First Nations Workforce Development Fund and boost Indigenous Visual Arts Industry Support (IVAIS) funding for First Nations arts organisations, peak bodies, and support agencies to service urban, regional and remote communities across all states and territories.
Invest an additional $133 million for independent visual artists and small to medium organisations through the Australia Council and increase four year funding to support at least 200 small-to-medium arts organisations.
Image: Treasurer Jim Chalmers delivering the 2022-2023 Budget at Australian Parliament House, Canberra. Screenshot from ABC News 2022.