Mandating payment standards necessary to sustain visual artists as workers
NAVA's submission to a new National Cultural Policy consultation.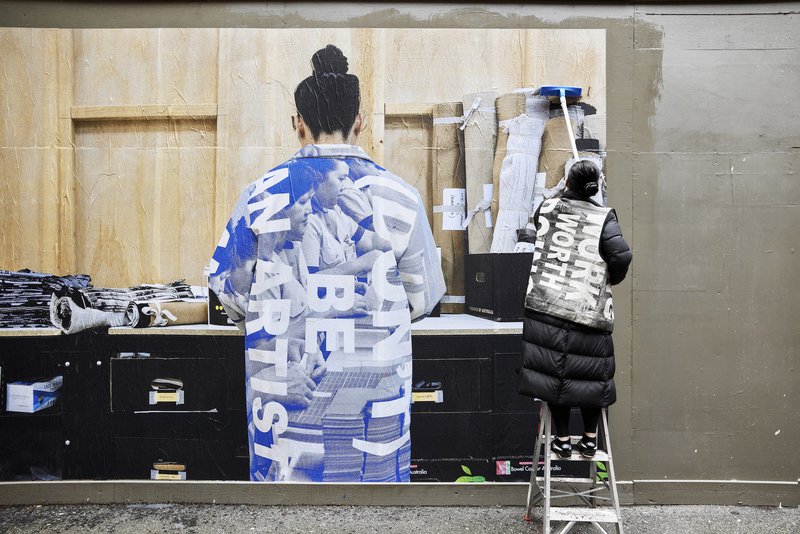 Image: Kay Abude, (DON'T) BE AN ARTIST, 2021, colour paper billboards (a series of five individual paper billboards installed in succession and performed every Tuesday over a five week period from 16 November - 21 December 2021 at The Hotel Windsor, Melbourne), 310 x 467cm. Presented as part of Flash Forward – Creative Laneways Project, The City of Melbourne. Photo by Nicole Reed.
NAVA wholeheartedly commends the Federal Government's commitment to recognising artists as workers and creators of culture as part of its new National Cultural Policy. For the visual arts, craft and design sector, this must be supported by regular public endorsement and underpinned by legislative and industrial reform that recognises the intrinsic, social and economic value provided by visual artists to Australia's national identity and wellbeing.
The visual arts, craft and design sector is dynamic, diverse and multifaceted, but its lack of regulation and legislation, combined with increasingly precarious conditions makes work and practice unsustainable for many. Research reports have documented a steady decline in public funding for visual arts, craft and design, and a concomitant diminution of capacity of support infrastructure to cope, especially under the pressure of an increasing level of demand both from practitioners and audiences. The longitudinal studies by Professor David Throsby of the economic circumstances of arts practitioners over the last three decades indicate that the level of visual artists' and craft practitioners' incomes continues to drop significantly and that a substantial proportion of practitioners are earning below the poverty line.
Except for those working in public service jobs (e.g., state galleries and federal and state arts funding bodies) most arts workers in the visual arts, craft and design sector are also not protected by unions and the structure of Awards. This increasingly results in the drain of experienced art workers from the visual arts and craft industry and the subsequent loss of knowledge and skill in the sector.
The Australia Council's Schedule of Artist Loan Fees was first introduced in the early 1990s. Following a restructure in the mid-90s, the Australia Council no longer mandates payment of artists' fees or publishes a scale of fees. In its absence, NAVA developed an artists' payment schedule as part of its Code of Practice first released in 2001. While NAVA continues to have primary responsibility for setting payment standards for visual arts, craft and design practitioners, NAVA's work on this is supported by membership fees and limited project funding.
Importantly, the principles outlined in the Code, including fees and wages for visual artists and arts workers, continue to be voluntary, not mandatory. Governments and their funding bodies do not mandate these fees and therefore NAVA is unable to enforce the payment of adequate fees for artists and freelance arts workers. This compares unfavourably with performing arts practitioners, who benefit from increased government funding when performers gain a wage increase through their Award process.
Though there may be a public perception that artists rely heavily on government grants and social security for their survival, artists have always supported themselves, often subsidising their art practice by taking on a great variety of paid work drawing on their arts skills and in other unrelated jobs. These gigs include work ranging from short-term employment, commissions, independent and grant supported projects, to selling artwork and specialist services, running a small business, and when necessary, taking on 'mutual obligation' work or training programs. By funding the costs of their art practice from largely self-generated income, artists themselves greatly subsidise the community cultural experience.
Simply, this is both unjust and unsustainable. Now is the time for the Federal Government to recognise visual arts, craft and design practitioners as workers and creators of culture by embedding industrial reforms in national policy.
NAVA's top priorities for inclusion in the new National Cultural Policy are:
Establish an Award rate for the visual arts, craft and design sector that mandates the adequate payment of artists and arts workers for their work and includes standard entitlements (including superannuation for gig workers and portable long service leave) as recognised under the national workplace relations system.
Implement policies and measures that recognise and mandate the rights of artists to receive:

artist fees for the commissioning of new works
loan or royalty fees for the display of existing artwork in exhibitions
licensing fees for the use of images of their artwork and design in publications and on products and merchandise
wages for the administrative work associated with their practice, ensuring the full costs of working as an artist are remunerated.
NAVA encourages the government to institute a National Cultural Policy that fosters the arts and cultural sector ethically, strategically and ambitiously to benefit us all across Australia. This Policy is a starting point and should guide the more comprehensive development of a 10-year National Cultural Plan which will work across government portfolios to leverage and invest in the civic benefits of arts and cultural programs.
NAVA recently hosted five workshops centred on each of the five pillars of the government's consultation framework. These meetings were a chance for the visual arts, craft and design community to brainstorm, collaborate, and share ideas for arts policy. We were pleased to provide our submission to the National Cultural Policy consultation after extensive conversations, consultation and collaboration with over 250 Members and subscribers. NAVA's submission first outlines our key recommendations for each pillar followed by an Appendix that explains the urgent context for our priorities.