National Reconciliation Week
Image: Dylan Mooney, Blak Superheroes Series, digital illustration, 2021.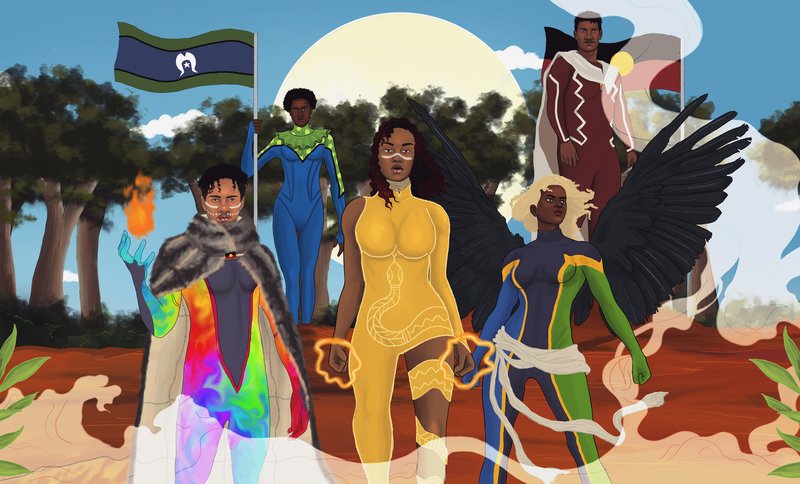 The theme for National Reconciliation Week 2022, which takes place every year on 27 May to 3 June, is 'Be Brave. Make Change.', challenging all Australians— individuals, families, communities, organisations and government—to Be Brave and tackle the unfinished business of reconciliation so we can Make Change for the benefit of all Australians.
The Reconciliation Action Week website reminds us that National Reconciliation Action Week 'is a time for all Australians to learn about our shared histories, cultures, and achievements, and to explore how each of us can contribute to achieving reconciliation in Australia.'
Join NAVA in learning and contributing to achieving reconciliation by attending a range of events and activities, making a donation to First Nations organisations and campaigns, buying First Nations art, and by reading the following best practice resources when working with First Nations artists and organisations.
The new Code of Practice will be released later this year and opens with a range of principles, good practices and current legislation around gender equity, legal rights, social justice and workplace behaviours, which also link to protocols that are led and maintained by specific authorities. This new introductory section will bolster the ethical framework of the Code, offering a useful starting point for conversations about the civic and cultural roles of the contemporary arts institution and its many players and stakeholders.
The First Nations chapter, within this new Principles, Ethics and Rights section of the Code, is currently being drafted to centre and promote ethical and responsible practice in all dealings with First Nations organisations and practitioners. The Code aims to provide written guidelines and useful links to existing work, that ensures expectations and standards of practice are clearly understood and shared across the sector. Through this work, NAVA hopes to contribute to strengthening First Nations voices and confidence in the visual arts sector and its practices.
Our Reconciliation Action Plan
NAVA is pleased to announce that in August 2021 we registered with Reconciliation Australia and committed to developing a Reflect Reconciliation Action Plan (RAP). We have been in the drafting stages of our RAP and are expecting to submit it for review by August 2022.
As an organisation dedicated to prioritising good practices in the arts sector, we are excited to finally begin formalising our commitment to reconciliation. The RAP framework will guide us in examining and improving the cultural competency within our organisation. Creating this strong foundation will be invaluable for future reconciliation initiatives, such as embedding the priorities of Aboriginal and Torres Strait Islander artists, arts workers and organisations into NAVA's Code of Practice.
If you have any questions about NAVA's RAP or would like to start a conversation about your own experience with the RAP process, do feel free to get in touch with Naomi Segal (naomi@visualarts.net.au) and Donnalyn Xu (donnalyn@visualarts.net.au) who are members of our RAP Working Group.
Revealed Exhibition, 12 May - 24 July, Fremantle Arts Centre, Perth WA
Sea of Hearts, 27 May, Goodstart Early Learning, Red Hill Qld
South Coast Indigenous Artists Exhibition, 27 May - 22 June, Spiral Gallery, Bega NSW
Tour: Art & This Place, 29 May, Gallery of Modern Art Stanley Place, South Brisbane Qld
Reconciliation Week Craft Workshop, 30 May, Goulburn Mulwaree Library, Goulburn NSW
Artist Workshop with Indigenous Artist Ang Bennett, 30 May & 2 June, The University of Queensland, St Lucia Qld
Arrernte Language And Culture Workshop, 31 May, Alice Springs, NT
National Reconciliation Week: First Nations Artists In The Uq Art Museum, 31 May, The University of Queensland Art Museum, St Lucia QLD
First Nations Speaker Series - In Conversation with Dennis Golding, 1 June, Sydney Living Museums, Sydney NSW
Tree Carving on Anu Campus by Paul Girrawah House, 1 June, Centre for Learning and Teaching T1 Chancelry Building #10, Acton, Canberra, ACT
NAS Neo: Reconciliation Week, 2 June, National Arts School, Darlinghurst, Sydney NSW
National Reconciliation Week: First Nations Artists in the UQ Art Museum, 2 June, University of Queensland Art Museum, Brisbane Qld
Reconciliation Week: In Conversation with Mandi Barton, 2 June, Sunbury Library, Melbourne Vic
Weaving Workshop With Sonya Rankine, 9 July, Gallery 1855, Tea Tree Gully SA
Visit the National Reconciliation Week calendar to find more public events near you.
Be Brave and Make Change by shopping from Aboriginal and Torres Strait Islander owned businesses and Aboriginal Art Centres. Visit Welcome to Country for a list of more than 40 incredible businesses to choose from. Visit the Peak Bodies for Aboriginal artists and Art Centres for links to the Art Centres they represent.
Acknowledgement of Country
NAVA acknowledges the Gadigal, Wangal, Dharug, Dharawal, Kaurna, Ngunnawal, Ngambri and Dja Dja Wurrung peoples as the Traditional Custodians and knowledge-holders of the unceded lands on which we live, learn and work.
We acknowledge Aboriginal and Torres Strait Islander peoples as the first artists and storytellers on this continent, and pay our respects to Elders past, present and future.
Sovereignty was never ceded. Always was, always will be Aboriginal land.
National Reconciliation Week