NAVA seeks nominations for elected positions on its Board of Directors
Nominations close on 27 April 2022.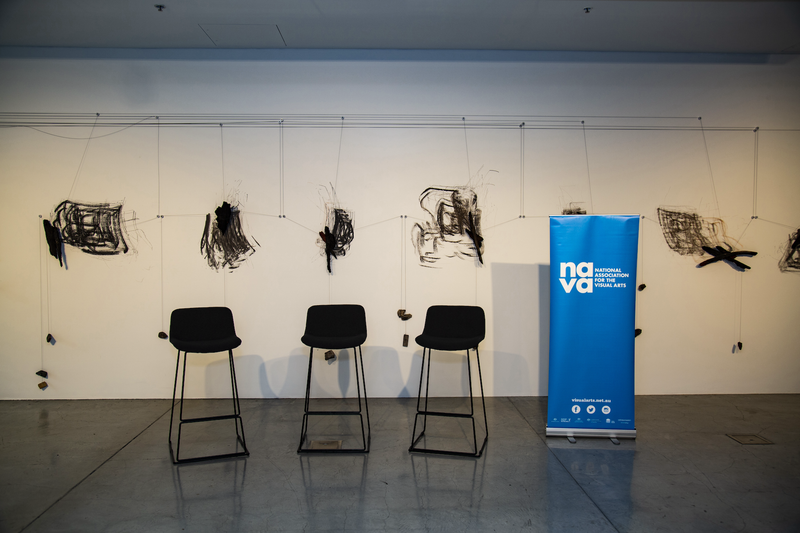 Image: NAVA banner and three chairs in front of Robert Andrew, (re)scribing language, 2018, burnt branches, ochres, oxides, string and electromechanical components, dimensions variable. Installation view, After Technology, 2019, curated by Stella Rosa McDonald and Eleanor Zeichner, UTS Gallery, Sydney. Photo: Tanja Bruckner.
In accordance with the National Association for the Visual Arts Articles of Association, the NAVA board seeks nominations for elected member positions on its board of directors.
There can be three Artists' Representative Elected Directors and two Organisations' Representative Elected Directors and no more than two elected directors on the board from any one state or territory.
The role of a board member is to promote good governance by assessing and monitoring strategy and risk. Boards take a holistic, long-term and sector-engaged view of the organisation, overseeing and supporting its work. A board is not an artistic advisory committee; all board members contribute equally to all aspects of decision-making. In seeking nominations from practising artists and arts workers, we seek candidates whose experience in contributing to high-level ethical decision-making might be evidenced via past board, committee, ARI or advisory positions. These will be NAVA Members with strong sector standing and networks, able to activate relationships that extend our reach nationally in achieving our strategic goals.
NAVA is a not-for-profit company limited by guarantee that is governed by the Corporations Act (2001), and operates for the benefit of our Members and the wider arts community. NAVA respects and values the willingness of its board members to make a voluntary commitment of their time. As well as seeking nominations via this open call, the NAVA board actively invites nominations to ensure we maintain the diversity required by the NAVA Articles and our strategic priorities.
More information:
A NAVA board member is recognised by their peers as a confident advocate with a passion for visual arts, craft and design. Prospective board members must be NAVA Premium, Premium Plus or Organisation Members who are nominated by another NAVA Premium, Premium Plus or Organisation Member.
To discuss your interest in nominating, please email Penelope Benton, Executive Director, via nava@visualarts.net.au.
Nominations close on 27 April 2022.
If an election is required, voting opens 2 May and closes 20 May 2022