Another insurance win for NAVA Members
Policy backflip for Members working at heights.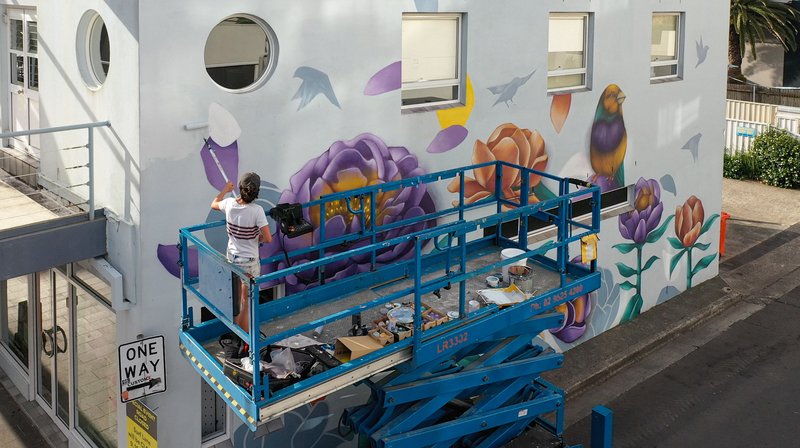 For the last few weeks, NAVA has been advocating relentlessly to negotiate three key changes to the NAVA Premium Plus insurance policy we hold with QBE and brokered by Local Community Insurance Services (LCIS). The changes would have made premiums out of reach for many artists and arts workers and excluded others from eligibility entirely.
Our hard work has paid off.
NAVA Executive Director Penelope Benton said, 'Thanks to the NAVA Members who shared their impact stories, NAVA and Guildhouse have negotiated a reasonable solution with QBE.'
Today we received confirmation from LCIS that:
There is no additional 'working at height' premium for artists.
Members working over 5 metres and up to 15 metres, will need to disclose details at the start of each project so that the insurer can better understand the risk exposure for work at heights.
An excess of $1,500* will apply to claims incurred working above 5 metres.
Artists and arts workers who work at heights greater than 15 metres will no longer be eligible** for this insurance package.
'This decision is a huge win for the arts sector and would not have been possible without the support and contributions of NAVA Members,' said Penelope Benton. 'Large scale street murals and public art are some of the most accessible forms of visual arts. As they continue to grow in popularity, so does the reliance on this tailored insurance policy.'
'NAVA deeply values QBE's contribution to the careers of Australian visual arts, craft and design practitioners over the last decade through their insurance package. We commend QBE for recognising and supporting the critical role affordable and accessible insurance plays in sustaining our sector.'
'While NAVA has almost 3,000 artists relying on this insurance, countless more have benefitted from the group policy shared by all of the organisations across the country that offer it as part of their Membership.'
*NAVA recognises that $1,500 is a large amount for many artists and in the event of such a claim, we are looking to provide financial crisis support for Members who need it.
**NAVA continues to negotiate coverage for work above 15 metres.
Now is the time to join NAVA
This win shows there is power in joining together and using our voices. Together, we can raise the fundamental conditions of work and practice across the sector. Support NAVA's work by joining or donating today.
About NAVA
The National Association for the Visual Arts (NAVA) is a Membership organisation which brings together the many voices of the contemporary arts sector to improve fundamental conditions of work and practice. We do this through advocacy, education and the Code of Practice.
STYNA (Christina Huynh) working on 'Meeting of the Peony Folk' at Cronulla for Walk the Walls Festival 2022, curated by Tim Phibs. Photo by Luke Shirlaw.
ID: Photo taken from elevated view of an artist on a blue scissor lift painting a large external wall with a roller. She has dark brown hair and is wearing a white t-shirt with dark red stripes. The mural features large purple and orange peonies and an orange, purple and teal bird on a pale grey background.
Another insurance win for NAVA Members