NAVA's response to return of Catalyst funds to the Australia Council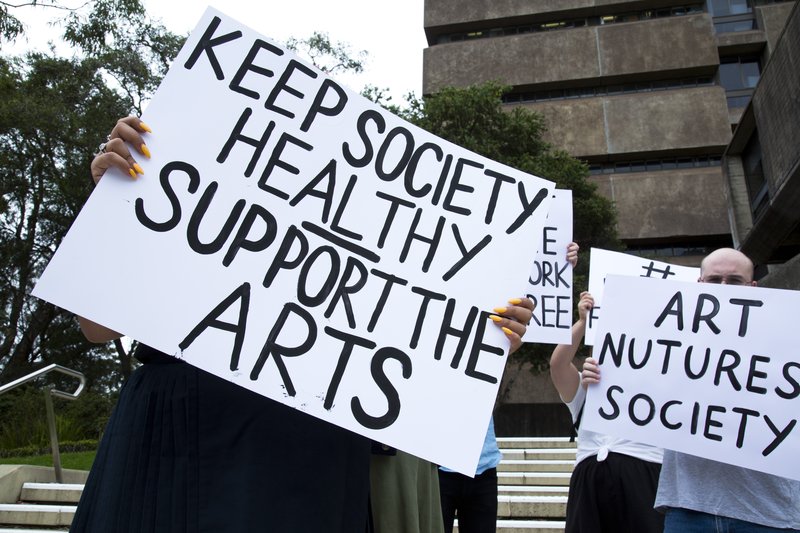 The National Association for the Visual Arts (NAVA) welcomes the announcement by the Arts Minister, Mitch Fifield that there will be partial return of funds from the Catalyst Fund to the Australia Council. NAVA hopes that this signals the Government's new interest in implementing its stated intention to stimulate creativity and innovation, by recognising with increased funding, the essential role of the arts, including in the innovation agenda.
Since the arts funding cuts began from 2013, NAVA has continued to protest the necessity for the Federal Government to demonstrate a genuine commitment to Australian cultural development by ensuring the stability and financial viability of the whole system. NAVA has asserted the necessity for restoration of adherence to the essential principal of non-politicised decision making at arms' length from government, which has been compromised in the Catalyst process and is best provided by the Australia Council.
Tamara Winikoff OAM, Executive Director of NAVA said, "The Australia Council now has the opportunity to right some serious wrongs which are destabilising the complex interdependent arts ecology. The Council will have the difficult task of weighing the priority of returning operational funding to the defunded small to medium organisations which are the engine room for experimentation, creativity and for building the careers of contemporary artists, against new claims by some of the major performing arts organisations which already receive almost 70% of the Council's funding allocation."
NAVA points to the unanimous demand of the arts sector since the change of government in 2013 and the strong recommendation of the 2015 Senate Inquiry into arts funding for adoption of an evidence-based cultural policy to guide funding decisions both by successive governments and by the Australia Council.
NAVA has recently called for a doubling of the arts budget, referring to the findings in its recently released report, S2Ms: The Economics of Australia's small-to-medium visual arts sector. The report demonstrates that funding has declined by 17.5% from 2008 to 2013, and this has been greatly exacerbated by the continuing imposition of an efficiency dividend and the Australia Council's cutting of operational funding to 50% of its previously funded visual arts organisations. The report has painted a picture of a highly professional and productive sector staggering under the constraints of diminishing resources and ever increasing demand for greater and more diverse public outputs. As part of the funding increase, NAVA calls for the government to allocate a new amount of $5 million a year to establish an Artist Fees Fund to ensure artist get paid for their work at least at the rate recommended in the industry's Code of Practice.
Winikoff continued, "The arts sector hopes the announcement that the work of the economic and statistical research unit of the Department of Communications and the Arts will expand to include the arts, will meet another demand from the arts sector for restoration of the work of the ABS in providing essential data on the arts and cultural industries. Loss of this regular analysis of the state of the arts has left a big gap in governments' and the industry's ability to understand the trends and plan their own strategic actions."
For media comment contact
Tamara Winikoff OAM, Executive Director of NAVA, m: 0411 162 156
Photo by Tanja Bruckner, 2017