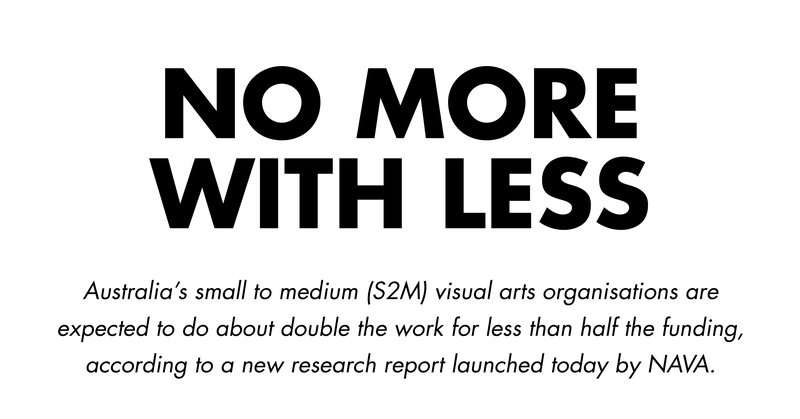 Australia's small to medium (S2M) visual arts organisations are expected to do about double the work for less than half the funding, according to a new research report launched today by the National Association for the Visual Arts (NAVA).


The S2M: The economics of Australia's small-to-medium visual arts sector report (download here) was commissioned by NAVA from consultants Economists at Large. It is the first comprehensive study of the Australian S2M sector undertaken since the 2002 Contemporary Visual Arts and Craft Inquiry (Myer Inquiry).

NAVA is the national peak body protecting and promoting the professional interests of the Australian visual arts sector. Economists at Large is a consultancy group of economists who promote sustainable economic outcomes. The study was supported by City of Sydney.
The report calls for restoration of the federal arts budget to reverse recent cuts and the 17.5% decline in real per capita arts spending between 2008 and 2013. It paints a picture of a highly professional and productive sector staggering under the load of diminishing resources and ever increasing demands for greater and more diverse public outputs without a concomitant increase in funding or provision of human resources to enable the building of these organisations' capacity.

The data reveals that the S2M visual arts sector employs over 2,000 people, puts
$100 million into the economy and produces 26,000 new art works each year with a budget worth just 0.03% of Federal Government revenue. However, government funding is declining.

Report author Rod Campbell said, "What this report shows is that changes to arts funding don't just mean a few more or a few less paintings and sculptures. There's a complex arts economy that policy makers need to understand when making decisions. Too often policy is made based on impressions rather than data. It's really exciting for the arts community to have solid data on the economics of the S2M sector that can form the basis of good policy on arts funding."

In 2016, the report estimated that the 250 main visual arts organisations that make up the S2M sector will have:
• assisted the production of almost 26,000 new works of art
• supported over 7,000 artists
• held over 13,000 exhibitions and events
• run 15,000 workshops and classes
• received 6.2 million visits.

This will have been achieved with just:
• 583 full time staff, 599 part time staff and 848 casual staff
• 7,772 volunteers who provide over 278,000 hours of volunteer time, worth $17 million
• total revenue of around $103 million, consisting of:
o $42 million from local governments
o $19 million from state governments
o $12 million from federal government
o $30 million from other sources.


Executive Director of NAVA, Tamara Winikoff OAM said, "The report reveals a confronting picture of the precarious financial underpinnings of the production and distribution base for contemporary Australian art. The 'more with less' culture is reaching breaking point and needs immediate policy intervention to ensure that Australia's cultural production doesn't shrivel through a process of attrition. More than ever our country must nurture its creative talent. There can be no excuses. The report clearly articulates what is happening and what needs to be done about it."

Director of Adelaide-based artist run initiative (ARI) Fontanelle, Brigid Noone said, "Moving into the future artists and arts workers need to be able to professionally grow. This will need to translate into making a living, and being valued beyond pats on the back. It has been shattering seeing our local cultural institutions, education and major organisations lose voice and funding. While ARIs are vital to any city as emergent alternative platforms, they provide an aspect of a much bigger more complex network of organisations. Like any field, the arts needs to be supported on all levels, and this report shows the staggering output and drive of a severely underfunded small to medium sector that is not being reflected in current funding distribution."

Artists supported by S2M organisations increased by 23% between 2012 and 2016, while visitors to exhibitions and events increased by a similar amount, to over 6 million visitors in 2016. With less than 1/3 the $368 million revenue of Australia's major galleries, the S2M visual art sector facilitates the production of four times as many new works as the major galleries commission and/or acquire.

However, a key challenge for S2M arts organisations identified by the report is attracting and keeping full time staff to perform core management functions. The report estimates that their earnings are just 52% to 78% of average Australian full time earnings.

Catastrophically, as the result of federal government funding cuts, 50% of the S2M visual arts organisations previously funded by the Australia Council have had their operational funding completely cut from this year on.

To counter the erosion of baseline funding, the report recommends the commissioning of analysis similar to the 2002 Myer Inquiry which led to an increase of $14 million/year in federal and state/territory government funding through the Visual Arts and Craft Strategy (VACS). This funding led to a huge boost in productivity which has been being eroded since.
The report also recommends a government allocation of $5 million per year to support S2M public galleries to be able meet arts industry standards in the payment of artists' fees. This has added fuel to NAVA's recently launched 'Fair Pay for Artists' campaign.

The report compares 'art literacy' to the public benefits of text literacy and numeracy that come from having an educated public. As well as enabling the community to effectively communicate ideas with each other, this can be justified even on purely economic grounds with art contributing to preference-formation across society that influences patterns of production and consumption.

The report also points out that the S2M arts organisations are being pushed by governments to help solve much larger policy challenges relating to cultural change and infrastructure and to provide social services which may have little to do with developing and promoting art. This goes well beyond the basic purposes of the organisations and their goals.

The report concludes that for Australia as one of the richest countries in the world, at one of the richest points in our history, it is essential that governments demonstrate an understanding of the S2M sector and provide the support required to ensure they can play their essential roles in the careers of artists and the cultural life of the community.

For media comment and enquiries please contact:
Tamara Winikoff OAM, Executive Director, NAVA, (02) 9368 1900
Rod Campbell, Director of Economists at Large, Research Director at The Australia Institute 0438 503 249
Yu Ye Wu, Marketing & Publicity Coordinator, NAVA (02) 9368 1900 / ywu@visualarts.net.au
This project is an initiative of the National Association for the Visual Arts and has been supported by the City of Sydney.

Correction notice: In NAVA's recently launched S2M report, unfortunately an error was made by consultants, Economists at Large. The estimate of the decline of 55% in real per capita arts spending between 2008 and 2013 was not correct. It should actually be 17.5%. This figure is now updated in the report available for download here.