End of the year, end of the decade
Image: Deborah Kelly 'My Sydney Summer' (2019 edit). Digital photomontage, size variable.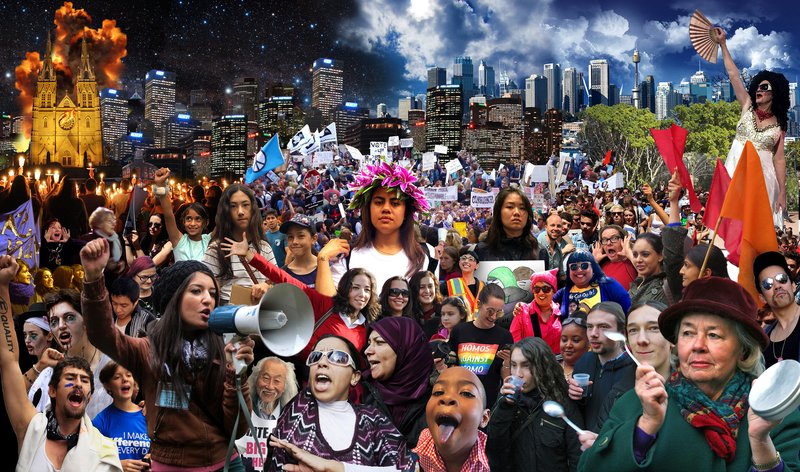 Is your year winding down well? I really hope so… because with so much of the country burning, it's not the most restful time for so many of us – which makes it very much a time for drawing on one another's strengths and wisdom as we reflect on the year and look forward to the next. After all, together we are stronger. Always.
And what a big, big year it's been.
My favourite way to reflect back is to look at our Artist Files and NAVA: In Conversation podcasts for deep insights in the words of artists and artsworkers themselves. Program a few across your summer break – starting with this conversation with Worimi woman and award-winning Indigenous artist, researcher, educator, curator and filmmaker, NAVA Board Member Genevieve Grieves, speaking with our First Nations Engagement Coordinator Georgia Mokak who we welcomed to the team earlier this year.
This year's events all over Australia brought so many of us together to exchange the provocations and ideas that build our practice. Our calendar of News and Opinion remains your handy reference point for the year from the visual arts perspective, while our NAVA in Action list catalogues our every meeting and engagement, itself something of an archive précis of the year that was.
The year's state and federal elections and multi-year funding deadlines focused our advocacy on the very big picture. We co-presented the national symposium Australian Cultural Policy: The Next Decade with Monash University Masters of Cultural & Creative Industries. With the Australian Museums and Galleries Association (AMaGA), we presented a national roundtable on advocacy priorities in Canberra, with ACDC (Australian Craft and Design Centres), artist-run initiatives network All Conference, CAAMD (Council of Australian Art Museum Directors), CAMD (Council of Australian Museum Directors), CAOA (Contemporary Arts Organisations Australia), Copyright Agency (formerly Viscopy), GLAM Peak (Galleries, Libraries, Archives and Museums), and ICOM Australia (International Council of Museums), with written contributions from Arts Law and Artists in the Black. We also updated our Advocacy Toolkit and released our Election Report Cards to guide well-distributed advocacy across the country, and launched Arts Agenda to help policy-makers, journalists and academics connect with current research and advocacy in our field.
And then, to welcome the new government and reset the national conversation, we presented the first Arts Day on the Hill in Canberra with All Conference, Asialink Arts, Arts Access Australia, Australian Museums & Galleries Association, Diversity Arts Australia, Live Performance Australia, Performing Arts Connections Australia and Regional Arts Australia, plus workshops by Museum of Australian Democracy, Parliament House, the International Federation of Arts Councils & Culture Agencies and Regional Arts Australia. We trained and supported an advocate from every state and territory to take that advocacy to the next level, and we also launched a Parliamentary Friendship Group for Contemporary Arts & Culture with parliamentarians from across all key parties.
Because in the absence of a bipartisan approach to arts and cultural policy, we need to work hard on the frameworks that achieve what such a policy needs to achieve by focusing strategic priorities and informing decision-makers. At the same time, our work in starting to review the Code of Practice strengthens the collegiate relationships that inform and uphold that framework for the benefit of everyone who works in our field. More on that early in the new year.
The launch of Clear Expectations: Guidelines for institutions, galleries and curators working with trans, non-binary and gender diverse artists in Australia by Spence Messih and Archie Barry, and the launch of the latest Countess Report, have been highlights in this regard. This important artist-driven work has nation-changing impacts and NAVA is proud to support it. These cultural impacts are felt not just in the arts but across so many communities and sectors.
Once again, NAVA's work has also extended beyond the arts for the benefit of our Members: the artists, artsworkers and organisations who constitute the contemporary arts in Australia. This year we ensured that the voice of Members was heard through our government submissions and public engagement on a range of urgent matters including mental health, productivity, copyright, and the future of democracy. This work strengthens cohesion, overcomes isolation and build foundations for future collaborations, ensuring that the arts voice is heard where it needs to be heard.
As 2020 approaches and we reflect back on the visions we once had for this far-away-sounding decade, let's ring in a new decade that outdoes the creative dynamism of the Roaring 1920s and looks forward with confidence. We can finally stop saying "the noughties" and "the teens" (was anyone ever really saying "the noughties" and "the teens"?!?) and embrace the twenties, giving this big new decade the power it needs to power us through with courage and conviction. After all, with 2021 newly announced as the UN International Year of Creative Economy for Sustainable Development, the essential links between creative practice, human rights and truly sustainable growth will inform the global conversation. Which means there's lots to talk about in 2020 as we draw out those connections – for example, on how the future of art drives the future of work.
So what's your summer plan? A relaxing stay at home? Some reflective wanderings and catch-ups and adventures? Those rare moments to consider your practice from new perspectives? With the turn of the year, let's make good time for the rest and reinvigoration we all need, taking good care to call on one another and remind ourselves why we do what we do and make what we make.
For every Membership organisation just as for every community, there's strength in numbers. Let's welcome the new decade with rest, care, invigoration – and renewed solidarity.
PS: The NAVA office will be closed from 20 December 2019 and we're back on Monday 6 January 2020. Rest well and see you in 2020 x