Artists unite to demand that Government act now to #CreateAustraliasFuture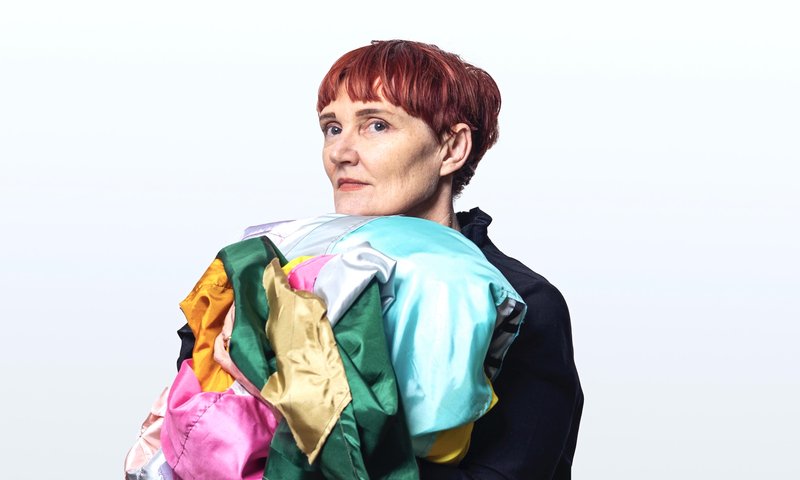 Image: Sally Smart. Photo: Rhett Hammerton.
Today, artists from across Australia are taking part in a one-day action to demand that the Australian Government #CreateAustraliasFuture.
"Australia's cultural and creative sector is a $111.7bn industry: six times the size of the aviation industry, employing substantially more people than mining, and with several interdependent industries whose success relies on ours, including hospitality and tourism," said Jessica Machin, Executive Director of West Australian Ballet.
The majority of Australia's 50,000 practising professional artists and 600,000 creative industry workers will not be covered by stimulus measures announced to date, either because of their casual working arrangements, or because their employers' complex cashflows render them ineligible to access workers' support on their behalf.
Last week 130 of Australia's leading companies united to make the industry's expectations clear, as well as identifying the gaps in stimulus measures announced to date.
"Unless today's sitting of Parliament resolves these issues, the creative industry risks collapse," said Esther Anatolitis, Executive Director of the National Association for the Visual Arts (NAVA). "The industry has been united and consistent in making that clear."
Australia's artists and creative companies have lost all of their audiences and all of their self-generated income for the entire year. While Australians in isolation crave the creative experiences and social engagement of the arts, without immediate, targeted and specialist stimulus, the creative industry will collapse.
Today leading Australian creatives such as Sally Smart, Julia Zemiro and John Bell are speaking directly to the public and to government via social media using the hashtag #CreateAustraliasFuture. Tens of thousands are joining them.
Parliament sits on Wednesday to debate the next stimulus legislation. Australia's artists and artsworkers ask parliamentarians to listen to what industry leaders are saying, and act now to #CreateAustraliasFuture.
Quotes attributable to Australian artists
"This period of unprecedented upheaval has taken away any opportunities for me to share my work for the foreseeable future. No audiences, means no income and no way to support my young family. I'm still working towards an optimistic future, but every day it seems to get further away and I'm not sure how long I can last. The cultural life of this country can't be imported, substituted or ignored. Creative production comes from real people who need real help right now."
– Abdul-Rahman Abdullah, internationally renowned artist

"Over the last 70 years or so we have proved to the world what a vast amount of talent this country can produce in visual arts, dance, music, opera, acting, literature and film-making. Our place on the world stage is universally recognised and our contribution to the nation's economy is simply staggering. Overnight this could all disappear along with a whole generation of talent just emerging. The human cost could be irreparable, the cost to tourism and the entertainment industry devastating. What will such a deprivation do to our sense of national identity and the creative aspirations of our children and grandchildren? The Arts Industry must be recognised and maintained as an essential element in the fabric of Australian society. We cannot afford for it to be impoverished."
– John Bell AO OBE, founder of the Bell Shakespeare Company

"The cultural and artistic sectors are doing the right thing by the nation by shutting up shop, we implore our ministers not to let our industry and its workers be bulldozed in the meantime by failing to give it the support and stimulus it needs to survive through and beyond this crisis."
– Mitchell Butel, Artistic Director, South Australian Theatre Company

"At this moment in time when we all have many feelings and fears we are all desperate to connect. What is Australia doing during lockdown? Australians are engaging with the arts through books, music, movies, games, crafts, painting, creativity. And right now, the arts are hurting. Let us make sure our artists and creative companies have a future and please show us your leadership to create Australia's future."
– Carolyn Chard AM, Executive Director, West Australian Opera

"Art is indispensable in good times and especially in bad times. Art is work too!"
– Maria Fernanda Cardoso, internationally renowned artist, sculptor and illustrator

"Artists live for their work - although they are often not paid in regular or mainstream ways. We must not undervalue them at the moment their survival is most at risk; we must not exclude them when we most need them to help us make sense of the world. We must recognise that work takes many forms, acknowledge remuneration is not always direct or regular and value artists and art-workers by refining and adopting the wage subsidy to make sure that all artists, art workers and art organisations are covered. Art is invaluable to our society. Recognise the work of artists."
– Agatha Gothe-Snape, contemporary Australian artist

"Consider this: What makes us uniquely Australian? What kind of country are we to be without the expression of our collective national identity through our arts and cultural practice?"
– Amala Groom, award-winning Wiradyuri conceptual artist

"These are unprecedented times. This COVID-19 situation has had devastating impacts right across the country but I worry most about the future of the Performing Arts, particularly First Nations Performing Arts. Also I worry for our Elders: Such as Uncle Jack Charles, knowing what the power of telling his story through theatre has done for his wellbeing, at 76yrs old, he is in the high-risk category for this virus. Normally he loves getting around on his e-cat scooter being sociable, but now sits alone in his flat. We are a long way from having a self-determined and stable sector. Every artist I know has lost any means of income for the next 6 months at least with no compensation. Currently our sector is not able to access the government's stimulus packages. The nature of our workforce is unique and requires an Arts-specific unique approach."
– Rachael Maza, Yidinji, Meriam woman, living and working on Kulin Country, and Artistic Director of ILBIJERRI Theatre Company

"This is a critical moment in our history, and we have the opportunity to emerge from this together and stronger, supported by our musicians, storytellers, filmmakers, performers, visual artists and creatives."
– Lena Nahlous, Executive Director, Diversity Arts Australia

"All of us in this industry can find ourselves struggling at the best of times. With this health crisis, we are being decimated. Our work gives the nation and the world the films, the television, the music, the theatre, the spectacle that makes everyone's lives better. Especially during times like these, our work makes life bearable. Please help our industry and its members survive so we can continue to make both wonderful and difficult times better."
– Daina Reid, Australian film and TV director, The Handmaid's Tale (2017), Never Tear Us Apart: The Untold Story of INXS (2014) and Ready for This (2015)

"As a full-time artist and part-time visual art lecturer, every aspect of my business has been affected. Major projects have come to a grinding halt, programs have been cancelled and a creative studio practice seems a million miles away. Without strong support from our leaders, and a specialist package that recognises both the needs of our industry and its invaluable contribution, we are facing devastation. We are a caring and committed sector, strong and resilient and we give our all – but we are vulnerable and need appropriate support to survive."
– Julia Robinson, sculpture and installation artist

"At this moment, every artist has lost their audience and therefore they've lost the income stream that they normally generate for themselves… This industry is on the brink of collapse… We are keenly aware that we are not on the frontline, we are not wearing PPE and ventilators – but we are the voice. We are your voice. We need to make sure that, after this pandemic has passed, Australia still has a voice. To tell the beautiful, eccentric, crazy, dark, hilarious and profound stories of who we are as a people. I urge you to support us."
– Richard Roxburgh, actor, writer, producer and director

"Our artists are drawing on the incredible resilience and courage they are known for… but this is a fragile and precarious moment as work is paused and cancelled. Artists need to be supported to survive these conditions like everyone else. Their self-initiating and resourceful momentum is deeply disrupted. Collectively we know that the arts embody profound connection and meaning – and not only lift but challenge the human spirit… the world needs more artists!"
– Sally Smart, internationally renowned visual artist

"I have devoted my life to making art, I live and breathe it and never before have I felt that Australia's creative industries have been so at peril of total collapse. A major targeted stimulus package is absolutely critical if we are to emerge out of this crisis."
– Catherine Truman, established contemporary jeweller and object-maker

"If you love TV, Music, Film, Art, gigs, you have to love the people who make it happen for you. Those like me in front to the camera, or on stage, and those who make me look good, film me, edit me, light me, write for me, direct me, support me. We are a team that bring you the stuff that makes you laugh, cry, sing, dance and forget. So remember us now."
– Julia Zemiro, Artistic Director of the Adelaide Cabaret Festival, host of SBS Rockwiz & ABCTV Julia Zemiro's Home Delivery, and co-host of SBS Eurovision 2009-2016
While the federal government's $130 billion wage subsidy scheme passed parliament on 8 April, no changes where made to the scheme to include the many practising professional artists and creative industry workers who are not eligible for JobKeeper.
NAVA welcomed this morning's announcement by Minister for the Arts, Paul Fletcher, Minister for Indigenous Affairs, Ken Wyatt, and Deputy Prime Minister and Minister for Regional Development Michael McCormack, of the first of the government's COVID19 arts industry measures.
Jane Morey
Morey Media
t: 02 9929 9922
e: info@moreymedia.com.au
Artists unite to demand that Government act now to #CreateAustraliasFuture