NAVA receives Australia Council funding to launch Code of Practice education program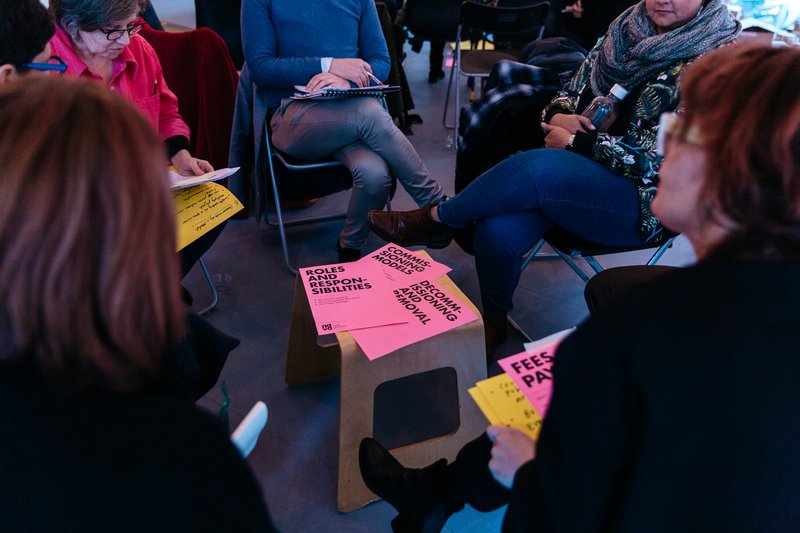 Photo by Sia Duff, taken at NAVA's Best Practice: Commissioning Art in Public Space, ACE Open, Adelaide, June 2019.
The Australia Council for the Arts today announces $100,000 for the National Association for the Visual Arts (NAVA) to support the collaborative revision of the Code of Practice for the Professional Australian Visual Arts, Craft & Design Sector. The funding is provided through the Arts Projects for Organisations program and will help NAVA extend consultations and launch an education program for secondary and tertiary schools.
"The funding allows NAVA to deliver a more comprehensive and consultative Code of Practice that prioritises inclusivity, cultural awareness and accessibility," said Penelope Benton, NAVA Executive Director.
"The timing of this project is particularly urgent as the visual arts sector continues to negotiate precarious work exacerbated by the impacts of the pandemic. The essential working conditions of artists and arts workers must be strengthened and secured through awareness, advocacy and national adoption of the new Code."
"NAVA will use the funding to expand paid consultation work with underrepresented artists and arts workers to help inform the design of a national resource that fosters a safer and more accessible environment for everyone to participate in the arts."
The funding will also support a new Education Coordinator role(s) with NAVA to lead the planning and development of a dedicated teacher professional development program for secondary and tertiary schools that introduces aspiring artists and arts sector workers to the fundamentals of developing a professional career. The Education Coordinator(s) will also undertake strategic planning to build education sector alliances and reinvigorate NAVA's learning resources with the updated Code.
"Embedding the new Code in a strong education program is fundamental to building sector capacity and resilience and ensures ethical and inclusive practices become the standard for future generations of arts professionals."
"This project is closely tied to NAVA's commitment to providing intelligent policy leadership, cross-sector collaboration, and practical, ethical resources to boost arts sector resilience and the role of the visual arts sector in responding to change."
MEDIA ENQUIRIES:
Leya Reid
E: media@visualarts.net.au

You can find information about the Code of Practice revision project and the current Code of Practice on the NAVA website. To access the Code of Practice you will need a free login to the NAVA website using an email address and password.
Education Coordinator position
Applications for the position of Education Coordinator are invited from across Australia until 6 February 2022.

NAVA is an Equal Opportunity Employer. We strongly welcome applicants from First Nations, culturally diverse, disability and Deaf, and/or marginalised communities.
Follow the link below to access information about the role including the position description, contact details for queries and details on how to apply.
NAVA receives Australia Council funding to launch Code of Practice education program